For four years, from 2009 until 2012, the world was glued to MTV, watching the every move of eight housemates spending their summers in vacation hotspot the Jersey Shore in the US state of New Jersey.
Almost overnight, regulars Pauly D, Nicole 'Snooki' Polizzi, Michael 'The Situation' Sorrentino, Sammi 'Sweetheart' Giancola, Ronnie Ortiz-Magro, Jenni 'JWoww' Farley and Vinny Guadagnino became some of the world's most recognisable faces, not least because of their outrageous fake tans and exaggerated Italian-American accents.
But in 2018, more than five years after the show – which inspired spin-offs in the UK, Spain and Mexico – left our screens, what are the gang up to now?
Now the glitz and glamour, the endless fights between Ron and Sammi, fistfights, partying and arrests are all over, what does 2018 hold for the original housemates of Jersey Shore?
Pauly D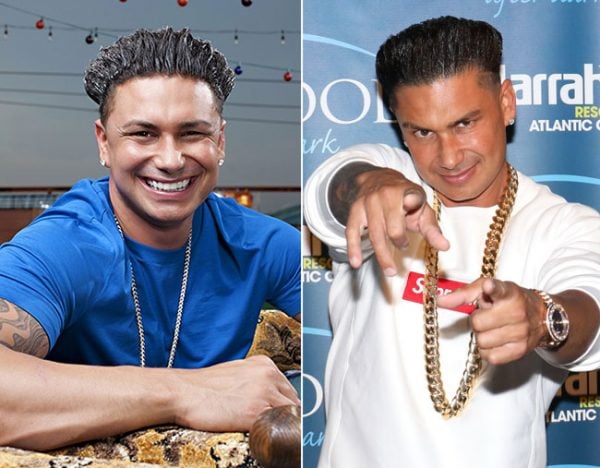 You'll be happy to know (or perhaps, maybe you won't) that DJ Pauly D is a) still DJing and b) still rocking his ridiculous gelled up, three-inch hair do.
Now 37, Pauly D - who was the first cast member to be given his very own spin-off show, The Pauly D Project, which lasted for just one season - has enjoyed some moderate success as a DJ, working with artists like Britney Spears, Big Sean and 50 Cent.
According to Complex, he's rumoured to make around US$11 million a year from his DJ gigs, which include frequent appearances at hotels and casinos in Las Vegas, where he now lives.
In 2013, Pauly D also revealed he had a daughter named Amabella Sophia Markert.
Nicole 'Snooki' Polizzi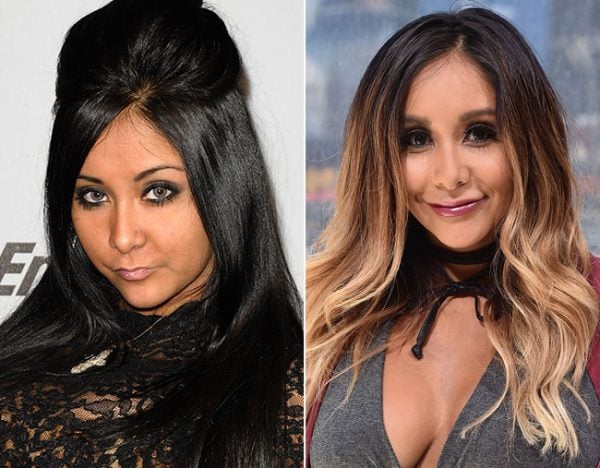 It seems Snooki didn't get the memo that once Jersey Shore ended, her reality TV career should do.
The party-loving, pint-sized star has appeared on no less than FOUR reality TV shows, including a spin-offs with Jersey Shore co-star JWoww and one with her husband, who she married in 2014.
Snooki - who, FUN FACT, was the most popular Halloween costume of 2010 - also appeared on Dancing with the Stars and The New Celebrity Apprentice (the one that Arnold Schwarzenegger and NOT Donald Trump hosted) where she was the first celeb to be fired.
She also has two children: four-year-old Lorenzo Dominic and Giovanna Marie aged two-and-a-half.
Michael 'The Situation' Sorrentino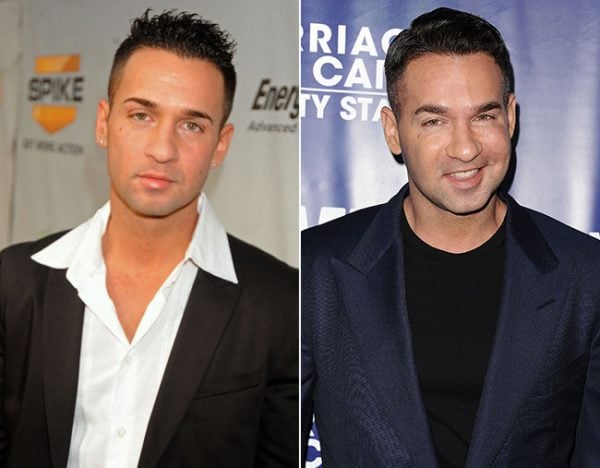 Of all the Jersey Shore gang, Mike 'The Situation' Sorrentino has probably had the hardest go of it since the show stopped filming.
In 2012, he confirmed he had checked himself into rehab, disclosing he was battling an addiction to prescription medications.
In 2014, he was arrested for assault after a fight at a tanning salon in New Jersey, and just three months later was charged with tax fraud after allegedly avoiding paying taxes on US$8.9 million.
A back injury in 2015 saw him slip back into addiction after two years of sobriety. Now, he tells PEOPLE Magazine, he's been sober for 18 after a second visit to rehab.
"It's my life, and I have to take care of it," he told the magazine.
"If I'm not healthy mentally and physically, I'm not going to make it."
He's currently engaged to his former college girlfriend, Lauren Pesce, so things are definitely looking up for the reality star in 2018.
Sammi 'Sweetheart' Giancola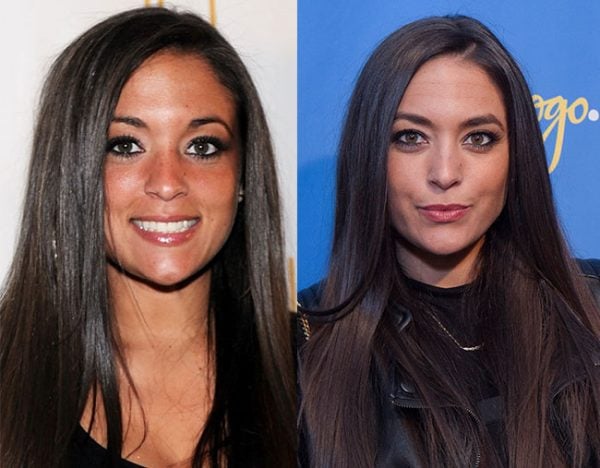 Sammi Giancola, now 30, launched her own clothing line, Sweetheart Styles, a year after the reality show that made her a household name ended.
And that's... that's about that's happened in the life of Sammi since her tumultuous relationship with co-star Ronnie Ortiz-Magro was broadcast to the world.
It's rumoured that the reason Sammi chose not to be a part of the newly-announced Jersey Shore reunion - which features every cast member but her - was to avoid having to spend time with her ex.
"She has been enjoying her life off of TV and didn't want to change that," a 'source' close to the former star told US Weekly late last year.
Ronnie Ortiz-Magro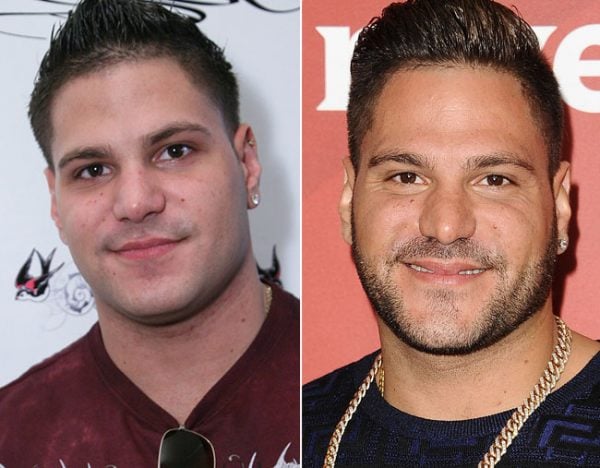 Speaking of Ronnie, he confirmed in 2014 that he and Sammi were "over for good". Ouch.
He dated Khloe Kardashian's BFF Malika Haqq after meeting on reality show Famously Single and just a week ago, confirmed he was expecting his first child with girlfriend Jen Harley.
"Thank you to everyone who has been supportive with advice & encouragement," he wrote alongside a snap of Jen's baby bump on Instagram.
"People keep saying becoming a parent is the part of life. I've been blessed enough to have SOO MANY best parts of my life... I couldn't be more excited to be taking this next step in my life!"
Jenni 'JWoww' Farley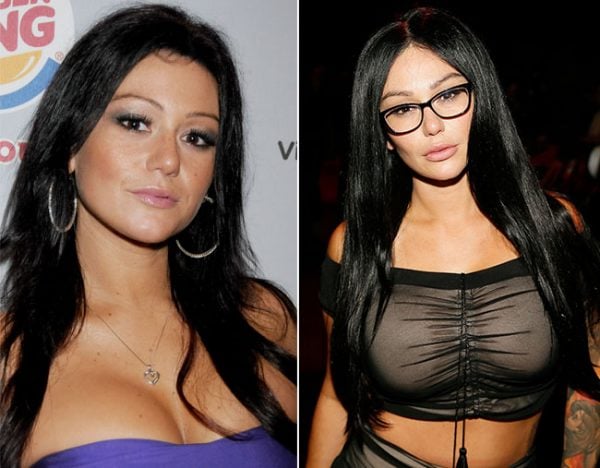 Alongside her former roomie Snooki, JWoww starred in Jersey Shore spin-off show originally titled Snooki & Jwoww from 2012 to 2015.
She appeared on Marriage Boot Camp: Reality Stars with her now-husband Roger Mathews in 2014 and also won (or lost...?) the seventh season of Worst Cooks in America: Celebrity Edition in 2015.
She welcomed her first child daughter Meilani Alexandra in 2014 and in 2016, had a son, Greyson Valor.
Vinny Guadagnino.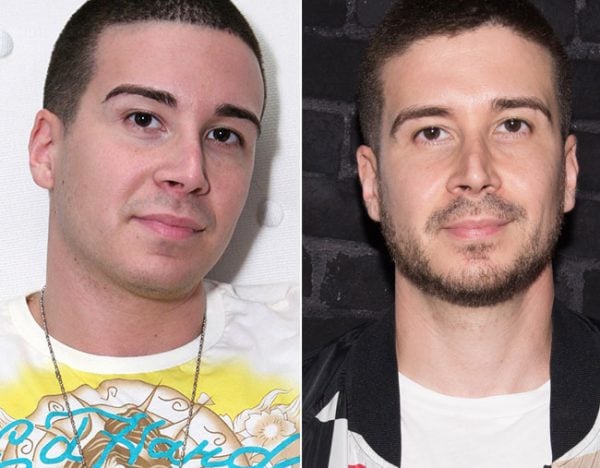 After tasting a hint of fame thanks to the reality show, Vinny decided he wanted to pursue the bright lights of Hollywood and has appeared in a few episodes of 90210 and in Syfy original movie Jersey Shore Shark Attack.
(Unfortunately for Vinny, it's not looking like we'll see him at the Oscars anytime soon...)
He also hosted his own talk show, The Show with Vinny, and in 2016, travelled with his mother filming a cooking show.
Love everything entertainment and TV? Listen to the latest episode of The Binge podcast now: