1. Jennifer Lawrence just gave Kris Jenner the best prank Christmas present.
Oh goodie.
We have a Kardashian-themed Christmas update for you.
It turns out Kris Jenner and Jennifer Lawrence are great mates. So much so that Lawrence bought Jenner a joke Christmas present… a toy Porsche.
'Cause that's a joke when you're rich as heck, we guess.
The momager posted an image of the lil' Porsche on Instagram.
"My BFF #Jenniferlawrence asked me what i wanted for Christmas and of course I said a Porsche, DUH. My girl didn't disappoint. Thank you Jen I love you!!!" she captioned the photo.
Jennifer Lawrence may just be our favourite Kardashian yet.
2. Rosie Huntington-Whiteley has shared the first photo of her newborn son.

Rosie Huntington-Whiteley, a very rich, very white model as her name suggests, has just shared the first photo of her son, Jack Oscar Statham.
Yes, we too feel like we're in an episode of Gossip Girl right now.
Little Jack was born in June this year but up until this point we've only had a glimpse of his tiny baby hand.
Now Huntington-Whiteley has posted a photo of her and Jack boarding their private plane, as you do.
We don't know about you but we feel richer just looking at this.
3. Oh goodness. Katy Perry and Taylor Swift's feud looks like it's… over.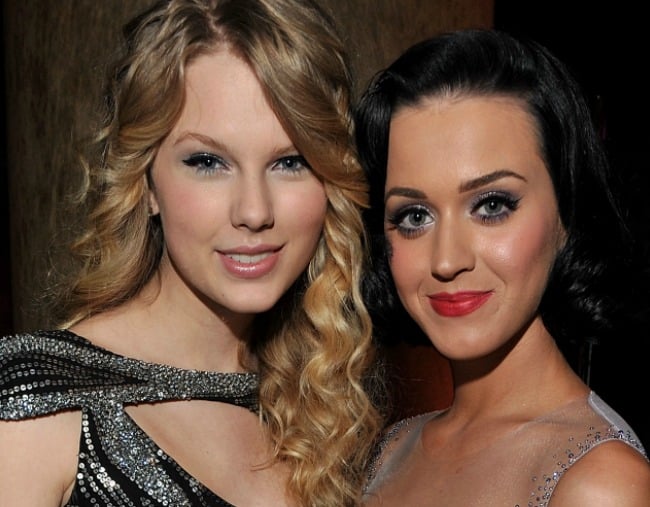 Well, we never thought this day would come, but it appears that Katy Perry's and Taylor Swift's feud could be... over.
Swift has hinted that not only are her and Perry on better terms - but they're also working on a new project together.
Also, a video has emerged of Swift's latest single, End Game, featuring a back up dancer who looks a lot like Perry.
But why would Perry be a back up dancer for Swift, I hear you ask?
Well, in her interview with James Corden, Perry revealed their feud initially began over three back up dancers.
"It's about backing dancers. It's so crazy! OK, so there are three backing dancers that went on tour with her tour, right?" Perry said.
"And they asked me before they went on tour if they could go, and I was like, 'Yeah, of course. I'm not on a record cycle, and get the work, and she's great' and all that. But I will be on a record cycle in about a year, so be sure to put a 30-day contingency in your contract so you can get out if you want to join me when I say I'm going back on."
"So that year came up, right? And I texted all of them — because I'm very close with them — and I said, 'Look, just FYI: I'm about to start, I want to put the word out there,'" Perry recalled. "And they said, 'All right, we're going to talk to management about it.' And they did. And they got fired. And I tried to talk to her about it, and she wouldn't speak to me… It was a full shutdown and then she writes a song about me."
Interesting... very interesting.
4. Roxy Jacenko's Christmas Day plans sound precisely nothing like ours.
Oh.
Roxy Jacenko's Christmas looks a little different to ours.
According to News.com.au, there'll be no sweaty Christmas ham and crusty trifle for the Curtis-Jacenko's on Christmas Day, they'll be dining at the Park Hyatt in The Rocks in Sydney.
They'll open presents with Roxy's mum before enjoying a leisurely breakfast in their apartment, then heading to lunch.
Throughout the day, Roxy will be enjoying a Lychee Caprioska... or two... or three.
Yep, our esky is looking a little sad now too.