In case you missed it, Oscar-winning actress Jennifer Lawrence filled in for Jimmy Kimmel on his late night talk show last week.
The 27-year-old was one of many celeb hosts who jumped into the comedian's seat last week while his infant son was scheduled to have heart surgery.
On Thursday night, JLaw was handed the reins and let loose on one of her favourite celebrities, Kim Kardashian.
The actress said she'd been "obsessed" with Kim and her family for "more than a decade", but that doesn't mean she was going to go easy with her questions.
As a result, we're able to bring to you, the six things we never knew we wanted to learn about Jennifer Lawrence and Kim Kardashian.
LISTEN:The MMOL team deep dive on very mixed response to Kim Kardashian's robbery. (Post continues after audio).
1. In case you were wondering, Kim was "probably" the first of her sisters to lose her virginity.
For the record, we're only telling you this in case it's in next week's trivia at the pub.
Kim said she was the first of her sisters to lose their virginity, but said she was in a "steady relationship" at the time.
Don't pretend your life doesn't feel so much more enriched after learning that…
2. Kim says she's never farted in front of Kanye.
Despite being married for three years, and having two children with the rapper, Kim joked she "doesn't fart".
Yeah… sure…
3. Kim has seen Jennifer "fully naked" in her closet.
As part of the dinner, Jennifer ventured into Kris Jenner's closet, stripped naked and demanded Kim "style her".
"I remember getting naked in your mum's closet and ordering you to dress me," Jennifer said.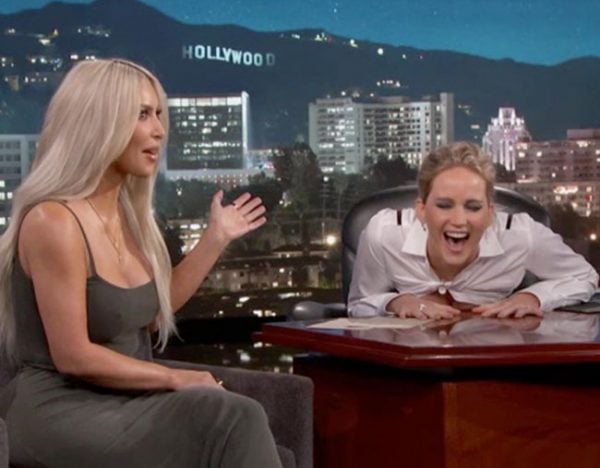 Kim then added that the actress 'demanded' Kanye be added into the mix.
"You said, 'I really want Kanye to style me' so I said, 'Okay'. And I come back in and you're fully, butt naked," Kim said.
4. Yes, Kim is well aware that her cosmetics range kind of looks like... sex toys.
"I think I have one of these..." Jennifer said, showing off one of Kim Kardashian's contouring brushes.
"Wait... Oh, never mind, no I don't have that."
"Yeah, it's not what you think it is..." Kim added.
"It wasn't necessarily the flesh colour that made me think it was a dildo..." Jennifer joked, before Kim clarified that the thought never crossed her mind during the design phase because she was used to seeing "darker colours".
Yeah... thanks... ?
5. Kim once hacked a boyfriend's phone to discover he was cheating on her.
Apparently Kim says her hacking days are "long gone", but back in the day, she used a program that let you call someone's phone from a number disguised as someone in their contacts list.
Kim said she discovered she could 'hack' someone's voicemail, and even managed to bust a boyfriend who had been seeing someone else behind her back.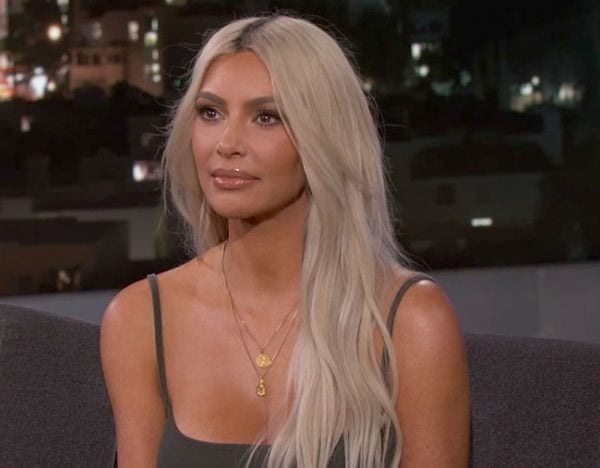 "It was on my birthday, I was at dinner with all of my best friends, I put it on speaker... he was flying into town to meet another girl, on my birthday," Kim said.
"He'd told me he was in a different city."
"Oh my God, that's like a Taylor Swift song," Lawrence remarked, definitely not realising the total awkwardness of the comment considering Taylor's new album is entirely about her feud with Kim and Kanye.
You can watch the full, hilarious interview between the pair here.