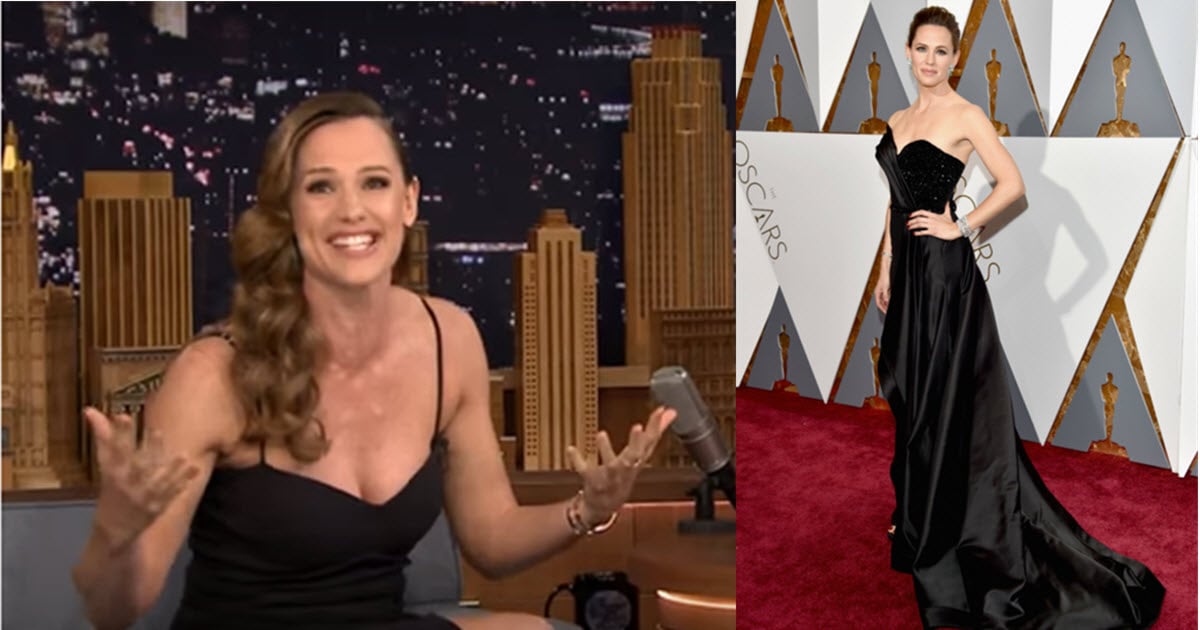 Jennifer Garner, 43, managed several faint smiles on the red carpet at this year's Academy Awards, looking glamorous in a black, custom-made Atelier Versace gown, but her eyes gave away her pain.
Little did we know, she wasn't despondent because of her marital breakdown with Ben Affleck. She was in actual physical agony.
Beneath that beaded, off-the-shoulder dress a whole operation was taking place, invisible to onlookers but all too apparent for the wearer.
Garner told Jimmy Fallon on The Tonight Show that she needed two people to help her into a metal corset, squishing her ribs.
"What they do is they move your organs around," she joked.
Watch Garner discussing the torturous dress… post continues after video.
Fallon enquired, foolishly, if this was anything like putting on a pair of Spanx.
"No, dude. It's not like that. It's intense," she informed him.
Before the horror of the metal corset, she'd had to don a "thong bodysuit". The whole contraption was so complicated she couldn't go to the bathroom alone and had to get a friend to help her, only to discover the hook-and-eye opening of the bodysuit was in "an intimate position".
"It's not like Scarlett O'Hara. There's metal inside [the dress], and these people move your ribs, move your liver out to the side, and they pop you in to keep it in place," Garner told him.
"I had a panic attack in my ribs. Everything [in my body] started to freak out."