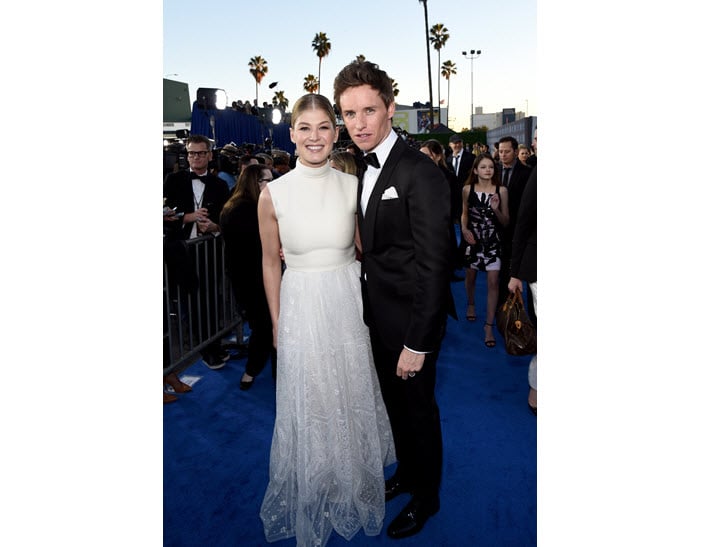 It finally happened. The Aniston-Jolie confrontation.
For the first time since 2009, excessively successful actresses Jennifer Aniston and Angelina Jolie were seen at the same place at the same time the other day.The 46-year-old Friends star and 39-year-old Lara Croft actress were at some event called the Critics' Choice Awards (where critical people choose things, then award them?) and they both excelled at being decent human beings.
And yeah, yep, it was the first time they've been on the same red carpet since that thing happened where conventionally handsome actor-man 51-year-old Brad Pitt left one for the other. Could've been really awkward; totally wasn't.
Of course, when Aniston appeared on Entertainment Tonight days later, she got asked about Jolie. Probably for the 1000th time. But this time? She nailed the answer so beautifully, every other warring celebrity should watch and learn.
This is what Aniston said about Jolie's movie Unbroken:
"I mean, that movie is so beautiful and wonderful, and she did such a gorgeous job. I think that it's time people stop with that petty BS and just start celebrating great work and stop with the petty kind of silliness," she told the show.
"It's just tiresome and old. It's like an old leather shoe. Let's buy a new pair of shiny shoes."
Jen, who seems ridiculously happy with fiancé Justin Theroux, thinks the speculation is "slowly coming to an end."
After 6 whole years of Team Ange / Team Jen bullshit from everyone in the media ever, you'd really hope so.
Watch the full interview below.
Check out the gallery below of all the red carpet outfits from the Critics Choice Awards.