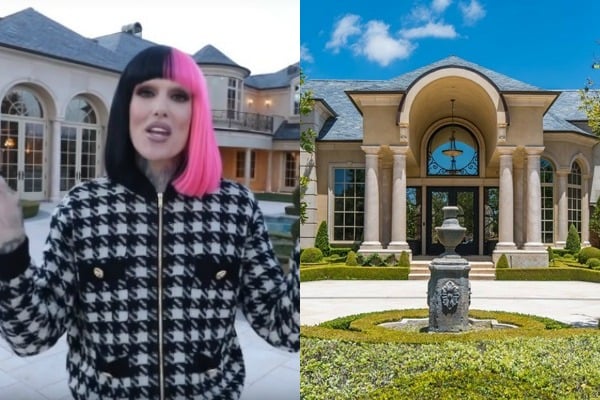 When Jeffree Star woke up in his new Hidden Hills home for the first time, he sobbed.
"I cried happy tears this morning because it has been such a crazy journey getting here," the 34-year-old said.
"Sometimes people only see the success or the rewards, but – on a real level – six years ago I had $500 to my name."
The beauty YouTuber and owner of the wildly popular makeup brand, Jeffree Star Cosmetics, recently purchased a French Normandy-style mega-mansion for US$14.6 million dollars (AU$21.2 million).
The home, which is located inside a gated community, has eight bedrooms, 13 bathrooms, a guesthouse, a 10-car garage and a barn.
Take a glimpse inside Jeffree Star's previous Calabasas mansion below. Post continues after video.
Announcing the move on Twitter in December, Star wrote: "Next week Nathan and I are putting up our house for sale! We are ready for a big change… 2020 let's f***ing do this.
"We found the perfect new house only a few miles away but it's more private, has everything we need and room to grow for our family. Praying everything goes perfect!"
Prior to moving into the new home, real estate photos of Star's house were shared online.
Similar to the beauty mogul's lifestyle, the house is completely over-the-top. It features a two-storey gym, wine cellar, personal day spa, games room, cinema… we could go on.