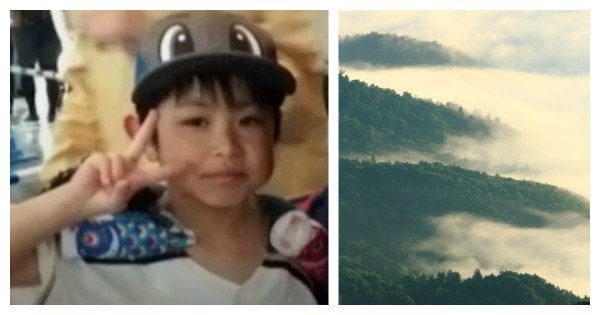 A seven-year-old boy missing for six days in dense forest in northern Japan has been found safe and uninjured.
Yamato was forced out of the family car as a disciplinary measure on the weekend, but had vanished when his parents returned to collect him a short time later.
A search crew of 200 people had been looking for him since Saturday afternoon.
According to local television station TV Asahi, the boy was found in a small building at a former Japanese air force base in Hokkaido, roughly seven kilometres from where his parents left him.
The area of forest in which Yamato went missing experienced heavy rainfall this week, with overnight temperatures dropping to 7 degrees Celsius.
The couple had previously told authorities that their son had become lost as they foraged for wild vegetables in the mountains near Nanae, Hokkaido, on Saturday. However, according to The Japan Times, a police spokesperson has since been revealed that wasn't the case.
"The parents left the boy in the mountains as a punishment because he disobeyed them when they told him to stop throwing stones at other cars passing by," the spokesman said.
According to Japanese network, TV Asahi, the couple had travelled 500 metres from the boy before returning five minutes later to find him missing.
Yamoto's parents this week expressed remorse for their actions.
"We have done an unforgivable thing to our child, and we have caused a lot of trouble for everyone," Yamato's father Takayuki Tanooka, told television reporters during the week.
The area where the boy was lost is sparsely populated, densely forested and home to a healthy population of brown bears.
More to come