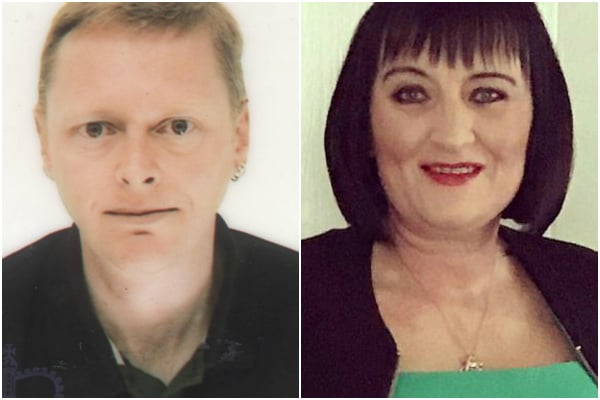 Warning: This post contains mentions of murder and domestic violence, and may be triggering for some readers.
Janet Scott was having a drink at a pub in Nottingham with her sister Susan Thomson in April 2017 when she met Simon Mellors. Mellors told Scott that he'd spent 12 years travelling the world. Scott, a health worker and mum of six, had no reason to disbelieve him.
"Mum had been married four times," Scott's daughter Amy Karnstein explains in a new UK series, Released To Kill Again.
"She was looking for the fairy tale true love that's in every Disney film."
The top 5 best true crime documentaries, all true crime fans need to watch. Post continues after video.
In fact, Mellors had not been travelling the world, but had spent 12 years in jail for killing his ex-partner, Pearl Black. Black was a factory worker with two daughters – one with Mellors, one from a previous relationship. After 10 years she'd ended her relationship with Mellors, and started seeing someone else, but wanted to stay friends with him for the sake of the children.
One night in May 1999, Mellors hit Black over the head with an iron bar in her bedroom, knocking her unconscious. He then went out to the garden shed and got some cable ties, which he used to strangle her.
Throughout this, Black's two daughters were sleeping in the house. The next morning Mellors took them both to school, telling them their mother was still asleep.
Later that day he drank beer and slug pellets in an attempt to kill himself. He was arrested and sentenced to life in prison for murder. His non-parole period was originally set at 14 years but it was later reduced to 12 years, with a judge ruling that he'd killed his ex due to "intense strain, mild to moderate depression, extreme frustration and inebriation".
However, Pearl's brother George told the Nottingham Post his sister had complained to him many times about Mellors' violent behaviour. Once, when she wouldn't let him back in the house, he'd "shattered the neck" of the family's pet rabbit in the garden.
In 2010, George Black wrote to the parole board, begging them not to release Mellors.
"This man is a very intelligent, very calculated, very deviant and a very, very malevolent individual," he warned them. "Be prepared! His game is far from over."