Sport is about winners. But the 1993 Wimbledon women's singles final was all about the loser. As Jana Novotna broke down and wept on the Duchess of Kent's shoulder, we all felt for her. She had not only lost, she had lost when victory seemed certain. She was a choker, and that's how it looked like she'd be remembered forever. Only it didn't turn out that way.
Jana Novotna, who has died at the age of 49 following a long battle with cancer, was different from many of the other players of her era. Born in the former Czechoslovakia, her engineer and schoolteacher parents were sporty, but not at all pushy. Novotna didn't pick up a racquet till she was eight, and didn't decide she wanted to be a professional tennis player till she was 14.
Novotna was 24 years old when she faced Steffi Graf in the Wimbledon singles final. She was the number eight seed. Graf was the hot favourite.
In the final set, Novotna led 4-1 and 40-30. She was just five points away from Wimbledon victory.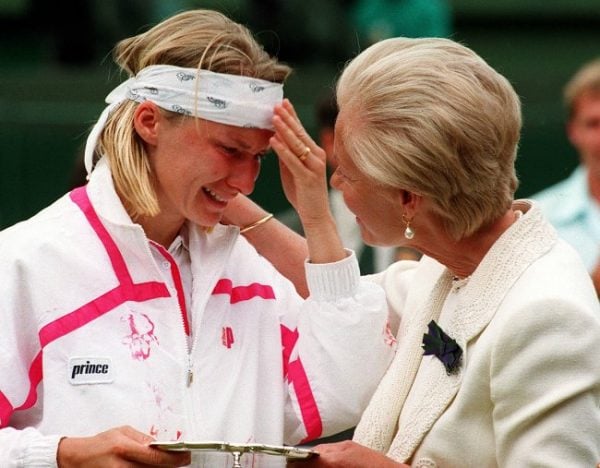 "I think the belief is here," commentator John Barrett told viewers. "At moments like this in the past she has tended to choke on her leads. But I don't think it's going to happen today. We'll see."
Fifteen minutes later, it was all over. Graf had won.
As the Duchess of Kent presented Novotna with her runner-up plate, she was struggling to hold back the tears.
"I know you will win it one day, don't worry," the Duchess said to her in a soft voice.
LISTEN: Serena Williams schools us in how not to apologise for your work. Post continues after audio.

The kind words were too much. Novotna began weeping. The Duchess, a mother to children the same age as Novotna, wiped away her tears, and then, as Novotna wept into her shoulder, the Duchess stroked her hair.
''She is a very nice lady," Novotna later explained. "When she said to me that one day I will win, and that she just knew I would, I couldn't hold back.''
Losers don't tend to get a lot of airtime in sport. Maybe a quick shot of a resigned face and a brief comment about the better player or team winning, before the focus shifts to the winner's joy. This was bitter disappointment, raw grief, out there for everyone to see. This is what professional sportspeople keep hidden from the public. That day, Novotna gave us all a glimpse.