For some families, roast potatoes are a pretty standard part of a traditional Christmas lunch.
Sure, they're tasty but there's turkey and ham and seafood and all of the other things that can sometimes steal the spotlight.
But NO, the humble roast potato will no longer be just a "side dish" at Christmas. Not if celebrity chef Jamie Oliver has anything to do with it.
The cook has revealed a clever Christmas hack that will not only make roast potatoes extra crispy, but will guarantee they are SO BLOODY TASTY guests may just forget to put anything else on their plate.
Sounds like quite the promise, right? I'd think so too… if it wasn't a tip I've used myself every Christmas for the past three years. And it absolutely, positively works.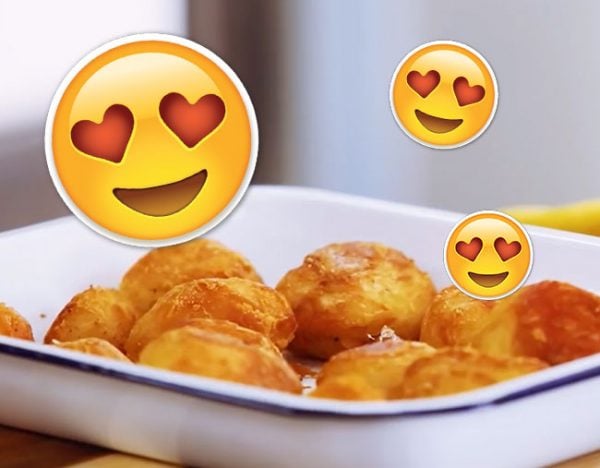 The first step, according to Jamie, is to part-boil the potatoes before you even think about chucking them in the oven.
Once that's done, pop them in a roasting tray with a bit of butter and oil and then let them cook away. But WE'RE NOT DONE YET. Oh no. The best is yet to come.
LISTEN: The Mamamia Out Loud team discuss Jamie Oliver's policy when it comes to his daughters taking selfies. Post continues after audio. 
It's like thinking you've opened everything in your Christmas stocking only to find there is ONE MORE PRESSIE stuffed down the very bottom.
"Get something flat, like a masher," the 42-year-old chef explains in a new video uploaded to his YouTube channel.
Then, just lightly squash each potato in the roasting pan.
"We're making more surface area for the crispiness, and we're letting the inside just sort of puff out.
"Once you're done this, you will never, ever, ever look back."
The chef then recommends sprinkling a few fresh sage leaves in the pan before popping it back into the oven for 10 minutes.
But the chef has ONE MORE TIP to make the potatoes the best gosh-darn things you've ever tasted: spritz the finished potatoes with a little vinegar (he recommends buying an empty travel-sized spray bottle from the supermarket) that will add a "tang" to the finished product.
And there you have it, roast potatoes that are so good, you can almost wrap them up and put them under the tree.
Watch the full video of Jamie Oliver's Christmas cooking hacks:
LISTEN to the latest episode of Mamamia Out Loud: