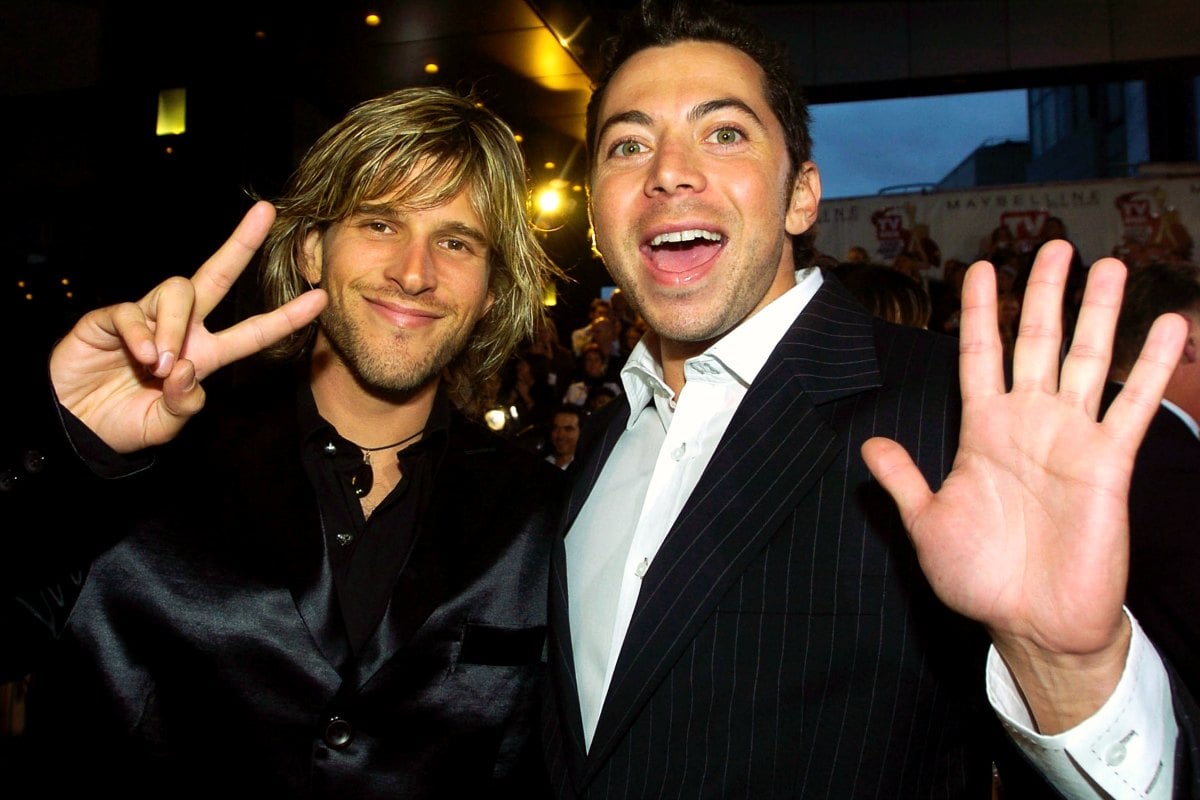 There was a time in Australian free-to-air TV history where Australian Idol was the biggest show on the box.
The reality singing competition is responsible for the careers of Guy Sebastian, Paulini, Matt Corby and Jessica Mauboy, and it also birthed the careers of the two hosts – Andrew G and James Mathison – who kept the judges in check, comforted contestants and read out the names on the all-important elimination cards.
While Andrew G – who now goes by Osher Günsberg – is still a present force on our screens, hosting The Bachelor and The Masked Singer, his former co-host has chosen a different career path.
See the original sneak peek for The Project, which featured James Mathison and was originally called The 7PM Project. Post continues below.
After hosting Australian Idol from 2003 to 2009, Mathison, 41, quit the television show.
From a brief stint in politics to his mission to legalise plant-based psychedelic medicine, this is exactly what the presenter and media personality has been doing since.
What did James Mathison do after Australian Idol?
Despite his job hosting one of the most successful reality shows of the 2000s, Mathison was ready to give it up in 2009. At the time, he explained to News Ltd that he wanted to take a break from being in the public eye.
"There is a part of me who has a little bit struggled with being 'that guy from that thing' and taking a step back totally allows you to do what you want to do without that scrutiny," he said.
"For six years (Australian) Idol has been my life."
Never the less, he still remained in the entertainment industry and continued hosting Nova FM's music program, Launchpad Up Late.
In 2009, he joined The 7PM Project (now known as just The Project) as one of their original panellists, before becoming a film critic for Weekend Sunrise in 2012, and co-hosting Channel 10's now-defunct morning TV show, Wake Up! with Natarsha Belling and Natasha Exelby.
He was quite critical of Australian Idol after leaving the show.
Looking back at his time on the show, Mathison has been critical of its ethics. Speaking to Rachel Corbett on the podcast You've Gotta Start Somewhere, he said that not all winners were equally supported.
"The two things that always stuck in my claw and I was never able to sit comfortably with was what happened to the kids afterwards," he said.
"They'd get record deals but the ones that weren't clearly going to make money were quickly like, 'See ya, bye.'"