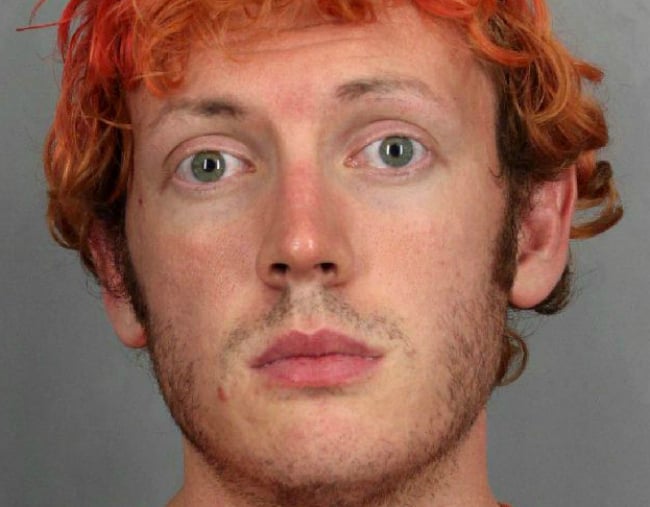 Two months before James Holmes shot and killed 12 people at a Colorado movie theatre, a psychiatrist he saw noted he had "homicidal thoughts".
Also within the notes of Dr Lynne Fenton, is that Holmes made no specific threats and when she asked him for more details he refused, saying she would "lock him up".
The chilling notes of the University of Colorado psychiatrist who treated the 30-year-old for a short time when he was there attending graduate school, were released to the public this month.
After a campaign and legal push by the Denver Post for the documents to be made public, the judge in his 2015 murder trial unsealed this and other psychiatrists' evaluations post-shooting.
Along with a social worker's referral, they paint a haunting picture of the young man's state of mind in the months before he committed a mass shooting at a midnight screening of The Dark Knight Rises in an Aurora cinema on 20 July 2012.
After the shooting at a Florida high school, students called for greater gun control. Post continues. 
Margaret Roath, who referred Holmes to Dr Fenton in March 2012, said in her own notes that he had "crying spells", "problems concentrating" and symptoms of Obsessive-Compulsive Disorder.
Disturbingly, Holmes' words seem to suggest he was already contemplating an attack.
"When I asked him about other symptoms, he said he did not want to say as I would have to report him," Roath wrote.
"He says he wants to kill other people, but no one in particular and has never done anything to harm others."
In an email to Dr Fenton, she implored her to see the man as soon as possible.
"Most concerning is that he has thoughts of killing other people, though I do not think he is dangerous."
So why then wasn't Holmes, as he so feared, taken to a mental health facility?
That question was the reason the notes held so much interest. In fact, Dr Fenton was sued over her decision not to place a mental hold on Holmes, though that lawsuit was dismissed in 2016.
Her notes show that she saw him several times, consulted a second psychiatrist, contacted his mother and notified the university's threat assessment team, the Denver Post reports. However, she concluded that he did not meet the criteria for a mental health hold.
According to the Colorado General Assembly's website, a person can be "involuntarily held for a 72-hour period of treatment", but only if due to their mental illness, they appear to be "an imminent danger to self or others" or that they are "gravely disabled". Short or long term treatment then follows this emergency mental health hold.
"He is not gravely disabled and has no evidence of suicidal ideation," Dr Fenton noted. "Longstanding homicidal ideation but denies any specific targets and there is no current evidence he is angry at the grad school (or anyone else)."
And yet within weeks of that assessment, Holmes would enter a movie theatre, sit in the front row, and, 20 minutes into the film, leave and return in full tactical gear, armed with several weapons, including guns and tear gas grenades.
There he shot and killed 12 people and injured 70 others.
Following his arrest, Holmes pleaded not guilty to his crimes on the grounds of insanity. But the jury found he was aware his actions were wrong and instead he was given 12 consecutive life sentences, plus 3318 years without parole.