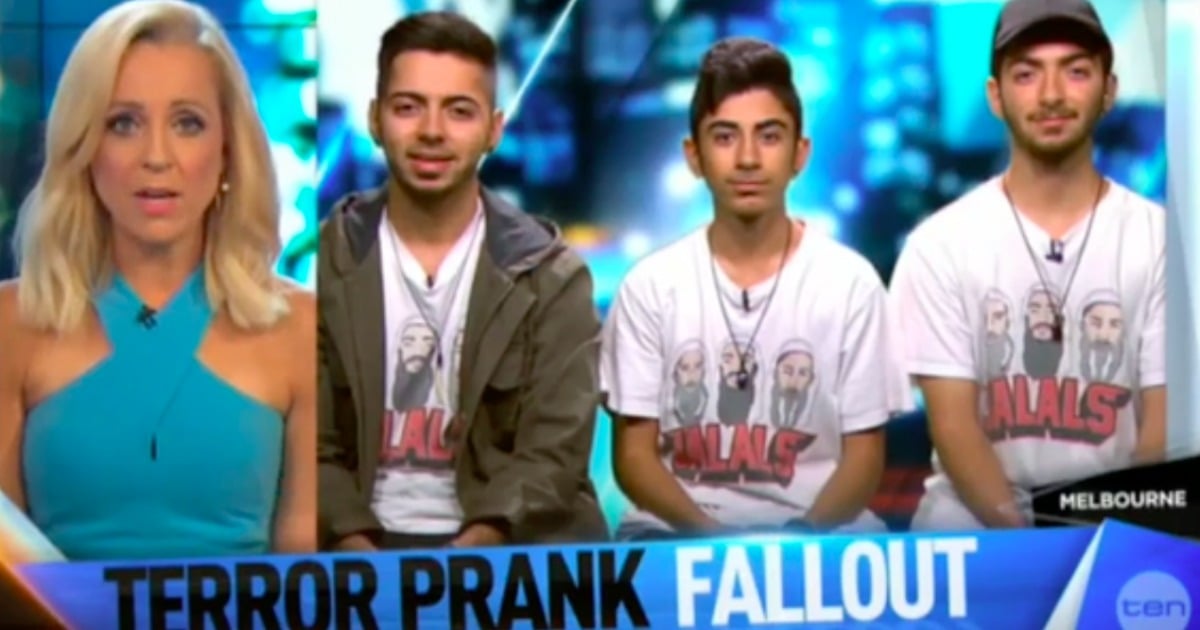 The Jalal Brothers, a trio made famous by their controversial YouTube pranks, appeared on The Project tonight to justify their latest video.
In "Drive By Shooting Prank", the three brothers are depicted tricking a father and his young daughter into believing they are in the midst of an Islamist terrorist attack. Donned in traditional Arab garb, Max, 20, Arman, 18 and Rebeen, 16, point a toy rifle at the pair from a car, while loud gunshots roar from the speakers.
Upon hearing the blasts, the child is seen clutching her father's leg before sprinting for cover.
The panel, comprising Waleed Aly, Carrie Bickmore, Peter Helliar and esteemed journalist Stan Grant, was deeply concerned by the video. Given their failure to provide The Project's producers with the contact details of any of their pranks' victims, Aly voiced suspicion that Jalal's stunts are staged with actors.
You can watch the segment below. Post continues after video…
"We have a theory… we reckon everyone who is in them is in on the stunts. We reckon they're acting," he told the brothers. 
But the trio insisted all of their videos are "as real as they get", telling Aly the young victim in the Drive By Shooting Prank was "a bit shaken up at first".
The entire panel was aghast, but none more so than Stan Grant, who has witnessed terror first-hand.
"I'll tell you what's real. I spent 10 years covering war in Iraq, Afghanistan, Pakistan, right through the Middle East." He admonished. "I've stood in the blood of terrorist bombings…
"There is nothing funny about this, there's nothing real about what you're doing. It's abhorrent."
When probed about the morality of their pranks, the brothers justified their actions because they gifted the traumatised girl with "lollies" and "a teddy bear" to calm her down afterwards.