Today, men and women all over Australia will huddle around their televisions decked in their best and brightest colours, cheering on a team they may have barracked for 20 years, 20 days or 20 minutes. Children will roam and run as sausages burn on the barbie. Some will laugh, some will cry, and some will sit, bored but present, waiting for the final siren to sound.
But as wait and as we watch, a steady stream of gambling advertisements, coming thick and fast from every direction, will light up our screen, the odds clear, the invitation obvious: Put your money on this and watch your bank balance inflate.
It's pervasive. In fact, so pervasive it is, so normal it seems.
After all, it has been reported that more than one-in-six ads shown during AFL matches are gambling-related, and Australians lose $23 billion a year on gambling alone.
But today, as some of the most dedicated fans flock in flurries to the 'G, the excitement of the game loses its shine just a tad. Because less than 24 hours ago, former WAG Abby Gilmore spoke to the Herald Sun, sharing all that occurred in her split from fiancé and AFL player Jake Stringer. Affairs, schoolgirls and gambling were the common themes, with the blogger sparing no detail nor showing any desire to be half-hearted in her claims.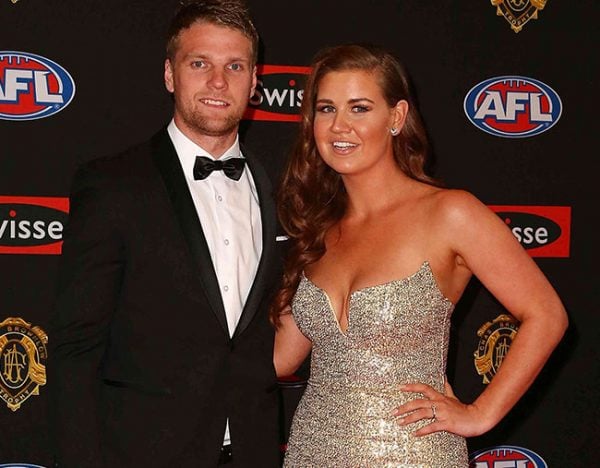 The father-of-two had blown six-figure sums of the young family's savings, she said.
"The environment at a football club is concerning. Everything around footy is dictated on betting. How do you stop something when all you are surrounded by is gambling?" she told the paper.
She wanted her voice to be loud, and she wanted people to listen. The 'boys club' is a problem, and problem gambling is insidious.
Stringer himself hasn't commented publicly on his ex's allegations, which is an important disclaimer to make. But even setting aside Stringer for a second, it's worth looking at the covert intersection between sportsmen, gambling and addiction.
David Schwarz played 173 AFL games for Melbourne, retiring in 2002. He claims to have blown more than $5 million on gambling.
Brendan Fevola played 204 games between his time at Carlton and Brisbane, retiring in 2011. His addiction to gambling was as well-documented as it was dangerous. He claims to have blown $365,000 in a single day of horse punting.
David Ward played 136 games for Melbourne, many alongside Schwarz. He retired in 2007, and has spoken freely and transparently since about his battle with the punt. At one stage he owed bookies more than $50,000.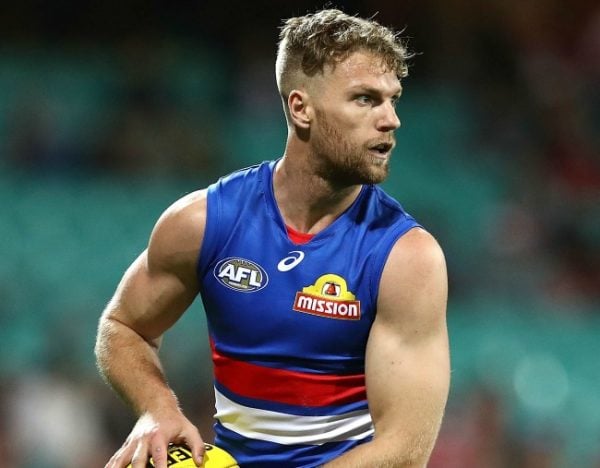 Between all three men - four if you include Stringer - comes glittering careers, hundreds of goals, thousands of screaming fans, universal adoration and a high pedestal held up by sporting prowess and a job title that drapes you in the cloak of cult-like obsession.
But behind the bright lights of a stadium illuminated as much by the grins of fans as it is by light itself, lies a murky world of problem gambling.
So if a culture of gambling is so totally normalised among fans - so much so that common courses of conversation focus on betting odds to predict the outcomes of games - how deep is the problem within the playing body?
In 2015, Schwarz, who has subsequently given much of his time and energy to working with AFL players with problem gambling habits, told News Corp he knew up to 30 players with major gambling problems at the time.
"I know players who have lost three-quarters of their wages in a month through gambling, which is hundreds of thousands over time," he said.
That same year, player manager Paul Connors considered it to be "the hidden problem in footy".
And then, just last month, former St Kilda President Rod Butterss told Fairfax the AFL had done an "appalling" job sorting out the code's gambling problem.
"The AFL has done a pretty good job in relation to respect for women and indigenous Australians," he said. "But they've done an appalling job with gambling and not much better with alcohol and drugs.
Why it's important the AFL throw their support behind the Yes campaign.
"What we have are lazy governments, lazy business leaders and lazy sporting leaders who are perpetuating these relationships while people starve. Taking $10 million a year from a gambling company to me is the laziest form of leadership. It's just weak."
Butterss, of course, is right. In the last few years, the AFL has done its best to become an organisation that's progressive and liberal, good for women, good for families and good for Indigenous Australians. They have thrown their support behind the 'Yes' campaign for marriage equality, behind the charities that are close to the hearts of the players and carefully intertwined the playing of the game with the support of social issues.
And to be fair, the AFL hasn't been mute on gambling altogether. In August, they assigned a team to examine how reliant on pokies revenue some Victorian clubs are. Prior to that, they have worked to establish its first responsible gambling policy.
However, many -  just like Butterss - see the facade but not the depth. This is an organisation that struck a five-year $50 million deal with CrownBet in 2015. The issue is a brutally complex one: How can the AFL be tough on gambling when so much of their revenue is dependant on it?
According to Christopher John Hunt, a clinical psychologist from the University of Sydney, if problem gambling is to be taken seriously in any code, a wide-ranging ban on gambling ads is mandatory.
Citing evidence drawn from the banning of tobacco advertising, Hunt wrote for The Conversation earlier this year that "there appears to be clear evidence that tobacco advertising does result in increased rates of smoking in adolescents". As such, he contends, gambling advertising would have a similar impact if the ban was "widespread". In short: banning gambling ads from TV isn't enough. We'd need them gone from radio, billboards and online, too.
If there's one thing that's becoming less of a secret, it's that the AFL, in both its advertising and players, seems to have a issue with gambling.
But the one factor that remains to be seen is how seriously they will consider Gilmore's claims about her ex-fiancé, and a more deep-seated culture among players to misuse the money they're often showered in.
Because if there's a rock and a hard place, the AFL finds itself firmly wedged between both in a tug-of-war between ethics and revenue.
It will be interesting, after this, too see which way they'll decide to pull the rope.