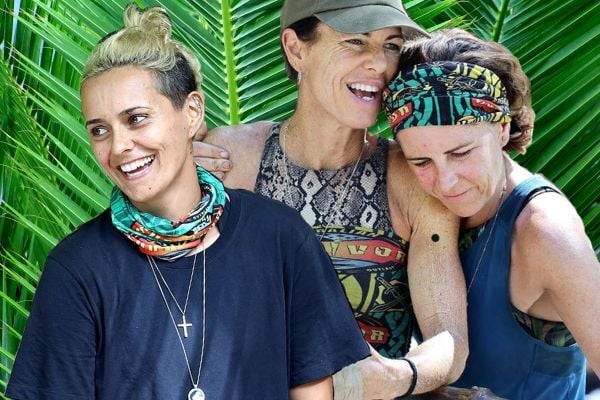 Hello and welcome to our TED Talk about the glorious women of Australian Survivor: All Stars.
On the agenda today, we'll be discussing how epic the remaining female contestants battling it out for the title of Sole Survivor are.
At the time of publishing, there are only seven players left stranded on a Fijian island playing to win $500,000. They are: David Genat, Mark "Tarzan" Herlaar, Aaron 'AK' Knight, Brooke Jowett, Shonee Fairfax, Moana Hope, Sharn Coombes and Jacqui Peterson.
And while there's been a lot of talk this season about 'Golden God' Dave's many brilliant moves, really, it's all the women making big moves and blindsiding. So let's debrief on some of their best moments, shall we?
You can watch Jacqui keeping her cool in her Survivor challenge stand off against Zach in the video below, post continues after video.
1. Women winning all the immunity challenges.
Since the two Survivor tribes became one during the merge, every individual immunity challenge has been won by a woman.
Traditionally, Survivor challenges have been seen as a male domain, so to see female contestants dominating has given the term 'challenge beast' a much-needed new meaning.
2. Moana's incredible fire-making comeback.
A quick recap for anyone who hasn't been keeping up with the show: over the past two weeks, six contestants were sent to Exile Beach, a sad stretch of beach with none of the comforts of their home camps.
On Wednesday night, those six players – Zach, A.K., Shonee, Moana, Brooke and Jacqui – had two chances to earn their spot back in the game. The first was a fire-making challenge, which Moana won by a mile, despite never having made a fire with flint before… ever. Goes to show what determination and believing in yourself can achieve, no?