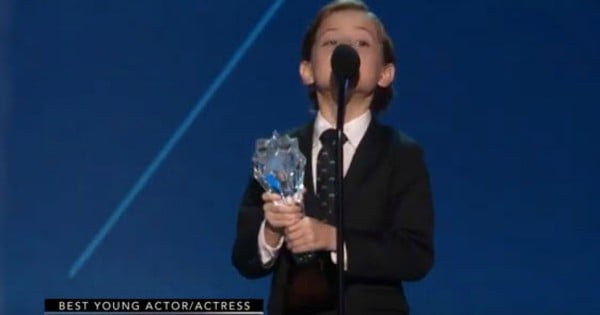 Jacob Tremblay is a name you should remember.
The nine-year-old actor has just won the Best Young Actor/Actress gong at the Critics' Choice Awards.
Jacob is being celebrated for his performance in Room. The film tells the story of a young woman, played by Brie Larson, kidnapped at the age of 17, and held captive inside one small room for a number of years. Her son, five-year-old Jack, has never seen a world outside that room. To him it is everything. The film explores Jack's innocence, their escape, and struggles in adjusting to life outside their room.
Almost as impressive as Jacob's performance are his impeccable manners. His acceptance speech is just too much.
Watch Jacob Tremblay accept his Critics' Choice Award.
"Woah. This is super cool," he said. "This is the best day of my life!"
Despite being given a step to stand on, poor Jacob was a little disguised by the microphone. Luckily he found some help in the form of a human mic-stand.
Jacob had the gracious winner routine down-pat. "I first want to say thank you to all the critics who voted for me," he said. "It must be a super hard vote because of all of the other great actors in this category." Cue the collective "awwwwws" from the audience.