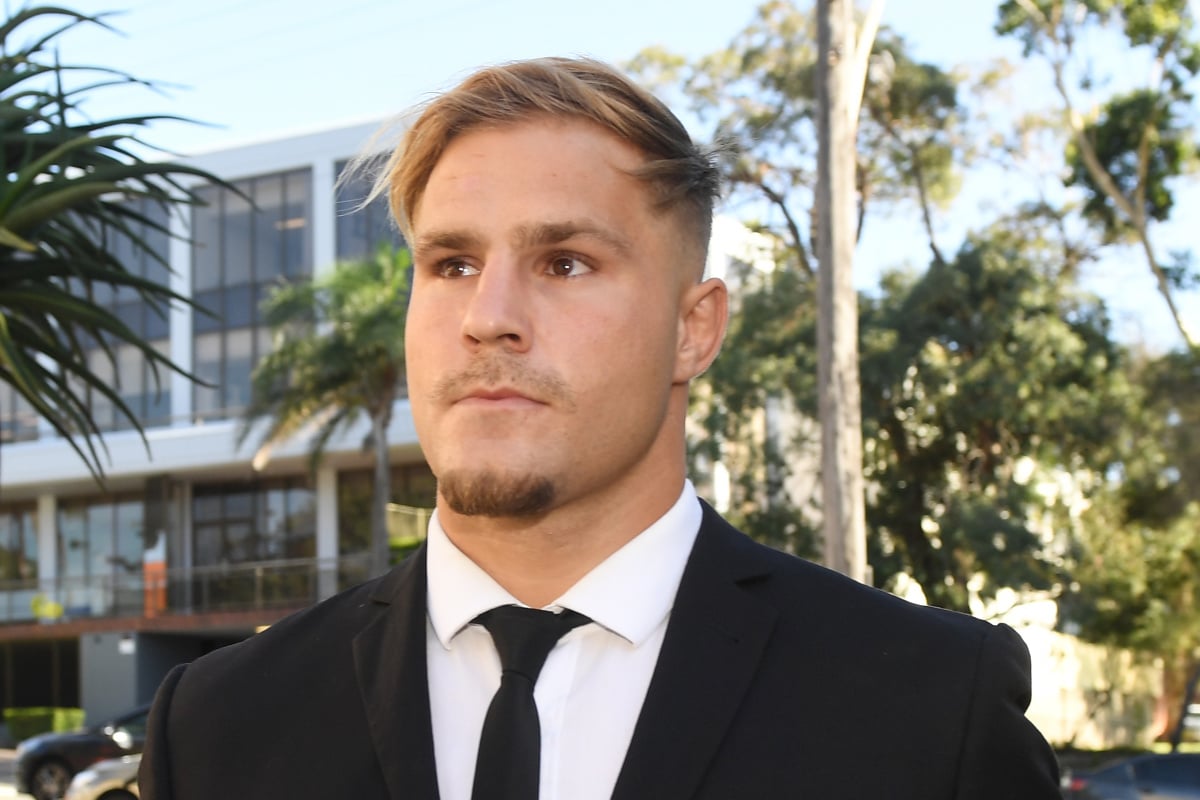 -With AAP.
1. Disturbing allegations emerge in NRL rape case against Jack de Belin.

Warning: This article deals with an account of rape/sexual assault and may be triggering for survivors of abuse.
NSW State of Origin player Jack de Belin has pleaded not guilty to raping a woman in company with his friend.
The 27-year-old – whose partner is pregnant with their first child – was charged with aggravated sexual assault after the alleged attack on a 19-year-old woman in a Wollongong unit in the early hours of December 9.
Police allege he had sexual intercourse with the woman without her consent, in circumstances of aggravation, and in the company of his friend Callan Sinclair.
He is alleged to have raped the women repeatedly, grabbing her around the throat and leaving visible injuries.
De Belin is alleged to have at one point urged his friend Sinclair to "come have a go", according to the Daily Telegraph.
After meeting in a nightclub, the men are alleged to have told the woman they needed to charge their phones before heading out again, so they went to the nearby apartment of de Belin's cousin who was not home at the time.
The woman said she used the bathroom and a naked de Belin barged in to take a shower.
Police said the woman then left the bathroom, but after his shower, de Belin came out naked and forcibly undressed her. He then allegedly pinned the woman down and sexually assaulted her, with his hand around her throat.
Following the alleged assault, the trio booked an Uber back to the nightclub. The woman, with injuries to her legs, neck, lower abdomen and shoulder, fled to Wollongong Hospital where doctors performed a rape test.
De Belin entered his not guilty plea at Wollongong Local Court on Tuesday before the matter was adjourned to April 17.
The St George Illawarra Dragons lock successfully had his bail varied so he doesn't need to report to police every Monday and Friday.
Magistrate Roger Clisdell added an additional condition that De Belin does not enter any international point of departure aside from travelling on an airport train line.
De Belin has also surrendered his passport.
Police prosecutor Sean Thackray had opposed the bail variation due to the "nature and seriousness of the offence" and the custodial sentence it carries.
Mr Clisdell said there appeared to be "a reasonably strong case" against de Belin.
But the magistrate agreed to delete his reporting conditions because the 27-year-old was "a high-profile sportsperson" with professional rugby league obligations and was therefore unlikely to flee.