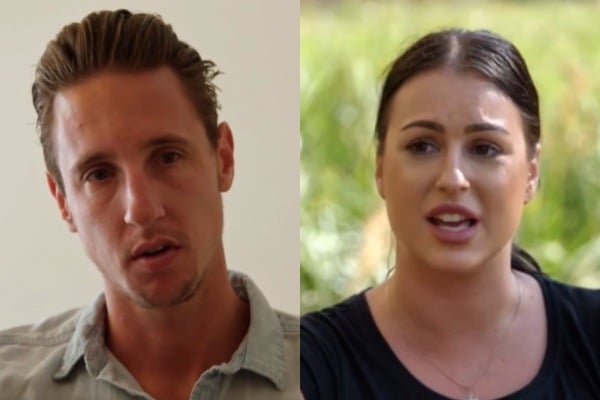 To catch up on all the MAFS 2020 recaps and gossip, check out The Twins recaps and visit our MAFS hub page. And sign up for our Recaps newsletter to get them straight into your inbox.
If there's anything tonight's episode of MAFS has taught us (besides the fact Ivan has an inability to put together a decent meat platter), it's that almost all the couples are in serious trouble.
To no one's surprise (well, except maybe Connie's) she and Jonethen aren't working out. And things only got worse when Jonethen's fashion-forward friend rocked up to the house wearing what seemed to be a 2000s-style fedora. He started giving Jonethen and Connie advice, saying it might be time to call it quits but honestly, we were way too distracted by the bizarre hat choice to pay much attention.
The biggest surprise of the night, however, came from our all-time favourite couple, Ivan and Aleks. You see, after making Aleks a meat platter, Ivan decided to round up all his mates to show Alex their super cool cars or "big boy toys", as Ivan likes to put it. Alas, Aleks was not very impressed.
Then he decided to show Aleks what his job in real estate is like, even though she also… works in real estate. He then proceeded to show a couple (paid extras) around the multi-million dollar house while she watched on. It was very romantic.
But then Ivan went off to feed the local bin chickens while shirtless (a very risky game), while Aleks decided to have a good hard think about their relationship. And it turns out she doesn't really see a romantic future with him. Sadly, our last remaining hope of the season isn't looking too good.
And our new couple, KC and Drew, aren't doing much better. Especially because KC tried to throw out Drew's plush toy collection and was caught in the act. Yikes.
But don't worry, Cornelius somehow managed to live to see another day.
Here's how Australia reacted to tonight's episode.
Haven't watched #MAFS for a few days, tuning in tonight like pic.twitter.com/Keol12y11s

— Clare Southerton (@ClareSoutherton) March 10, 2020