Everyone is talking about the proposed plebiscite on marriage equality penciled in for February 11 next year.
In one corner are the objectors. They say we shouldn't be doing it because it will bring out into the light nasty homophobic hate speech. We shouldn't do it because it is going to cost taxpayers around $175 million (plus $7.5 million for the No campaign and same for Yes) – just think of what that money could do. We shouldn't do it because Parliament can legislate for marriage equality (it could be done and dusted by tomorrow) and we don't need a plebiscite to get the same outcome.
In the other corners are the it's-only-fair. They say we should do it because it is only fair to see what the country really wants (not everyone lives in inner city Sydney they are fond of saying). We should do it because, if the vote is overwhelmingly Yes, it will show how supported and loved our LGBTQI friends and family are.
All very interesting talking points you can mull over with your friends and homemade hummus at barbecues. Toss around at bedtime with your partner. Argue about over the phone with your mum.
But, at the end of the day, interesting talking points (and the very real threat of hate speech) are in a completely different ballpark than a country getting to vote Yes or No on marriage equality. No one should have the right to vote for or against a basic human right. No one.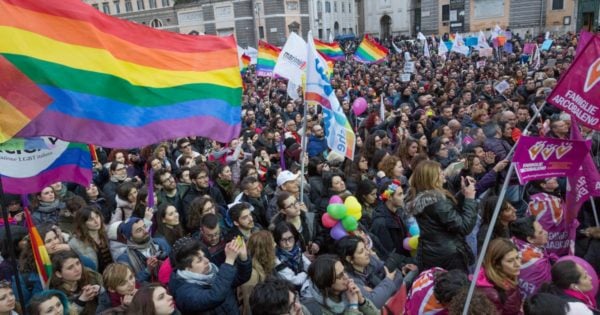 In The Universal Declaration of Human Rights, the number one right is:
We are all free and equal.
Oh, and number two is:
We've never voted on whether we believe women and men should be considered equal. Should we ask the government to spend nearly $200 million to get a verdict on that one?