It took seven years and one day for Shannon and me to make the decision to quit our jobs, take the boys out of school and fly to Italy.
For seven years we'd been trying to live the good life, the kind of life that Matthew Evans glides through on The Gourmet Farmer; the self-sustaining bliss of River Cottage. They make it look easy, but we were rubbish at it. We'd planted an orchard, dug a veggie patch and bought a few chooks, but seven years later the fruit was rotting on the ground, the chooks were dead and the sight of zucchini made me want to scream. We had no time for it.
Then one day I had an accident in the car park at work. No one was hurt, but it had happened because I'd been exhausted for months, and because I was stressed and distracted by a thousand little worries all flying around my head. We'd thought we were down-shifting when we left Sydney to live in the Adelaide Hills, but we'd only side-shifted. We brought jobs and study and everything else with us – and then we added a small farm and a long commute.
'We're not doing this right,' I said. 'No, we're not,' he said. We joined Willing Workers on Organic Farms and flew to Italy. If the good life was out there, surely we'd find it in an olive grove in Tuscany.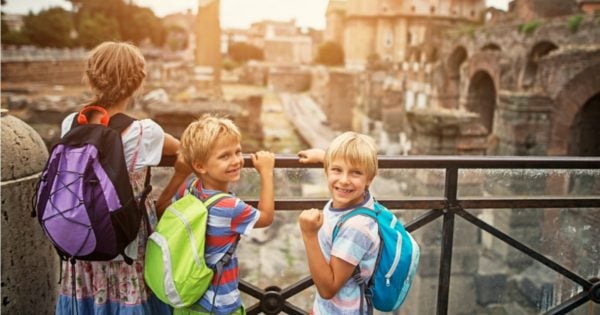 Four months off school and the promise of gelato every day was enough to convince the boys that a working holiday in Italy was a fantastic idea. But before we'd even arrived at our first farm there were signs of dissent.
On our first day in Italy, the ancient architecture of Rome captured the boys' imaginations, but by day two they needed something more tangible to justify the hours of wandering. Without it, they had every intention of spending the day in our hotel room, reading books until their allocated hour of screen time. This is what they looked forward to: an hour searching for Pokémon on a Nintendo DS, exactly the same thing they looked forward to back home.
I was disappointed, and Shannon recognised the brewing argument. 'Did you know that somewhere in Rome you can buy Pokémon flavoured gelato?' he said. Within minutes we were out on the cobblestones. When a thorough sampling of Roman gelatarias failed to uncover Pokémon gelato, the boys embraced the challenge of travelling the length and breadth of Italy in search of it. Shannon had given them their own reason for being here – while we searched for the good life they would search for Pokémon gelato.