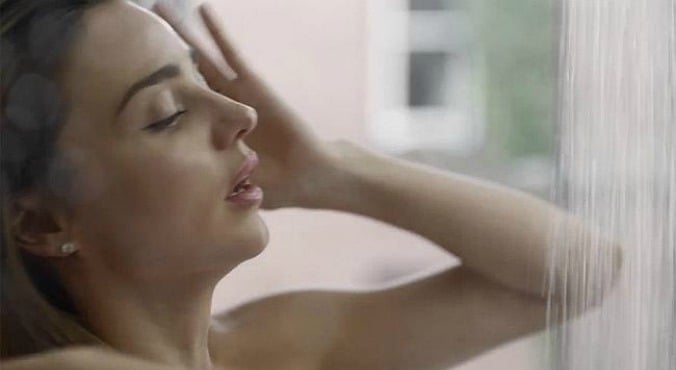 Image: Miranda Kerr about to shower-cleanse (via Reebok).
Unless you're someone who bounds out of bed at 5am, there's a good chance your mornings are a little hectic.
Getting to work, school, childcare etc. on time often requires a bit of corner-cutting and multitasking: eating breakfast while you pack your lunch, brushing your teeth while ironing your horrendously crumpled skirt, or cleaning as many body parts as quickly as possible while showering.
Cleansing your face in the shower is efficient, not to mention refreshing, but it mightn't be the best option for your skin.
RELATED: How to take a shower. Because apparently we're all doing it wrong.
1. Your shampoo could be congesting your skin
As with just about anything, whether you're cleansing your skin in the shower properly is dependent on a number of factors, including the products you use in the shower — even the ones that aren't going on your face.
"Many shampoos have preservatives in them that are bad for your face, and by washing your hair in the shower these could get on your face," explains Dr Michael Freeman, a dermatologist from The Skin Centre. So, in other words, shampooing before cleansing is a wise move.
RELATED: Public service announcement: You're washing your face wrong.
2. Being in the shower dilutes all your hard-working products.
The running water in the shower can also affect how well your chosen cleanser works.
"There are a number of medicated cleansers ... which have exfoliating cleansers with active agents that are good for your skin. The problem with using them in the shower is that with lots of running water, you're actually diluting the product and so not getting as many benefits," Dr Freeman explains. (Post continues after gallery.)
9 best budget facial cleansers.
3. Hot water hates your skin.
It's not just about your products. Our tendency to get a little heavy-handed with the 'Hot' tap when we jump in the shower can be a little overwhelming for our delicate face-skin.