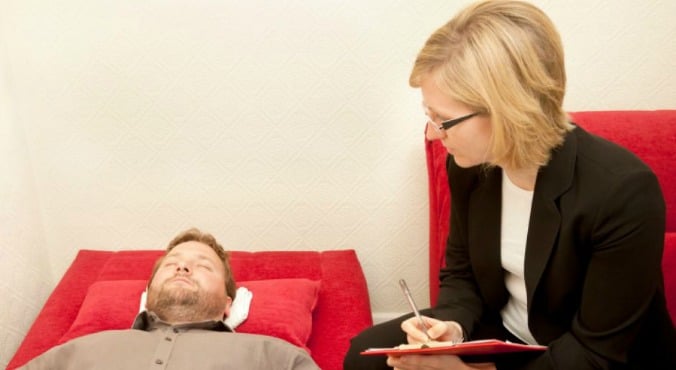 Image: ABC. By Bianca Nogrady.
Hypnosis may well conjure images of black-clad, eyeliner-embossed performers convincing seemingly innocent people to perform cringe-worthy acts.
But there's more to hypnosis — or more specifically, medical hypnotherapy — than mere showmanship.
Clinical hypnotherapy is a combination of hypnosis and a psychological treatment. It involves getting you into a relaxed state where the therapist can communicate with the subconscious part of your mind and make suggestions relevant to your symptoms, says clinical hypnotherapist Simone Peters.
"For example, if somebody has diarrhoea-predominant irritable bowel syndrome, you might get them to imagine that their gastrointestinal tract is being represented by the flow of a river, and that they need to slow the flow of the river down in order to control the bowel movements," said Ms Peters, PhD candidate at Monash University and therapist at Melbourne's Shepherd Works clinic, which focuses on the treatment of people with gastro-intestinal conditions.
"Or with bloating, it's this idea of blowing up a balloon and letting the pressure from the balloon go, or getting them to put their hands on their abdomen and imagine that soothing the gut."
Online, there is no shortage of people who say it has helped them quit smoking or lose weight, or helped them manage medical conditions such as depression.
So is there any evidence to support these anecdotes and which conditions, if any, is hypnotherapy most effective in treating?
Irritable bowel syndrome
Perhaps the clearest evidence for a benefit from hypnotherapy is for irritable bowel syndrome (IBS), a condition that affects as many as one in five Australians.
People with IBS experience some pretty unpleasant digestive symptoms — abdominal pain, bloating, diarrhoea and constipation — that can have a significant impact on their quality of life.
Sometimes these symptoms go away by themselves, without treatment, but for some people, the symptoms are severe and no treatment — including the gold standard approach of the FODMAP diet — brings relief.
Several studies, including one from Australia, now point to hypnotherapy as a way to bring significant and lasting relief from symptoms, especially for those people who haven't responded to other treatments.
Another Dutch study in children with abdominal pain and irritable bowel syndrome showed that 68 per cent of those treated with six sessions of medical hypnotherapy over three months were still in remission after at least four years, compared to 20 per cent of the group treated with standard medical treatment.