Pegging. It can be pleasurable, relationship building and (apparently) it's changing the world.
First up, pegging is the act of a woman penetrating a man during sex using a strap-on. It gives the man pleasure, by stimulating the prostate gland, and also gives the female pleasure in playing the dominant, penetrative role during sex. Experts say it requires "communication, relaxation and lubrication".
It's also said to help men to better understand women's experience during sex, and this – "seeing things from another's perspective" – is something that's healthy in any relationship. (But it doesn't always come hand-in-hand with sexual pleasure.)
And then there is it's recent entry into pop culture via the TV series Broad City, where Abbi finally gets her shot with her neighbour. Jeremy, and he surprises her with a request for pegging.
"Once you've experienced something from another person's perspective, it's much easier to imagine what it's like for them," sexuality author and educator Charlie Glickman wrote for Make Love Not Porn. "That's one reason why I think pegging can go a long way toward improving things. And while the main reason people do it is because it's lots of fun, I think there's an added benefit that lots of folks don't know about.
What is this "added benefits", or how is it "improving things"?
On one hand, pegging is debunking the myth that only homosexual men can derive pleasure from penetration. On the other, it's allowing men and women to experience what sex is like for their partner. Particularly for men, Glickman said, this can help them better understand the 'internal' sensation women experience during sex.
LISTEN: Porn star Madison Missina takes prude Carla G.S through a Tour de Force of 'butt stuff'. Post continues after audio. 
"For men who have never been on the receiving side of penetration, sex is something that happens outside the body," Glickman says. "A lot of men discover that when sex is about catching rather than pitching, their mood, their emotions, and their connection to a partner can often have a bigger influence on what they want to do and how it feels."
If you spend any time Googling 'pegging' – which I have done in the past hours researching this story – you'll find a lot of talk about the dominant / submissive role reversal that occurs. And the way pegging turns 'traditional' gender roles in the bedroom on their head.
"This isn't the first time I've brought up strap-on sex, much to his distaste. My boyfriend is uncertain, but I'm persistent," one woman wrote for Vice. "But who cares what men want. This was supposed to be about what I wanted."
In the same way, pegging has been described as "female sexual liberation", and linked to a power reversal within the relationship.
All things being equal, sex should never be about what one person wants. It should be about the couple. If you're into pegging, and your sexual partner is willing to explore anal pleasure, or even if he wants to be 'dominated' during sex, this is a conversation you need to have before 'strapping in', so to speak. Then you can make it happen for the pleasure and fulfilment of both parties.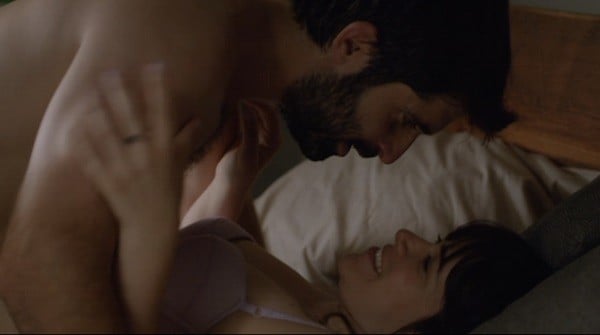 Just as sexual violence against women is all about what men want, which makes it dangerous, wrong and unforgivable. Pegging should not be only about what women want. Definitely, both women and men can want it, and this can be liberating and pleasurable. But the discourse around pegging should not be based on power. Penetration does not equal power... there are many ways women can be dominant in the bedroom, and men can be submissive, that have nothing to do with strap-on dildos.
Let's not make pegging bigger than it is. It's not about women taking over or reclaiming the power.
It might be about de-stigmatizing anal play, and opening a more honest discussion around sexual pleasure and fantasies.
It could also be about experiencing sex from your partner's perspective, to bring you closer both sexually and within your relationship.
It should be about freedom in sexuality, and both women and men feeling comfortable talking about their desires, needs and wants.
Most importantly, pegging needs to be about pleasure. Not power.