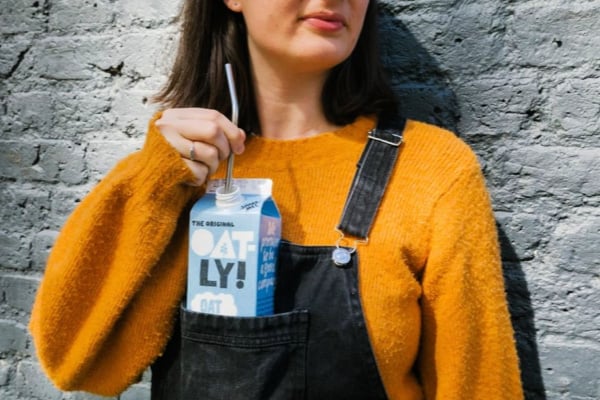 Is it just us, or is oat milk suddenly everywhere?
We know. You only just wrapped your head around lactose-free milk and Zymil milk and macadamia milk and quinoa milk and coconut milk and almond milk and rice milk and camel milk and deer milk (yep, deer milk).
But unlike some of the other non-dairy milk alternatives listed above, it looks like oat milk is here to stay.
But… what the heck is oat milk, is it actually any good for you and, most importantly, what does it taste like in your coffee?
We asked two Accredited Practising Dietitians, Anna-Jane Debenham and Alexandra Parker from The Biting Truth, to answer all your curdling oat milk questions.
Speaking of coffee, here's a visual representation of what happens when your work wife needs one! Post continues after video.
What is oat milk?
There's a good chance you've seen the Oatly oat milk brand on your Instagram feed and at the supermarket, but what actually is oat milk?
Debenham and Parker explained oat milk is… ground up, watery oats (more on how oat milk is made in a sec). To get technical, it's a plant-based milk that's a dairy-free, vegan alternative to cow's milk.
How to make oat milk.
Sure, you can make your own oat milk at home, but here's how oat milk goes from being a pile of oats to the trendy-looking bottle at your local cafe.
"Oat milk is made by soaking and blending oats and water, then straining them through a cheese cloth to separate the milk from the oats," Debenham and Parker said.
"This milk is then usually fortified with additional nutrients such as calcium, potassium, iron, vitamin A and vitamin D, as the "milk" doesn't naturally contain the same nutritional value as the oats."
 

View this post on Instagram