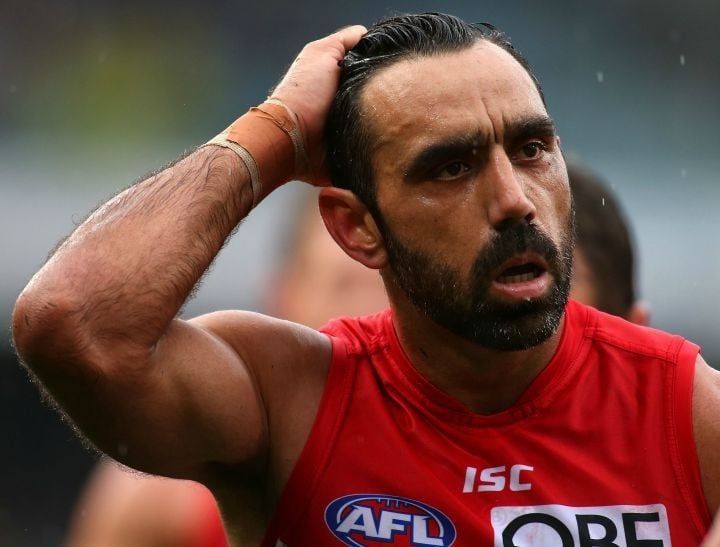 "Yep, that's specifically racial."
Ever since indigenous AFL player Adam Goodes was booed by West Coast fans at a game on Sunday, controversy has swept the country as Australians hotly debate one key question: Was that booing racist?
Sydney Swans player and Brownlow medalist Goodes, 35, is considering retirement from the game altogether following the incident. And while his fans are outraged that the football legend is effectively copping the brunt of racial abuse, critics insist the booing is just because some people 'don't like' Goodes.
Uh-huuuh.
The ABC's news comedy show The Weekly tackled the issue in a perfectly executed satirical segment last night. In it, host Charlie Pickering cheekily highlighted one eyebrow-raising point: The fact that every single public figure who's claimed the booing wasn't racist, is white themselves.
Pickering began the segment with the tongue-in-cheek announcement: "To tell us why it's not racial, release the middle-aged white men!"
Cue: A montage of white commentators citing some (rather ridiculous) reasons why the abuse of Goodes was totally, not-at-all racially motivated.
Watch the hilarious segment here. Post continues after video:
Channel Nine sports journalist Tony Jones kicks off the montage, insisting: "It doesn't matter what colour skin Adam Goodes has, this is not racially motivated. There's still a great level of resentment for what he did here at the MCG a couple of years ago, when he called out that 13-year-old girl."