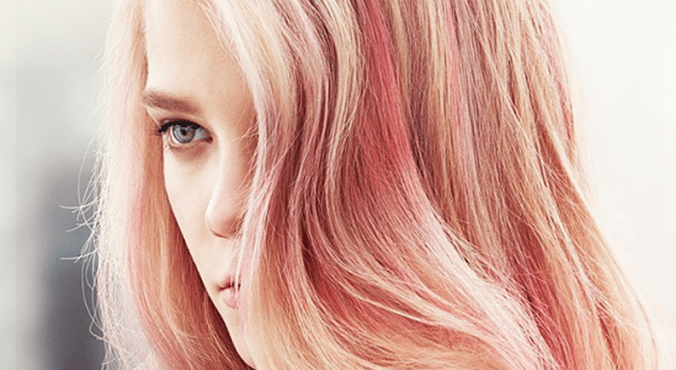 Image: Wella Professionals.
This year has been big for new hair innovations. the "shag" has been pronounced the haircut of 2015, tortoiseshell hair has overtaken balayage and women everywhere are turning their hair silver.
Just when you think we couldn't possibly dream up anything else comes this: Instagram hair.
It's basically a subtle fusion of balayage and the rainbow hair trend that adds barely-there pastel highlights throughout your hair in a way that mimics an Instagram filter (we're guessing "Valencia").
Related: You'll never guess what Blake Lively rubs on her nipples.
"It's a fab idea for those of you that want to venture into having a little bit of fun with your colour without having to regret that dreaded re-growth that takes time and money to upkeep," explains hair stylist Anthony Nader. (Post continues after gallery.)
"The ammonia level is super low and therefore the colour will only give your hair strands a 'whisper of colour' rather than a full colour-pigmented change," he explains.
The trend is gaining such momentum that Wella Professionals have already released an in-salon colour line, called – fittingly – Instamatic.
So what should you know before you jump aboard the Instagram hair trend?
Related: "My wedding day decision divided everyone I knew. But I don't regret it one bit."
"The downside to the trend is it will fade quickly due to the fact that the ingredients are so subtle and weak," explains Nader.
"For those of you with hair shades in the medium to dark brown range, your new colour won't grab as much compared to a lighter shade. If you're wanting to see a difference in your natural colour, you're going to have to have your hair pre-lightened first so the desired shade can be showcased."
Using a hair mask like Clairol's Professional Colour Radiance Mask ($13.95) will help preserve the colour and protect from fading.
The technique is also great news for anyone who has ever struggled with injecting volume into thin hair.
"The placement of the colours will be able to make to even the finest of hair strands to appear thicker," explains Nader.
Related: Chrissy Teigen shares a photo that has women everywhere cheering.
Are you game to try Instagram hair?
Some of our favourite celebs with tortoiseshell hair