At present, an estimated three million Australians are living with anxiety or depression — and many of those suffer in silence.
It's not always clear when something is amiss with someone you love, but occasionally a cryptic — sometimes explicit — warning will appear in your social media feed and it's not always clear how to respond, particularly if you don't want to risk alienating the person further.
A new tool from Instagram will allow users to flag posts that might be read as cry for help, by allowing them to anonymously report content that relates to self harm.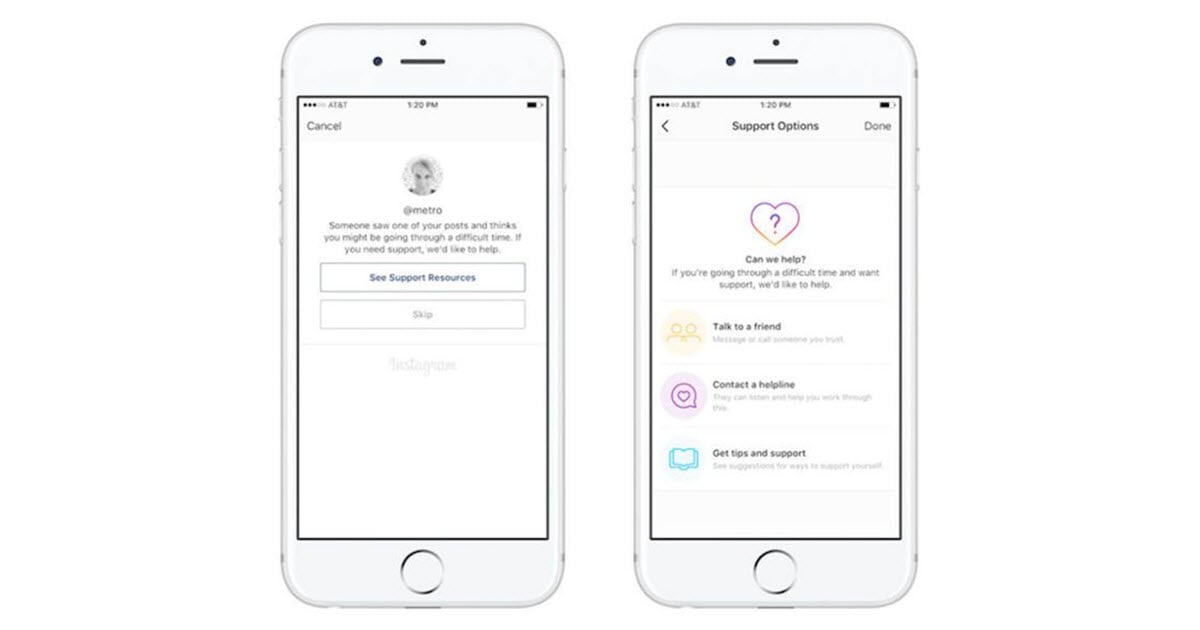 New Instagram tool will offer a list of support services for mental health. Source: Instagram
The poster will then receive a prompt saying, "Someone saw one of your posts and thinks you might be going through a difficult time. If you need support, we'd like to help."
The same message will appear for anyone who searches for worrying hashtags, such as those related eating disorders like anorexia nervosa.
Perhaps most importantly, Instagram will then offer a list of three options; 1) Talk to a friend, 2) Contact a helpline or 3) Get tips and support.
"We listen to mental health experts when they tell us that outreach from a loved one can make a real difference for those who may be in distress. At the same time, we understand friends and family often want to offer support but don't know how best to reach out," Instagram's chief operating officer Marne Levine told Seventeen.
"These tools are designed to let you know that you are surrounded by a community that cares about you, at a moment when you might most need that reminder."
At present the feature is only available in the US, but a tailored version will be offered to Australians soon, Pedestrian.TV reports.
Last year Facebook — which owns Instagram — launched a similar tool in collaboration with local services Beyond Blue and Headspace, just a couple of months after the US version appeared.
"People are very afraid of saying the wrong thing and crossing boundaries in terms of respecting people's privacy… this is another strategy we can put in the tool kit that helps people get people connected to help," CEO of Beyond Blue Georgie Harman, told Mamamia at the time.
"I think social media platforms absolutely have a responsibility in this space … when an individual is in a digital environment and is expressing suicidal thoughts or feelings or they're in high distress, there has to be an intervention."
If you think you may be experiencing depression or another mental health problem, please contact your general practitioner or in Australia, contact Lifeline 13 11 14 for support or beyondblue 1300 22 4636.