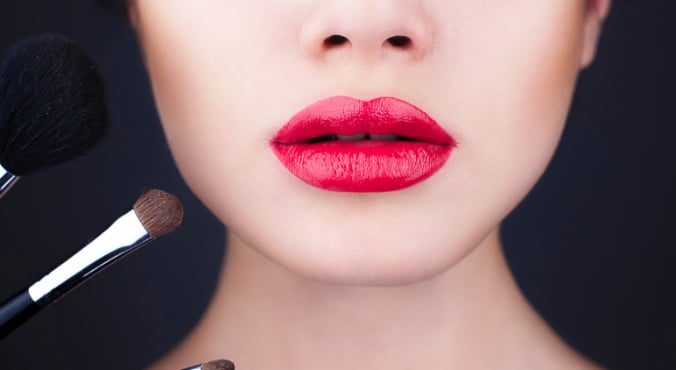 Image via Thinkstock
So, if I told you that one third of injury reports to the consumer watchdog were related to cosmetics, would you believe me?
I mean, surely there are heaps of things sold out there that cause injuries – like flimsy work-out machinery designed to create abs of steel, clothes steamers that gush jets of steam so fast it 3rd degree burns anything in a metre circumference, crazy food processors with different blades and graters for every type of food-stuff – what about floor rugs with looped tassels? Surely a trip hazard!
Well, you'd better believe me, because it's true. Though, most people that burn or trip or cut themselves on something are ashamed of being 'clumsy' rather than putting the product at fault – Just like I don't care to admit how many times I've burnt my arm with my clothes steamer!
But, of course, with makeup, severely burnt skin and bacterial conjunctivitis can't be blamed on being a klutz.
Reports to the ACCC are mandatory when there is an incident where a product has or may have caused death, serious injury or illness. It isn't the consumers that have to report this, it's the brands. And one third of these incidents are makeup related.
So, what's causing all these hardcore makeup injuries?
One reason is that counterfeit makeup products have swept Sydney. Many women think they've got a hell of a deal on NARS or MAC eyeshadows, when really, they've paid top dollar for frauds that can send them to the emergency ward.
In one recent blitz, NSW Fair Trading seized more than 8000 counterfeit MAC products at two stores in the CBD and a Western Sydney warehouse.
Minister for Fair Trading, Matthew Mason-Cox, said at the time, "These products are of poor quality and their ingredients of dubious origin."
"The injuries can be quite horrendous, especially for those with allergies," Delia Rickard, deputy chair of the Australian Competition and Consumer Commission told the Sydney Morning Herald.
"We see skin infections, bacterial conjunctivitis, folliculitis, corneal ulcers and anaphylactic shocks, which is why ingredients labelling is very important indeed."