A funny thing happened in 2017.
This little show called Imposters dropped on Stan and suddenly it was all anybody in my circles of friends and colleagues wanted to talk about.
While it was not exactly a sleeper hit, I don't think anybody really expected this dark, roguish comedy to take off with quite the swell of popularity and critical acclaim that it did.
But that, my friends, is the beauty of Imposters. It hits you hard by surprise, lures you in and before you really know what's happening it's stolen multiple hours of your life and has left you feeling empty and alone while you you wait around for the second season to drop. Without so much as a kiss goodbye or a hint of story-lines to come.
For those of you not in on the con that is Imposters, it follows a smart, savvy and manipulative lady called Maddie (Inbar Lavi) who has a special knack for morphing herself into the woman of both men and women's dreams, marrying them and then disappearing without a trace with all the money and assets they possess.
In season one, Maddie's game is thrown out of wack when three of her ex-spouses band together and track her down in order to enact revenge. While also secretly trying to find out if she ever really loved them.
All does not go to plan, however, when her former band of fake lovers Ezra (Rob Heaps), Richard (Parker Young) and Jules (Marianne Rendón) finally confront the woman who ruined their lives, only to find out that she was never working alone.
And her bosses are a hell of a lot scarier than she ever was.
Take a look at the trailer for Imposters season two, airing on Australia via Stan.
Inbar Lavi's Maddie (or Ava or Alice or CeCe or Saffron…depending on which one of her ex-marks is talking about her) is a compelling character who shifts from evil temptress vixen to vulnerable and complicated lost soul during the season as her real backstory is slowly revealed and she finds herself longing to give up her life of deceit.
While Maddie's story of manipulation and possible redemption is the central thread that holds Imposters together, the true magic and comedy of the series comes from her trio of scorned lovers.
Ezra, Richie and Jules are the ultimate band of rag tag compatriots, hailing from three completely different worlds and backgrounds yet they quickly form a tight unit that acts as a make-shift family. They fight and they argue but ultimately they all have each other's backs.
Looking for another Stan show to become obsessed with? You should get hooked on UnReal.
The chemistry between the three actors who bring these charterers to life is off the charts, ensuring that each of the scenes they share is brimming with humour, wit and emotion.
When we meet them they are all somewhat broken human-beings, all because each of them became the best version of themselves while married to their version of Maddie, and now find themselves lost.
Once banded together, they quickly pick up the con-artist tricks of the trade (honestly, the scenes where they teach themselves to pick-pocket are among the great joys of my life) and come to discover that a life of crime might actually be for them.
Season two of Imposters (which returns to Australian screens today, Friday April 6, streaming the same day as the U.S. via Stan) picks up soon after the events of season one's finale. After teaming up to pull up the ultimate con,  Maddie has once again separated from Ezra, Richie and Jules who are now attempting to untangle themselves from the claws of the waiting to pounce FBI, while also looking to pawn the million dollar ring they manged to con Maddie out of.
But, as usual, their plans end in a hilarious and unfortunate disaster.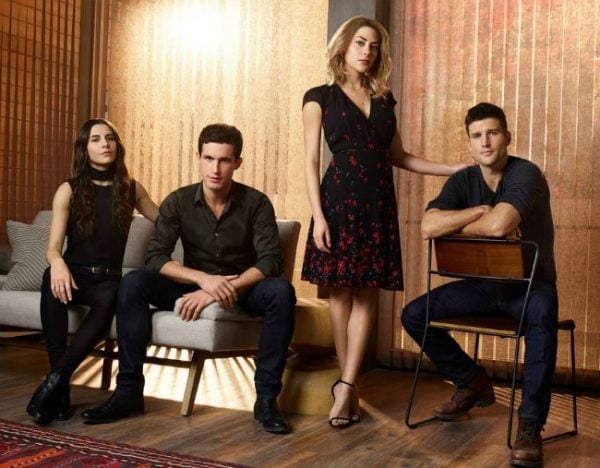 For her part, Maddie is attempting to remake her life over once again.
She's gone into hiding in a small town, scored herself a job in a tiny bookstore and committed to being a blonde who keeps to herself. Except she can't shake that feeling that she's still being watched, and then a very unwelcome visitor shows up at her door...
Imposters is the kind of show that really had the potential to burn bright, hot and fast before ultimately fizzling out once all these conflicting characters came face to face and Maddie was finally forced to face up to the people she had wronged.
Yet, somehow, season two has managed to do a dramatic three-point-term and ramp the action up for another round of comedic cons.
Imposters is the ultimate binge-worthy series, and it would be a crime not to get caught up in it.
The first episode of Imposters season two is now available to watch on Stan, which new episodes dropping every Friday. Season one is currently available to watch in full on Stan. 
For more film and TV reviews, you can follow Mamamia Entertainment Editor Laura Brodnik on Facebook.