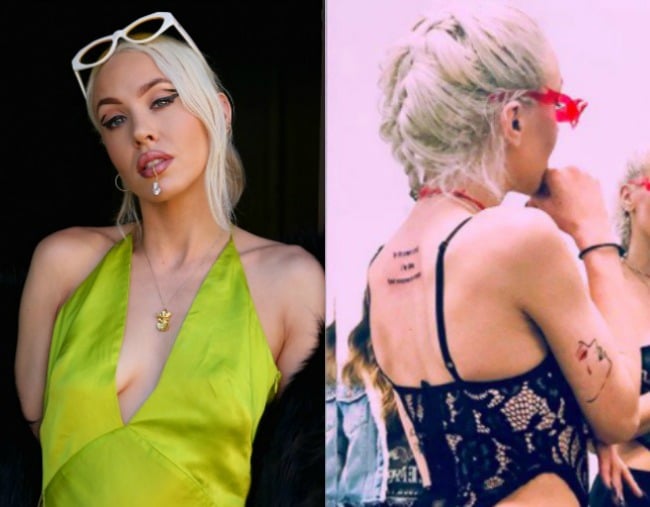 1. Imogen Anthony got a beautiful new tattoo. But some claim they can spot a typo.
When Imogen Anthony posted a photo of the new tattoo she got on her back, her fans thought they spotted a typo. Which is great except for one thing: WHO CARES.
Her new tattoo reads 'by the power of truth, I, by living have conquered the universe' – while the actual quote is apparently 'by the power of truth, I, while living have conquered the universe'.
The 27-year-old model seems to have deleted the original Instagram in which she celebrated her new tattoo, so those who got all "technical" should probably have the guilts now.
Speaking to Mamamia, Anthony said, "Aleister Crowley was a philanthropist and adjusted his history to suit him. It's an adaptation of the quote because I'm not a follower. I do what I like."
"It barely effects me because I know what it means, 'while living' means while he was alive, but by changing it to 'by' it creates it more infinite after death," she said.
The truth is that Imogen Anthony does not care, even a little bit, and while the quote isn't 100 per cent identical to the original, it isn't meant to be. It's poetic and looks super cool.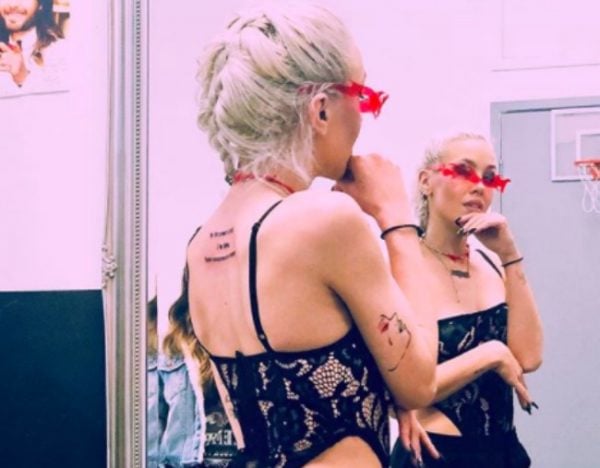 2. A reality TV star is very cranky he is not invited to the Logies after apparently being "blacklisted".
If there's one thing an Aussie celeb hates, it's not being invited to the Logies.
According to the Daily Mail Australia, Married at First Sight star Nasser Sultan has accused Channel Nine of only inviting their "favourites" to attend the evening.
The star apparently also claimed that he was blacklisted by Channel Nine after a publicist texted him to say that the network "didn't want anything to do with him".
The Logies are set to take place on the 1st of July, in a smaller venue than previous years on the Gold Coast. The venue downsize has, according to the Daily Mail Australia, resulted in 200 usual guests being cut from the invite list, including weather presenters and soap stars.
OUCH.
3. What happened when Benedict Cumberbatch saw a Deliveroo cyclist being mugged, and intervened.
Benedict Cumberbatch, star of Doctor Strange and man with the name no one can get right, has been described as a "superhero" after helping a Deliveroo cyclist fight off four muggers.
The Sherlock actor reportedly jumped out of his Uber when he saw four young men smash the Deliveroo cyclist over the head with a bottle, in an attempt to steal the cyclist's bike.
According to witnesses, the muggers ran away once Cumberbatch intervened.
"I did it out of, well, I had to, you know..." Cumberbatch told The Sun newspaper.
The incident occurred not far from fictional character Sherlock Holmes' famous home in Baker Street, London.
Cumberbatch's Uber driver, Manuel Dias said, "It all got a bit surreal. Here was Sherlock Holmes fighting off four attackers just around the corner from Baker Street."
That's another tick in the all-round nice guy book for Benedict!
4. Katy Perry sent a very naughty message to Orlando Bloom. Then realised it was public.
Katy Perry accidentally posted a very NSFW message on Orlando Bloom's Instagram post, in front of his 1.7 million followers.
"I need a season pass for that ass", Perry commented on Bloom's video post promoting his theatre production of Killer Joe.
She later went back and commented: "Oops I meant to send that to you privately".
Awkward.
It's not the first time Perry has left a cheeky comment on Bloom's Instagram.
Back in March, she commented on a shirtless photo of him writing, "Oh hey! I was actually looking for a washboard to do my laundry on".
The pair, who dated for 10 months before ending things in early 2017, have been rumoured to be back together after Perry recently flew to London to see Bloom perform in Killer Joe.
5. Mischa Barton discusses revenge porn ordeal in fascinating interview.
In an interview with The Scarlet Letter Reports, Mischa Barton has revealed the tragic effect of her ex-boyfriend selling a non-consensual sex tape online.
The actress, most famous for her role as Marissa Cooper on The OC, said the experience was "completely devastating," but that she has found strength with the women who have supported her.
"I was afraid, I was a lot of things, it was a mixture of emotions, I'm sure a lot of women who go through anything similar feel the same kind of mixture of rage, and fear, and uncertainty," the now 32-year-old said.
"I learnt that someone I loved and trusted was filming my most intimate and private moments, without my consent."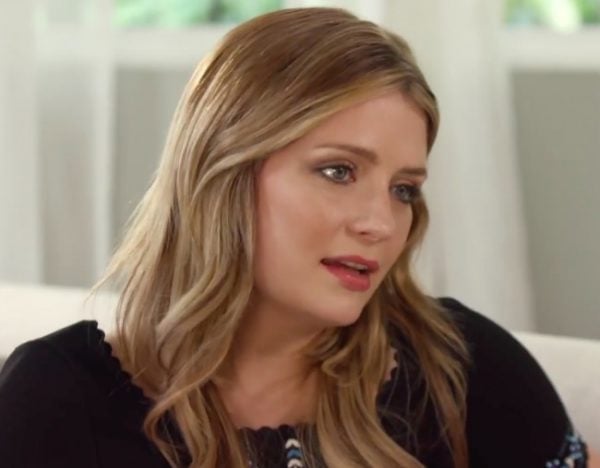 Following her horrific experience, Barton is now openly discussing what happened, hoping to empower other women in similar situations.
"There's strength in the discussion," she said.
You can read the full story here: "You should be careful:" How Mischa Barton discovered her boyfriend had secretly filmed them having sex.