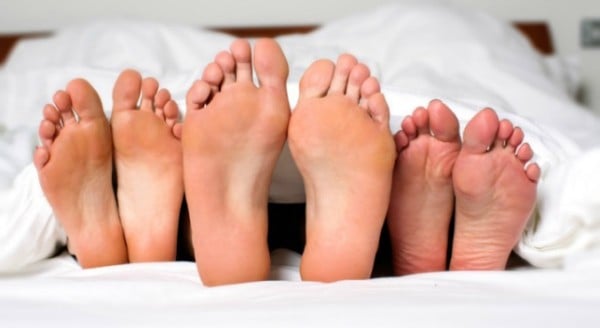 The thought of sharing your partner with another person, for most of us, is unfathomable. For couple Stephanie and Samuel it's what keeps them together.
Stephanie and Samuel (not their real names) are in a 'monogam-ish' relationship. The term describes a couple who choose to pursue and engage in sexual activity outside of their relationship yet stay emotionally committed emotionally to each other. They are mostly monogamous – but make exceptions for sex.
RELATED: The science of a successful first date – and a happy relationship
The way Stephanie and Samuel conduct their relationship is different from the broadly-perceived 'norm'. But it is worth taking the time to understand the reasons they chosen this path.
Stephanie, 37, and Samuel, 31, live in Queensland and have been married for more than four years. They have been in a committed relationship for just over 7 years and have a 6-month-old son together.
About two years ago, Stephanie was encouraged by her husband to go to the website Ashley Madison (an online dating service marketed to people who are already in a relationship) to find a man to have sex with outside their relationship. (Post continues after gallery.)
Our favourite happy celebrity couples .
Initially she thought he was suggesting the option to alleviate his own guilt, but that wasn't the reason. In fact, he was quite content with his 'sexual conquests' from his single years.
His motivation was simple: the thought of her having sex with another man turned him on. He also knew she had a considerable sexual appetite and wanted her to be satisfied.
"Our agreement is that he needs all the details. He has access to all messages and I have to give him a dirty little story about my meetings. I, however, do not wish to know any of the details if he sees another woman," Stephanie says.
RELATED: Say hello to your new relationship philosophy: 'F*ck yes or f*ck no'
"Initially in the back of my mind, I thought there was going to be a catch. I thought that at some point, he'd ask for a favour in the future. It took me a while to warm up to meeting other men."
Stephanie has met three different men using the site and has continued to have sexual relations with one man on an ongoing basis. She calls him 'the casual'.