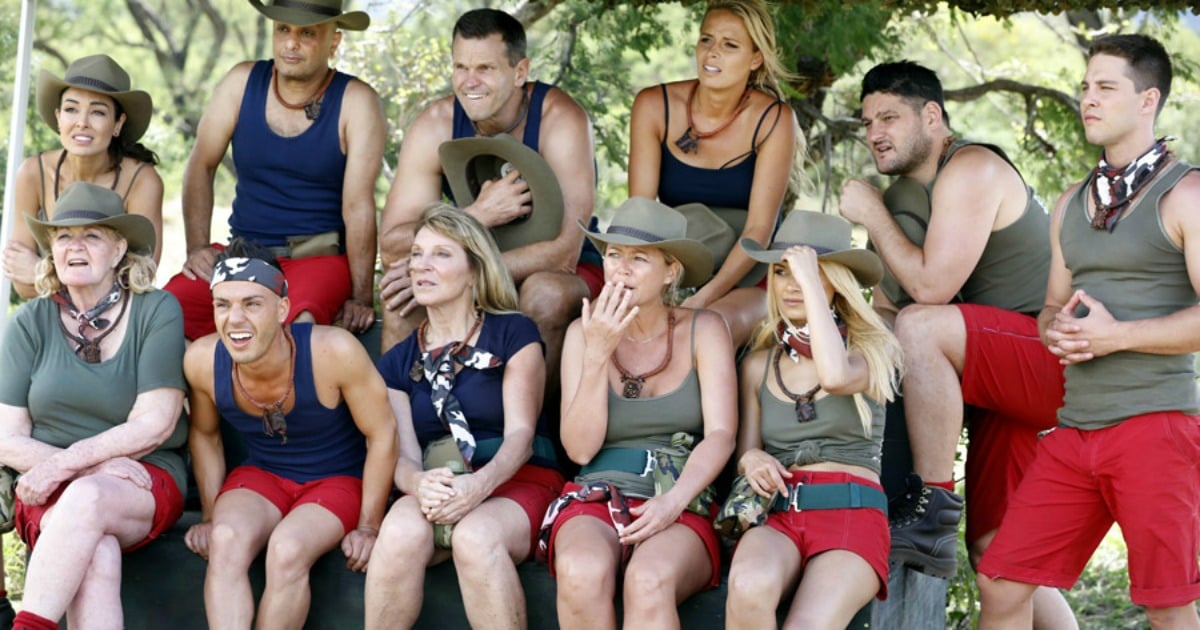 Hardcore reality TV fans probably consider I'm A Celebrity  less intense, less dangerous and a tad tamer than it's good TV friend  Survivor.
Hardcore reality TV fans would also see Julia Morris walking around the jungle in high heels, and think that it mustn't be much of a jungle.
But the I'm a Celebrity jungle took one look at Survivor this week, said hi to Julia Morris' high heels and raised them both a great, big Mozambique Spitting Cobra.
Not only is the I'm a Celebrity… Get me Out of Here! jungle an actual jungle, it also houses actual Cobras.
That find themselves in crew members' beds.
Watch: Mozambique Cobras aren't the only things causing tension in the jungle this week. (Post continues after video.)
One crew member has had the shock of his life when he found the Mozambique Spitting Cobra on his bed after feeling something lying next to him in bed when he woke one morning this week.
Jumping out of bed, he fortunately had his back to the snake as it spat highly venomous poison onto his shoulder before a local snake wrangler was called to remove the animal.
It's not the first time the crew members have found gate-crashers in their accommodation whilst filming the series, with other snakes, including the deadly Black Mamba, being found in crew members accommodation since the reality show started earlier this month.
Watch: Said actual snakes in said jungle with Laurina. Yuck. (Posts continues after vide0.)
Among the 450 or so production staff, no-one is yet to be bitten.
According to the Daily Telegraph, Donald Strydom is a reptile handler responsible for animals on set in trials and challenges as well as responding to any emergency call outs, and says it's not surprising so many snakes are turning up at this time of year.
"This is snake haven and if you look at it geographically, we are just one little point of disturbance with bush all around us," he said.
"The reason we are finding a lot of snakes now is to do with the season and it is snake season right now. The weather has a good role to play and it has been nice and warm with hardly any cool days and snake love this warmth. They're just active, looking for mice, lizards, water to drink and this is when people are spotting them."
Rosie Waterland and Andrew Daddo dish the goss on what really goes on behind the scenes on I'm A Celebrity.