I have a deep, deep love for makeup brushes.
They're less fussy, less messy than using your fingers, infinitely more hygienic, and suitable for makeup done desk-side or in-transit.
And if you too are a brush person then we've found the do-it-all, 12-piece kit that comes in its own travel case and costs the same as that eggs benedict and soy latte you bought on the weekend. And as a bit of a brush snob – who's tried everything from a magazine-freebie to high end brushes – I can confirm that these stack up to their much pricier counterparts.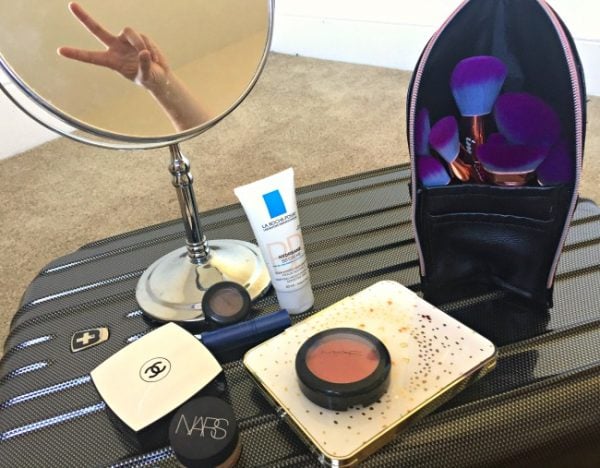 The kit in question is from Illuminate Me - which you might remember also do these space-aged creations, and have the softest of bristles, feel weighty in the hand, and come in their own stand-up leather-look pouch.
Also, despite my very vigorous buffing, stippling and dabbing, not a single, synthetic and vegan-friendly brush hair was shed.
Here's exactly how to use which brush for what...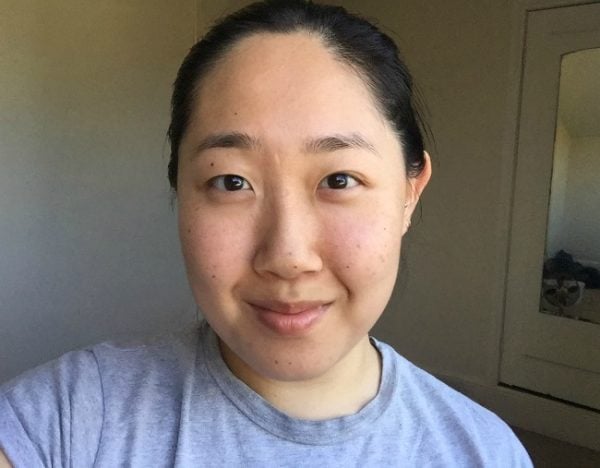 First things first, what brushes come with the Illuminate Me 12-piece kit?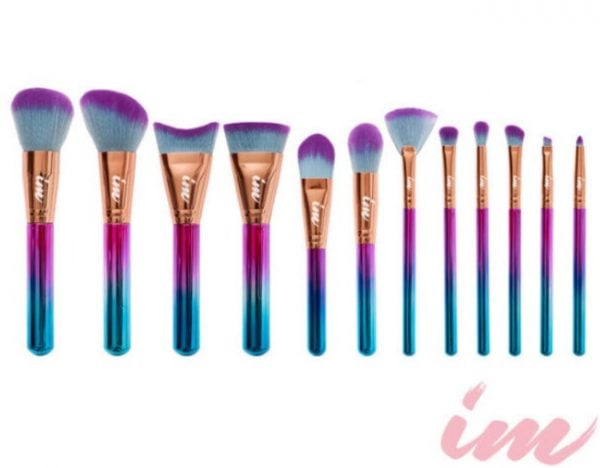 - A powder brush
- A blush brush
- A curved contour brush
- A contour brush
- A foundation brush
- A Tapered highlighter brush
- A Fan brush
- A eyeshadow brush
- A crease brush
- An angled brow brush (that's really probably more of an angled eye shadow brush because the brush is too fluffy and big for the precision you would need for your brows)
- An angled liner brush
- A pencil brush
The Mamamia Out Loud team discuss - is it problematic to try lipstick on in store? Warning, the debate gets heated. Post continues after audio.

Step one: The base.
Because I take the prescribed brush names as a mere indication as to what they're good for, I used the  'contour brush' (the straight-edged flat number) to buff in my makeup.
Using light, buffing motions to really blend in my tinted moisturiser, I felt that it gave me a streak-free finish similar to an exxier brush.
For reference, if you prefer a heavier coverage then go for the traditional paintbrush-esque 'foundation brush.' It's all personal preference, but for me I'm reserving it as a face mask applicator - just like a fancy facialist would.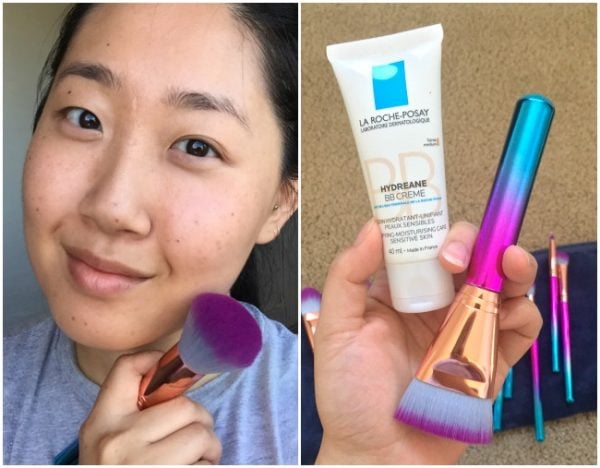 Then I used the same brush to blend in some concealer (under-eye circles), and used the powder blush to dust on a veil of finishing powder.
Step two: The contour.
And now to craft out some cheek bones...
Using the 'tapered highlighter brush' -  the rounded-shape made it a perfect fit for sculpting, I lightly buffed the contour into the hollows of my cheekbones, around my temples, jawlines, the sides of my nose and just underneath the brow bone.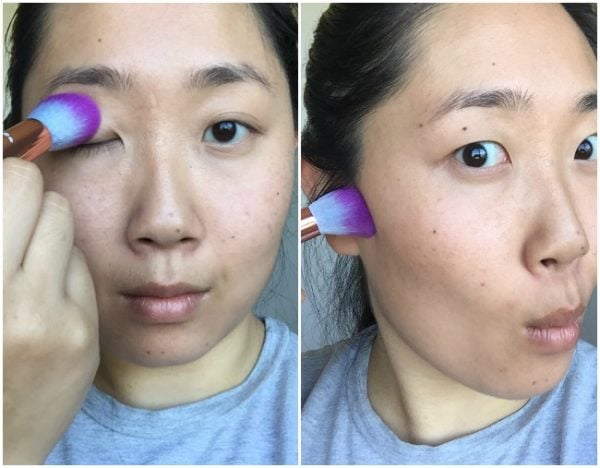 If you're a bronzer girl, this is where you could also use the blush brush on the high points of your face for an all-over glow.
Step three: Blush and highlight.
Personally I found the blush brush a bit too big for my small cheeks - again this will depend on your facial structure, so I re-used the 'tapered highlighting brush' and placed my blush on my cheekbones right on top of the contour, to give my face more shape.
Then I used the 'fan brush' to dust some highlighter onto my cheek and orbital bones, which diffused the loveliest glow without looking heavy-handed.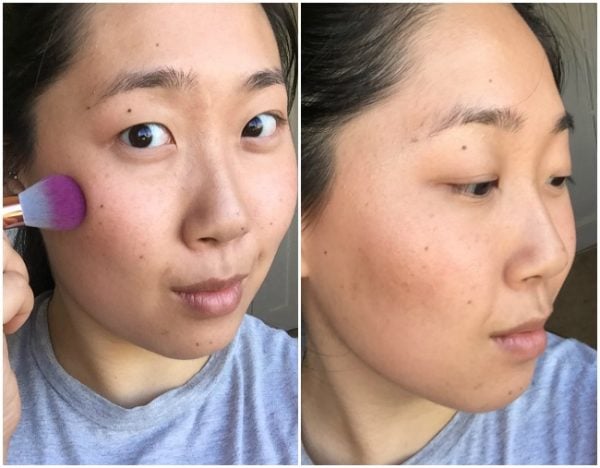 The only brush I didn't use was the 'curved contour brush,' as I couldn't quite get the product onto the 'curved' part of the brush itself. Despite this, it would work a dream for cream blush aficionados - simply apply the product to the cheek, and use small, stippling, or patting movements, to blend in the product.
Like so: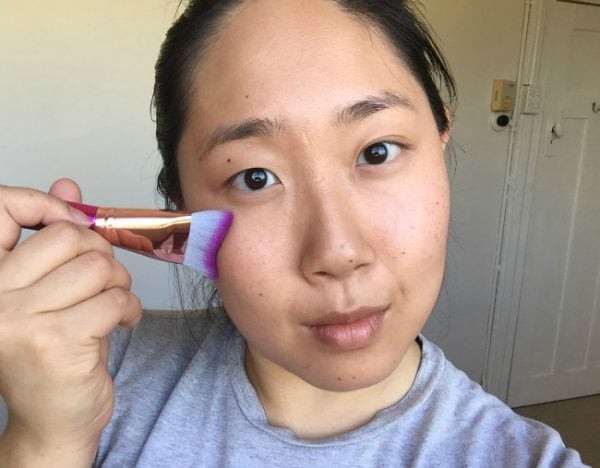 Step four: The smokey eye
Being a more budget option, I was most interested in seeing whether the Illuminate Me brushes would distribute enough colour and smoothly blend out the eye shadow, and I'm glad to say they did.
For experimentation's sake I used all three of them, and went for a heavier, smokier eye than I would normally do.
Firstly I used the 'eyeshadow brush' to pack on the colour on my lid, then used the 'angled brow brush' to use a darker colour in the crease, before blending out any harsh edges with the 'crease brush'.
Finally, I smudged a bit of colour on the lower lash line with the 'pencil brush', and popped a bit of inner corner highlight.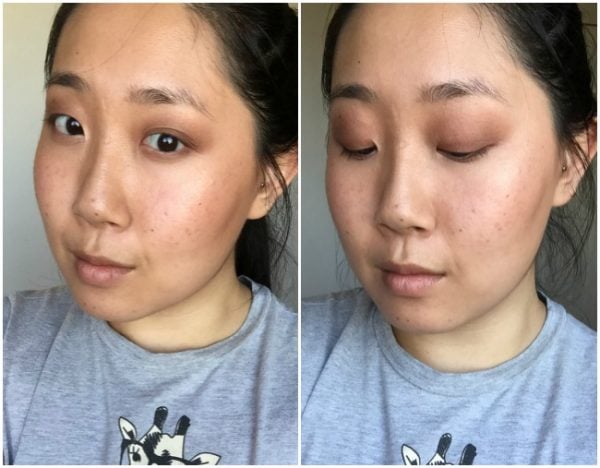 Out of the entire eye set the 'crease brush' was a definite favourite and better than similar brushes that cost over $27 on their own. Also, if you're the type to use liner, this is where you could use the 'angled liner brush' to stamp in your choice eye goop and do a bit of a flick.
Step five: The extras
Now whack on some mascara, pop on your brows, swipe on a bit of lip colour and thank goodness because you're all done!
*takes a deep breath*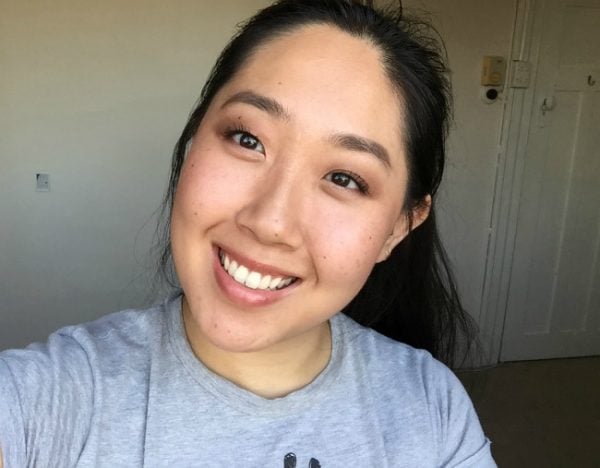 The verdict...
Will you need all the brushes for an everyday-face of makeup? Probably not, but for the very low investment of 27 dollaroos for 12 brushes, which works out to be $2.25 per brush, there's something for every occasion from a full on smokey eye to a quick 'dash to the shops' look.
Despite the cost, the brushes are very affordable, high quality and made for travel - be it your daily commute or an overseas holiday where luggage is at a premium.
The kit would also be the perfect gift for a teenage girl just getting into makeup, or the newbie going from fingers to brushes with all the options you could ever want to stipple, buff and smooth your makeup to perfection.
The Illuminate Me 12-Piece Bright Brush Set with Stand Up Pouch is available on Mamamia Shopping for $26.99.