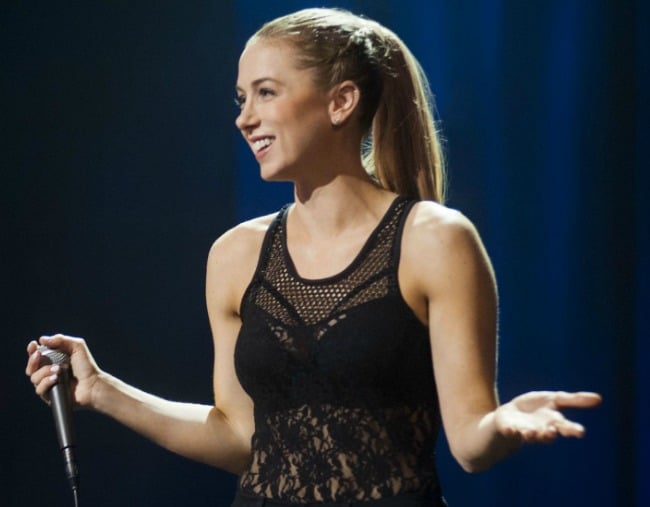 It's time to get your 'party goblin' ready.
You see, Iliza Shlesinger will be touring Australia later this year.
In case you missed it, Shlesinger is an American comedian who has released four Netflix specials in the past few years.
Her 2016 comedy special, Confirmed Kills, introduced us to the glorious concept that is the 'party goblin'.
Shlesinger says every woman has a inner 'party goblin'.
"Your party goblin sleeps in the back of your brain, and she waits on piles of regrets, and rags and old Tiger Beat magazines," she says in one of her most famous bits.
"She will awaken when she hears you say, 'I guess I'll just come out for one drink.' (She'll make you) eat that sandwich out of the garbage, then text your ex that you love him and turn your phone off… When party goblin gets you, you wake up on your couch."
In her new comedy special, Elder Millennial, Shlesinger explained that every woman also has an inner 'dragon body'.
The comedian says that once a guy leaves a woman's place, her inner 'dragon body' comes out.
"But… you think… we stay… that put-together… once you're gone. You have no idea. They have no idea… what lies beneath. You have no idea… that under the hair, and the make-up, and the lashes, and the shelf, and the bras… for every woman, lies the beating heart of a hungry… exhausted… annoyed… she-dragon!
"And she is waiting to come out. She comes out every couple hours. Like opinions, sweat, urine. Hopefully you pee more than every couple hours, still. She's got to. You gotta let her out, and she's waiting. And homeboy is taking forever to leave, he's, like, 'All right, I guess I'll give you a call later'. Your dragon's, like, 'Get out! Get out. I got to take a sh*t. Get out! Get rid of him. I gotta go in that bathroom I share with another grown woman and take a Jurassic thunderdump, mostly in the bowl, then send him a picture like I'm doing something hot'."
Shlesinger will perform at The Tivoli in Brisbane on Tuesday December 4, Melbourne's Athenaeum Theatre on Wednesday December 5, and City Recital Hall in Sydney on Friday December 7 for part of AAMI Just For Laughs. You can buy tickets here.