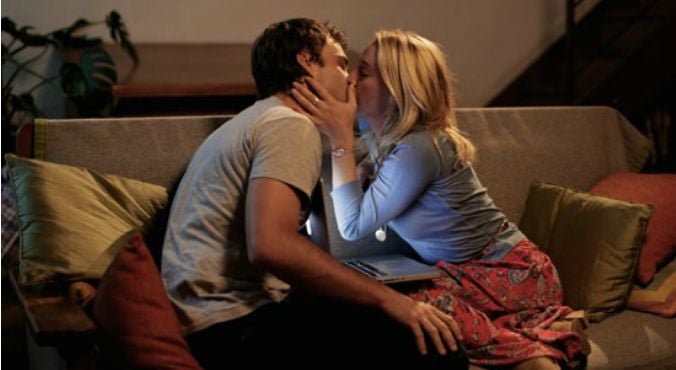 Image via Channel 10.
So things are progressing well in your relationship. You're happy and are thinking quietly to yourself that you may have even found 'the one'.
But how do you know for sure? While certain tasks and activities can cause arguments here and there, there are also those that have the potential to completely smash your relationship to smithereens (We're looking at you, IKEA and your tricky furniture).
RELATED: 16 modern signs your relationship is getting serious
We've rounded up the 12 challenges that will test even the strongest relationship. If you've survived these, congratulations, you can survive anything.
1. Getting through a road trip
In pop culture, road trips are romantic, free-spirited adventures. In reality? They're a long time spent crammed in a small space with limited leg room. If you can manage several hours confined in a car together, agree on a musical playlist, and don't want to kill each other by the end of it, you're on the right track.
2. Choosing, buying and building a piece of Ikea furniture
The phrase "Ikea meltdown" wasn't coined for nothing. Perhaps the ultimate test of any relationship, Ikea causes so many problems that some relationship counsellors even incorporate a trip to the flatpack furniture megastore as a communication exercise.
RELATED: 5 signs that relationship experts say indicate a divorce or breakup is on the way
With confusing and limited instructions, and always, always a few inexplicable pieces left over, any underlying concerns or problems with your relationship will emerge. So if you manage to complete the puzzle and still want to snuggle in bed together after, HOLD THEM TIGHT. (Post continues after gallery.)
Our favourite on screen couples.
3. Camping
For most of us, camping is testing at the best of times. You're living under a glorified canvas gazebo in the middle of the great outdoors, far away from the home comforts of wifi and Netflix.
RELATED: The science of a successful first date – and a happy relationship
Ridiculously loud snoring, an inability to put up the tent and and daggy Bear Grylls jokes all have the potential to cause some serious conflict.
4. Cooking a meal together
There is no room in the kitchen for two head cooks, so preparing a meal together instantly presents a problem for a couple who both like to lead.
If you can work together, avoid criticising your partner about how they're chopping up the onion incorrectly and produce a Masterchef-worthy meal at the end of it, then your relationship is pretty indestructible.
5. Food poisoning
Hopefully not as a result of the food you've produced together, food poisoning is far from a pleasant experience. You look like crap, you feel like crap and to be honest, you've probably got crap coming out of both ends.
If you or your partner can still look each other in the eye and think sexy thoughts after the horror of food poisoning, congratulations - you've found true love.