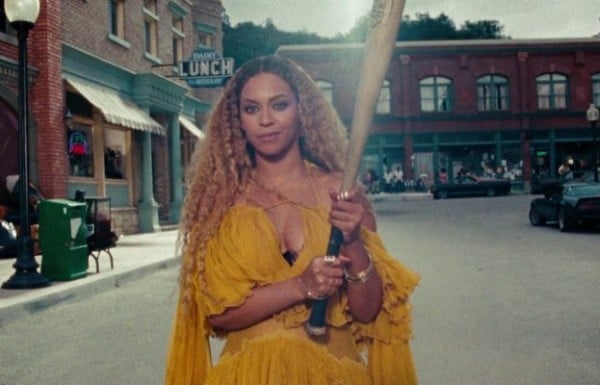 We were left with a lot of questions over the weekend after Beyoncé dropped her new visual album, Lemonade. 
Is it just an album about Jay-Z cheating on Beyoncé? Why is it called Lemonade? Does Blue Ivy have a cameo? Who the heck is 'Becky with the good hair'? (You can find the answer to these and all of your questions in our handy explainer here).
It seems the world has become obsessed with the latter question, calling out fashion designer Rachel Roy and singer Rita Ora as being the possible 'Becky' who Jay Z supposedly cheated on his Grammy-award winning wife with.
Now, Iggy Azaelea has put in her two cents about the subject, with the rapper saying the pseudonym Beyoncé used was 'too harsh on white people'.
Yes, really.
Beyoncé's new album, after all, is a celebration of coloured woman everywhere, you hardly see any white people in the entire 65 minute clip. Yet, Azaelea has nit-picked the lyric 'Becky' in a series of tweets saying she has been called 'Becky' a numbers of times and that it 'doesn't have any positive intentions behind it'. Basically, Azalea believes Bey is using 'Becky' to say 'basic white girl'.
Watch below for the four times Bey proved to be a feminist icon. Post continues after video.
"Generalising ANY race by calling them one stereotypical name for said race. I personally don't think is very cool. The end," Azalea tweeted this morning.
"The whole Becky thing "give me that Becky" comes from white women's supposed love for blow jobs. So excuse me but, I don't want to be called a generalised name that gained popularity as a way to describe oral sex and then [sic] generally white women. No thanks," she added.
We think you've missed the point, Iggy.