Period: SURPRISE.
Jessie: You serious right now?
Period: Yeah lol.
Jessie: I thought we weren't speaking until at least the end of the month…? That's what we discussed?
Period: Yeah but then you wore white jeans and I had to say something.
Watch the video playing above to see what would happen if your period was a person. 
LISTEN: A man has invented the perfect alternative to pads and tampons. Just glue your vagina shut! We discuss all the pros and, um, cons on Mamamia Out Loud. Post continues below. 
Jessie: How can you even tell? I'm actually genuinely interested.
Period: Oh – simple. Periods are attracted to the scent of white clothing and nice, preferably new, underwear. I've been trying to tell you that for years. We also had it drilled into us at Uni to always descend onto light surfaces and in public spaces. Keeps people on edge. It's literally part of the course. So they'll never forget about us, you know?
Jessie: BUT YOU WEREN'T EVEN DUE. I downloaded a f*cking app and everything. You're such a troll.
Period: Meh, got bored.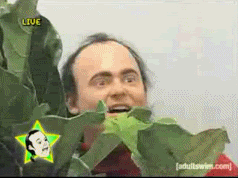 Jessie: Well, I'm shitty about it.