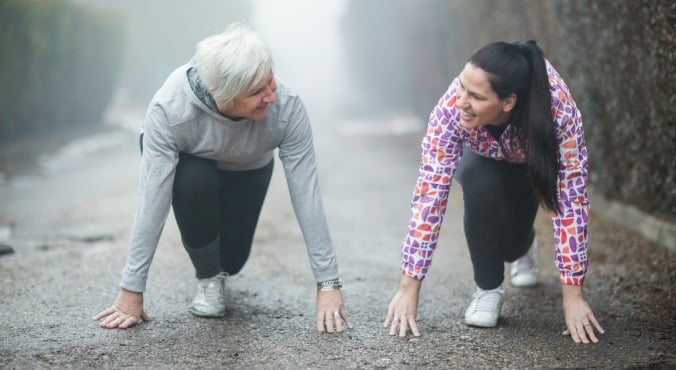 Image: iStock
A twice weekly run, regular gym sesh or occasional yoga class — once you've got into the swing of a workout, it can be easy to stay there.
Before you know it months and years will have passed and you'll still be doing the same routine. But are you still getting all the benefits?
Just like your wardrobe, your exercise routine should change as you do. According to personal trainer Michelle Wright, we should be altering it according to our life cycle stage.
"It is a very masculine view to consider our different fitness goals and workouts by age rather than life cycle. Men have relatively few hormonal fluctuations over their life span. Women on the other hand, experience significant changes… not just on a monthly cycle, but also when we change from adulthood through to pregnancy, postnatal and then perimenopausal and post-menopausal periods of our lives," she says.
"Each of these uniquely female 'life cycles' creates a unique and significant set of implications that impact our fitness goals and workouts." 
Watch: Sam Wood shows us an easy circuit to do anytime, anywhere. (Post continues after video.)
Pre-pregnancy life cycle phase
Your mantra: start as you mean to go on. This is the stage where lifetime habits are made, so it's important to find your groove and keep on moving.
"Girls, who are often active as teenagers with sport, often lose their exercise regime when shifting to full time employment. [Try] revisiting an activity that was enjoyed as an adolescent, like netball, soccer – look at corporate games," says Wright.
"The goal should be to start or remain active. The best way to achieve it is to do an exercise that you enjoy."
Workouts to try:
Anything goes here. Pick up social sport, try out all the classes, get into a rhythm at the gym or take your running to the great outdoors.
Things to avoid: Yes, your period can mess with your exercising ability. The most important thing is to listen to your body to avoid pushing yourself too far and increasing your chances of injury.
"Often during this monthly hormonal stage, women feel least likely to work out and if they are listening to their bodies might skip the gym and take it easy. It is a good idea to ignore the screaming PT that says 'You can work through it' and document how your hormonal cycle impacts on your work out via special apps like EVE," says Wright. (Post continues after gallery.)