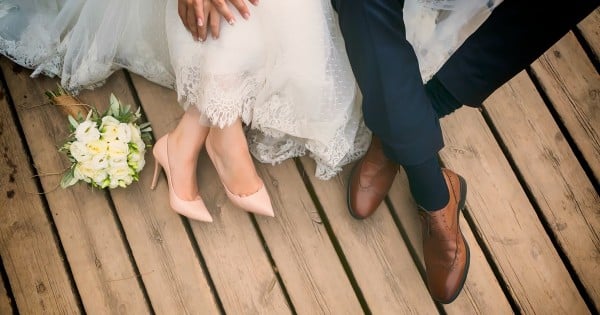 My wife and I got engaged in the winter of 2013, and pretty much immediately started planning a wedding for the next autumn. (There's a joke in there somewhere about how we moved somewhat quickly, but we actually went pretty slowly for dykes!)
As winter faded into spring and spring faded into summer, despite the wedding planning stress, I had never been so happy in my entire life.
But something wasn't quite right.
I first noticed it when one of my favourite shirts came out of the wash and just didn't fit right.
It wasn't that I couldn't get it on — it was just that it suddenly looked funny on my body. Flummoxed, I assumed it shrunk in the dryer (as I've never been exactly careful with my clothes) and gave it to my partner, who was just a little smaller than me.
But then it happened again, with another shirt. Then it happened with a pair of pants; then, a dress. You see where this is going.
I had always considered myself to be extremely body positive. I loved my body! I had several close friends who were fat activists, and I was working hard to be a good thin ally.
Watch: Women share their greatest wedding regrets. (Post continues after video.
Despite all of that, I wasn't ready for the changes that were happening in myself.
One day it clicked that there wasn't actually anything wrong with our dryer — it was just that my body was changing. I found myself getting angry and sad and confused, and I decided to keep it a secret from my fat friends.
All of my already complicated feelings were further complicated by one thing: bride culture.
We were totally engrossed in planning a wedding and we were doing most of it ourselves, so that meant reading up on what to do, how to cut costs and where, and how weddings even work in the first place.
Almost everything in the known universe written about weddings is written for brides, and brides are assumed to be more or less the same: