A UK mum has been left horrified after discovering her boyfriend has been watching pornography while in the same room as her young daughter.
Unsure of what to do, the woman known only as Lola posted to online chat forum Netmums to seek advice on the "moral levels" of her partner.
"Today I found search history on his phone and it was clear that he had been watching porn in the early hours of this morning and the same on Monday…usually his history is deleted but obviously he forgot this time," she began.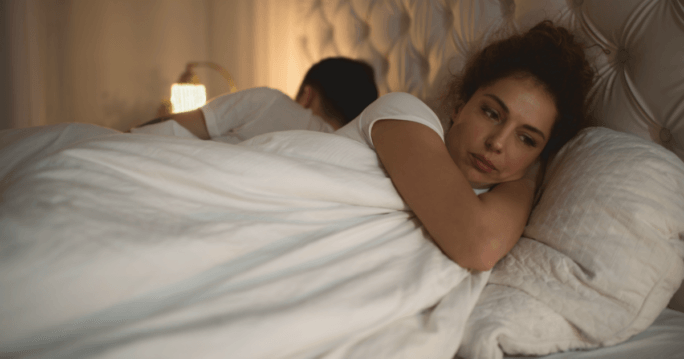 "My issue is that we have a 3 yr old son who often comes into our bed in the night and so my partner goes and sleeps on my sons [sic] bed which is the bottom bunk, my 8 year old daughter sleeps above."
Lola also explained that her daughter is from her previous marriage and in no way related to her partner, later stipulating that she has no concerns about any kind of abuse taking place, but feels discomfort about him watching pornography in the presence of such a young child.
"There is no doubt that my partner was watching porn twice with my daughter sleeping above and something isn't sitting right with me. I haven't said anything to him yet but really in my mind I want him to go."
Listen: The Prude and the Pornstar discuss consuming porn in an ethical way. Post continues... 
She concluded, "what I want to know is this acceptable? Totally wrong? I mean I feel disgusted and disappointed."
Receiving dozens of replies, the majority of mums and dads on the site recommended Lola first speak to her partner about her issue with where he was watching pornography before ending the relationship.
"I've no problem with porn per say my partner watched it and I have too but I don't think it's right him watching it with your daughter in the same room. I definitely would confront him as let him no how you felt about it," one mum replied.
"Your idea if switching bedrooms is reasonable. You should still ask or tell your partner your concern," another agreed.
Two days later, Lola posted an update to what had happened after "the worst night sleep" and a day spent planning how to end her relationship, learning that her partner had been watching the pornography during working hours and not in her child's bedroom.
"I confronted my partner and I managed to stay calm and state my issue in an adult way...he was, I can categorically reassure you, not doing this is my child's bedroom THANK GOD!" she wrote.
"The look of disgust on his face when I suggested this along with his remark that he would never do that with a child in the room or in his sons [sic] bed either if there wasn't anyone in the room reassured me completely."
Would you be okay with your partner watching pornography without your knowledge? Let us know in the comments section below.