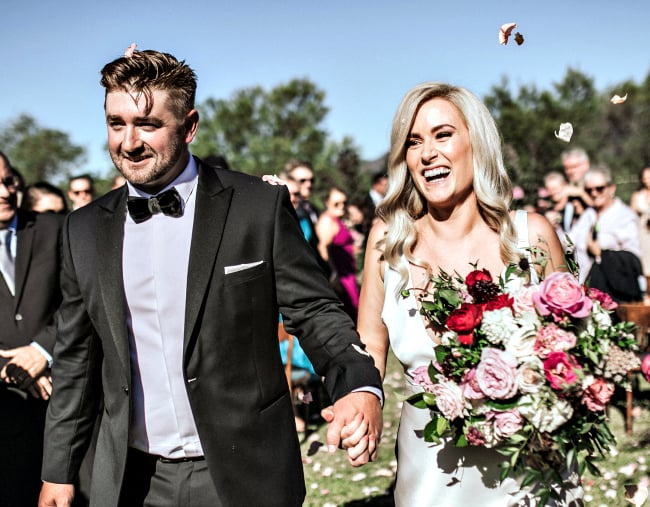 In honour of Mamamia's wedding planning podcast Hitched, we wanted to celebrate (and perve on) YOUR weddings.
Each week, we'll deep dive into one Aussie couple's wedding day to bring you all the details about the important stuff. From the practical things like the dress and vendors to the words of wisdom they wish they'd heard before their big day, below you'll find everything you want to know. 
Oh, there are lots of beautiful photos too.
This week's Wedding of the Week is Hayley and Brys' non-traditional Hunter Valley wedding. Enjoy! Don't forget to Subscribe to Hitched here.
The basics.
Who: Hayley, 29, and Brys, 29, from the ACT.
Wedding date: March 11, 2018.
Number of guests: 118
Photography: Bel Combridge, Bel Combridge Photography.
"Bel and I have been friends for 14 years, her photography style is so complimentary to any style of wedding. What we loved about Bel's style is the candid, natural photos she captures. Bel also makes what can sometimes feel like a very awkward experience much less awkward. This girl knows her stuff and I would recommend her to everyone!"
Hayley and Brys' love story.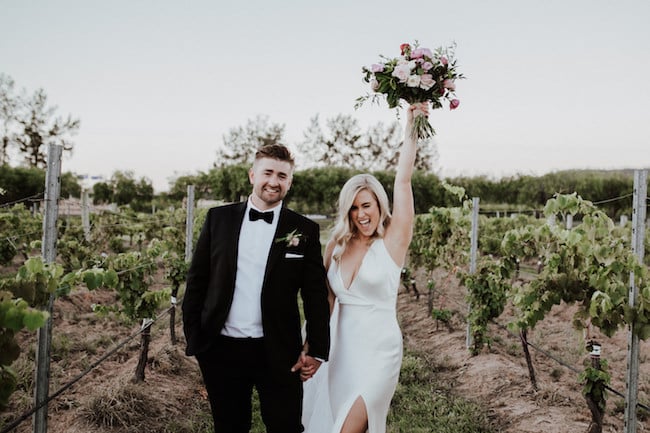 "Brys and I met first in 2009 at a sports bar. It was an unusual meeting, unexpected in that I was out with my girlfriends for a girls only dinner. I was unimpressed that a group of boys (known to one of my friends) had interrupted our evening, so I wasn't overly warm to Brys begin with - short answers, maybe a little uninterested and rude. Thank goodness for Brys' persistence, it turned into a spontaneous and natural love for one another."
"Brys proposed to me at Broulee Beach on the South Coast. This is a special place for my family, and is even more special now. It's quite a long, funny story, but in short, we took a bottle of wine down to the beach (not unusual for us) and Brys proposed with a Sam Smith song playing in the background. It was such a warm Autumn day, so there was barely a soul on the beach, it was perfect!
Neither one of us had ever really wanted to get married, my mum and dad, and Brys' parents aren't married. Both of our parents showed us you absolutely don't need to get married to show real and raw love, commitment and long-lasting happiness. Deciding to get hitched was something that came naturally to Brys and I because we wanted it, not because it is 'the right thing' to do, but because we wanted to express our love in this particular way. And we love a great party!"
The wedding dress.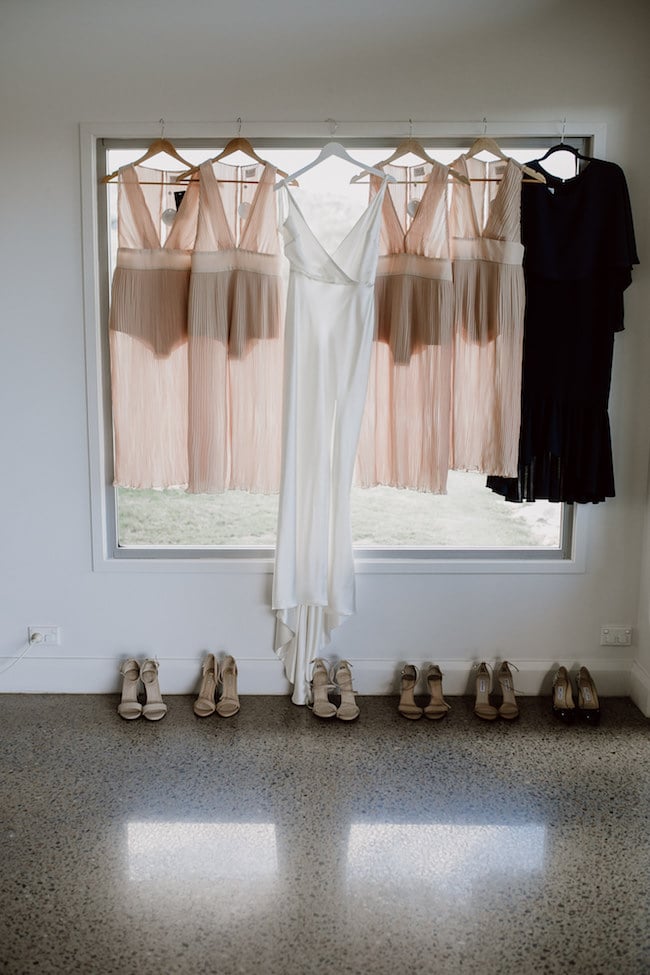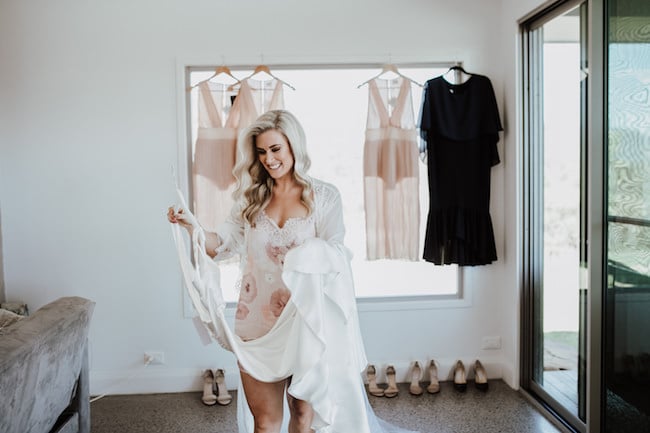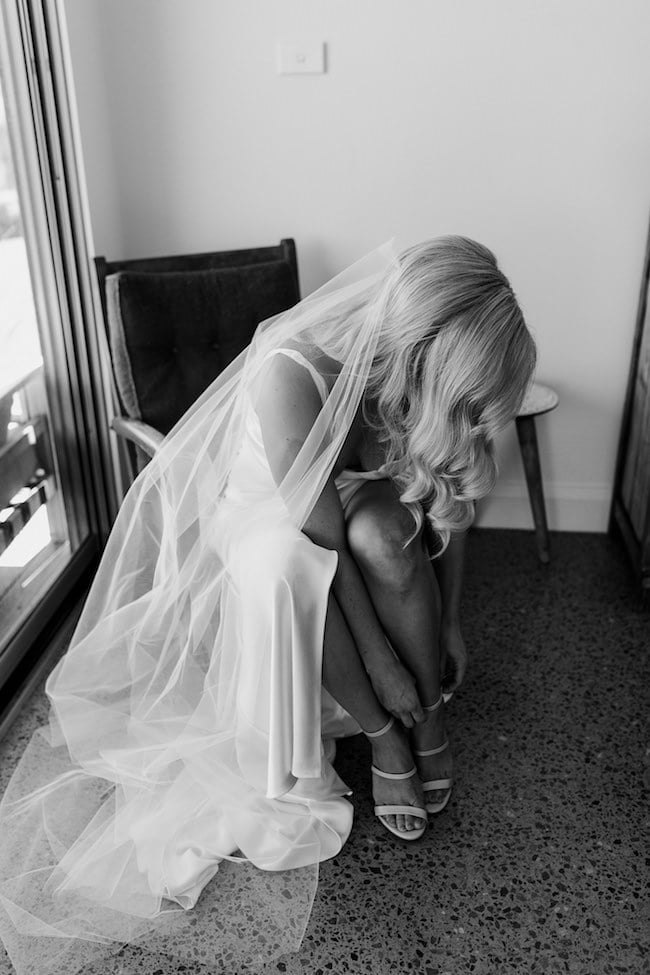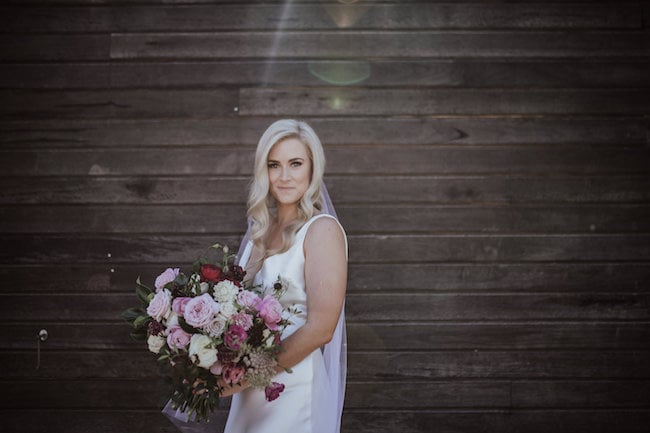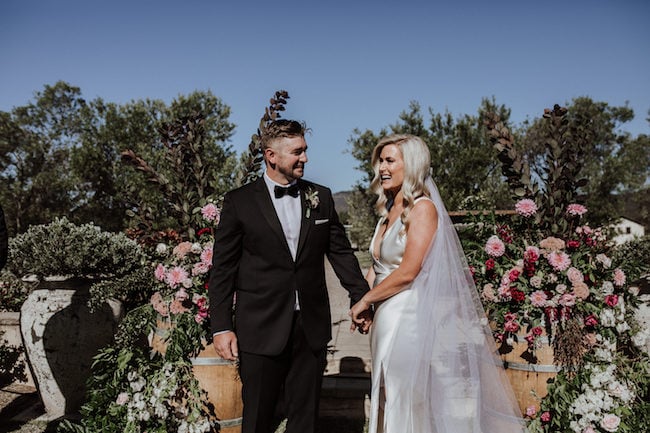 Wedding dress: Pallas Collective, by Pallas Couture.
"I had never pictured myself in a wedding dress, ever, so when I started trying on dresses, I went in with a VERY open mind. I knew it would be fun exciting, but I guess I was a bit apprehensive that I wouldn't find anything that I liked."
"My sisters Millie, Josie, Kat and Casey, my mum Tammy and my mother-in-law Mandie came with me to try on dresses. I went to three stores in Sydney and was even prepared to visit Melbourne if I felt the need. I would say I probably tried on 15 or 20 dresses of all different styles. I tried on every kind of dress, and of course, I ended up buying the very first dress that I tried on. It definitely wasn't the 'aha' moment that some brides talk about.