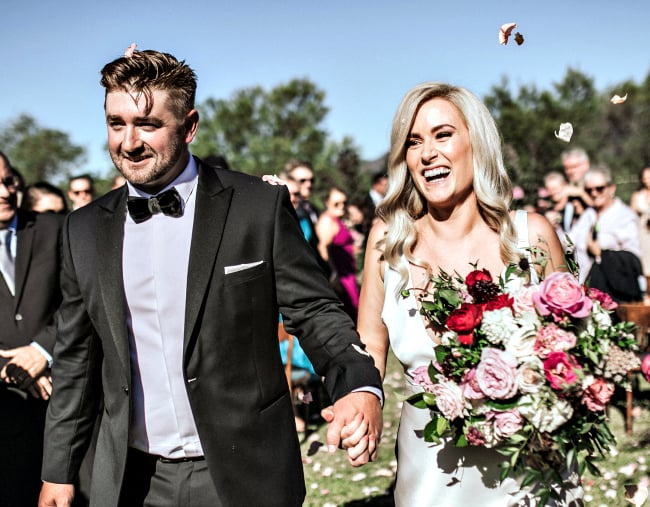 In honour of Mamamia's wedding planning podcast Hitched, we wanted to celebrate (and perve on) YOUR weddings.
Each week, we'll deep dive into one Aussie couple's wedding day to bring you all the details about the important stuff. From the practical things like the dress and vendors to the words of wisdom they wish they'd heard before their big day, below you'll find everything you want to know. 
Oh, there are lots of beautiful photos too.
This week's Wedding of the Week is Hayley and Brys' non-traditional Hunter Valley wedding. Enjoy! Don't forget to Subscribe to Hitched here.
The basics.
Who: Hayley, 29, and Brys, 29, from the ACT.
Wedding date: March 11, 2018.
Number of guests: 118
Photography: Bel Combridge, Bel Combridge Photography.
"Bel and I have been friends for 14 years, her photography style is so complimentary to any style of wedding. What we loved about Bel's style is the candid, natural photos she captures. Bel also makes what can sometimes feel like a very awkward experience much less awkward. This girl knows her stuff and I would recommend her to everyone!"
Hayley and Brys' love story.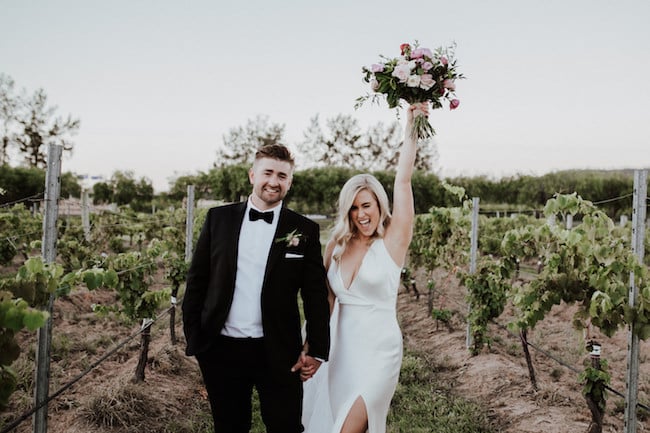 "Brys and I met first in 2009 at a sports bar. It was an unusual meeting, unexpected in that I was out with my girlfriends for a girls only dinner. I was unimpressed that a group of boys (known to one of my friends) had interrupted our evening, so I wasn't overly warm to Brys begin with - short answers, maybe a little uninterested and rude. Thank goodness for Brys' persistence, it turned into a spontaneous and natural love for one another."