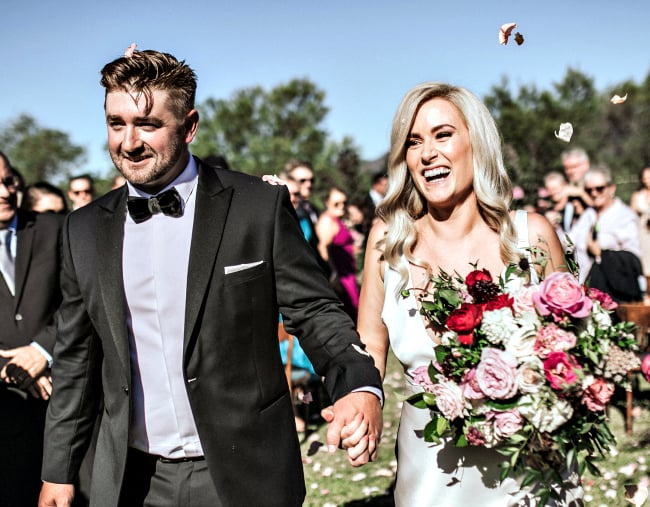 In honour of Mamamia's wedding planning podcast Hitched, we wanted to celebrate (and perve on) YOUR weddings.
Each week, we'll deep dive into one Aussie couple's wedding day to bring you all the details about the important stuff. From the practical things like the dress and vendors to the words of wisdom they wish they'd heard before their big day, below you'll find everything you want to know. 
Oh, there are lots of beautiful photos too.
This week's Wedding of the Week is Hayley and Brys' non-traditional Hunter Valley wedding. Enjoy! Don't forget to Subscribe to Hitched here.
The basics.
Who: Hayley, 29, and Brys, 29, from the ACT.
Wedding date: March 11, 2018.
Number of guests: 118
Photography: Bel Combridge, Bel Combridge Photography.
"Bel and I have been friends for 14 years, her photography style is so complimentary to any style of wedding. What we loved about Bel's style is the candid, natural photos she captures. Bel also makes what can sometimes feel like a very awkward experience much less awkward. This girl knows her stuff and I would recommend her to everyone!"
Hayley and Brys' love story.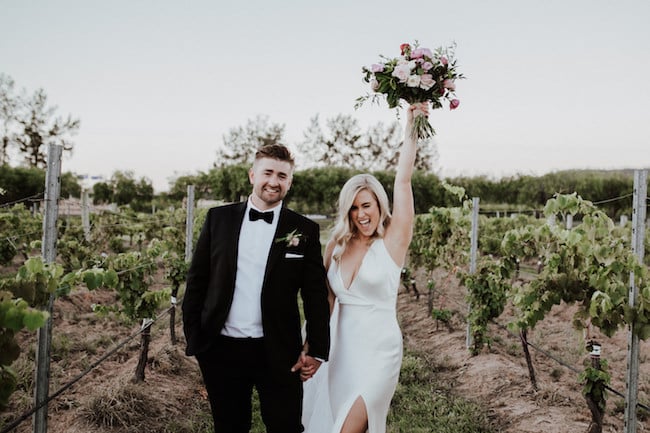 "Brys and I met first in 2009 at a sports bar. It was an unusual meeting, unexpected in that I was out with my girlfriends for a girls only dinner. I was unimpressed that a group of boys (known to one of my friends) had interrupted our evening, so I wasn't overly warm to Brys begin with - short answers, maybe a little uninterested and rude. Thank goodness for Brys' persistence, it turned into a spontaneous and natural love for one another."
"Brys proposed to me at Broulee Beach on the South Coast. This is a special place for my family, and is even more special now. It's quite a long, funny story, but in short, we took a bottle of wine down to the beach (not unusual for us) and Brys proposed with a Sam Smith song playing in the background. It was such a warm Autumn day, so there was barely a soul on the beach, it was perfect!
Neither one of us had ever really wanted to get married, my mum and dad, and Brys' parents aren't married. Both of our parents showed us you absolutely don't need to get married to show real and raw love, commitment and long-lasting happiness. Deciding to get hitched was something that came naturally to Brys and I because we wanted it, not because it is 'the right thing' to do, but because we wanted to express our love in this particular way. And we love a great party!"
The wedding dress.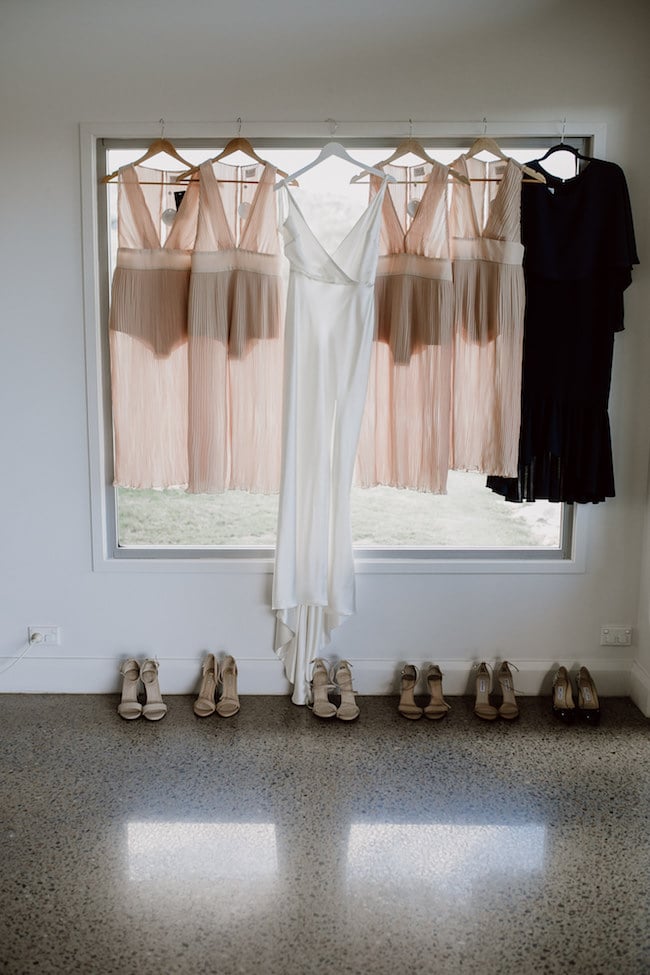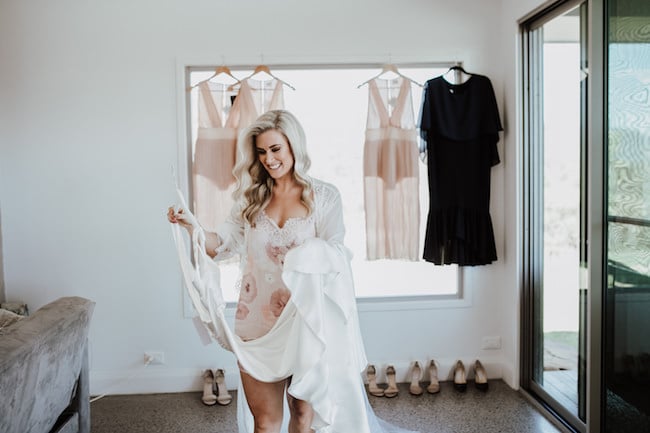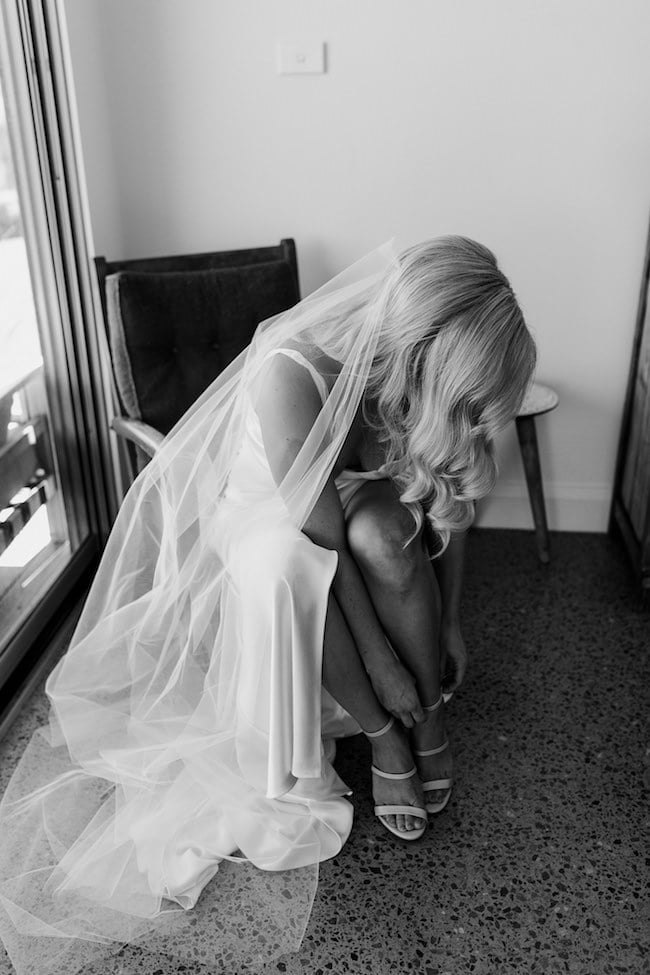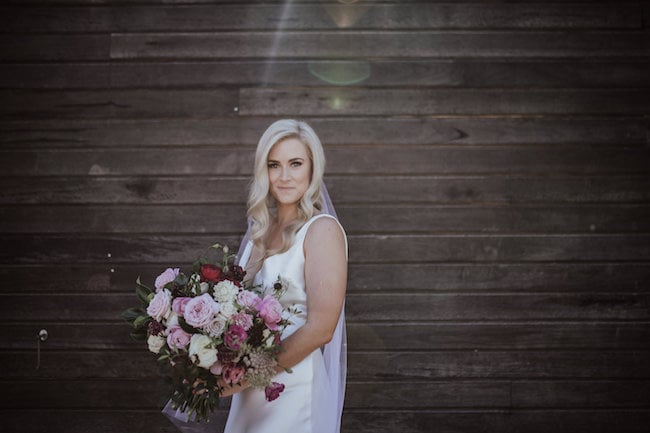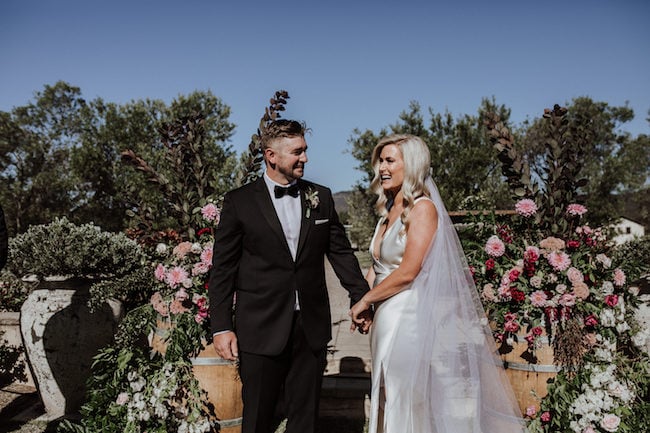 Wedding dress: Pallas Collective, by Pallas Couture.
"I had never pictured myself in a wedding dress, ever, so when I started trying on dresses, I went in with a VERY open mind. I knew it would be fun exciting, but I guess I was a bit apprehensive that I wouldn't find anything that I liked."
"My sisters Millie, Josie, Kat and Casey, my mum Tammy and my mother-in-law Mandie came with me to try on dresses. I went to three stores in Sydney and was even prepared to visit Melbourne if I felt the need. I would say I probably tried on 15 or 20 dresses of all different styles. I tried on every kind of dress, and of course, I ended up buying the very first dress that I tried on. It definitely wasn't the 'aha' moment that some brides talk about.
"The first dress I tried on was something that I never thought I would try. The ladies in the store insisted that I still try it on, so I did. In the change room, I said, no way, I am not coming out... but again, the ladies insisted. I didn't want to come out because I had literally squeezed into the dress, the split was almost at my hip bone and I just didn't want to bother. I walked out of the change room and stood in front of the mirror - once the ladies showed me how it would sit differently in 'my size', I immediately saw the potential."
Hayley's bridal hair, makeup and final touches.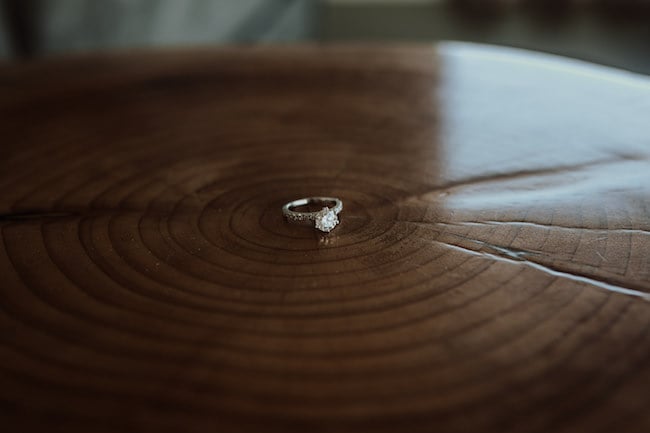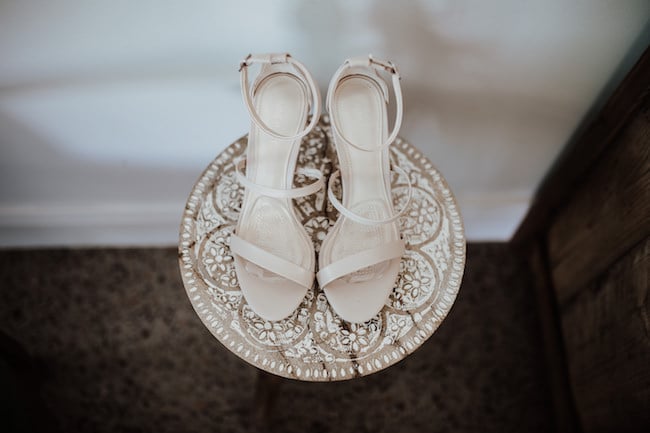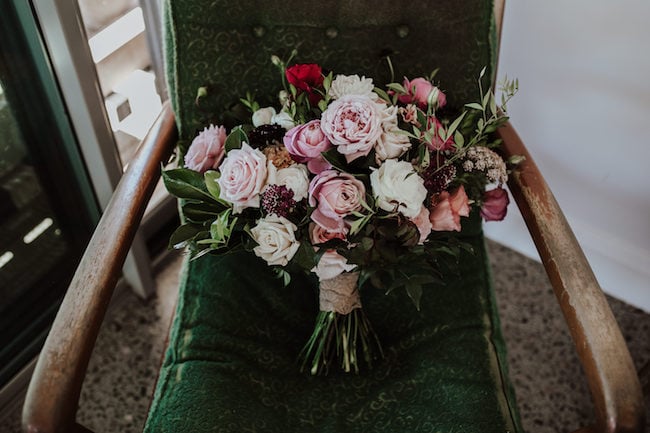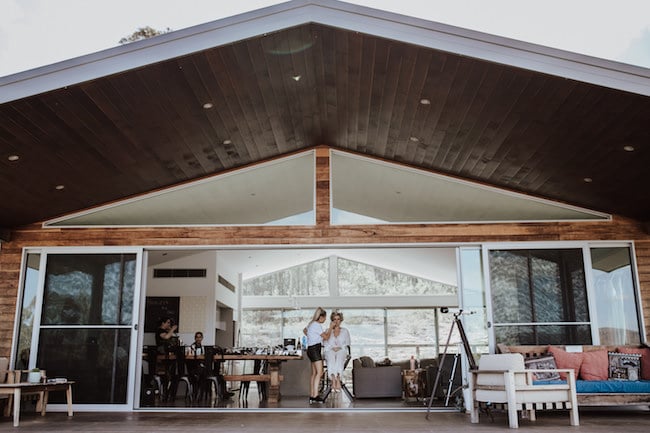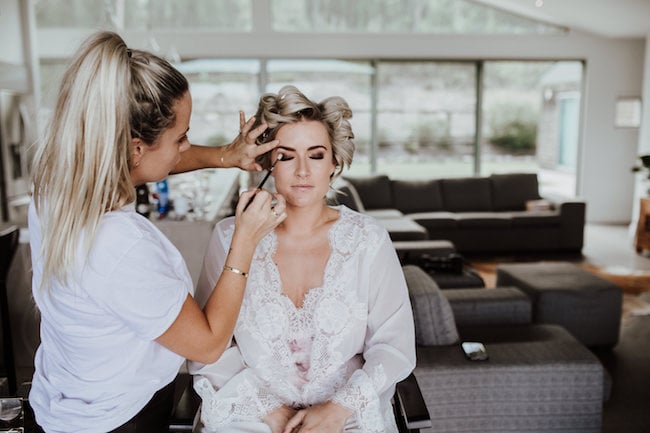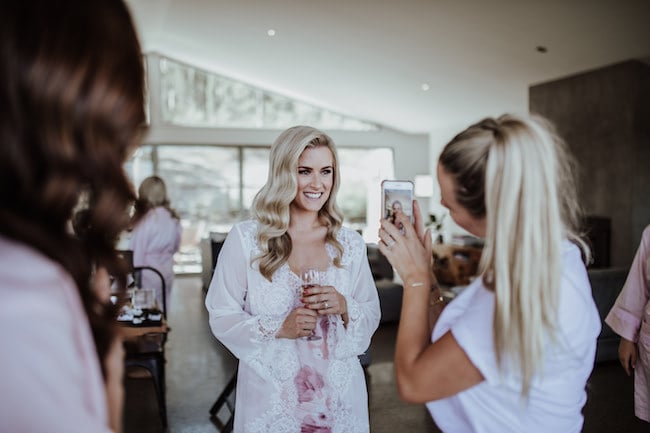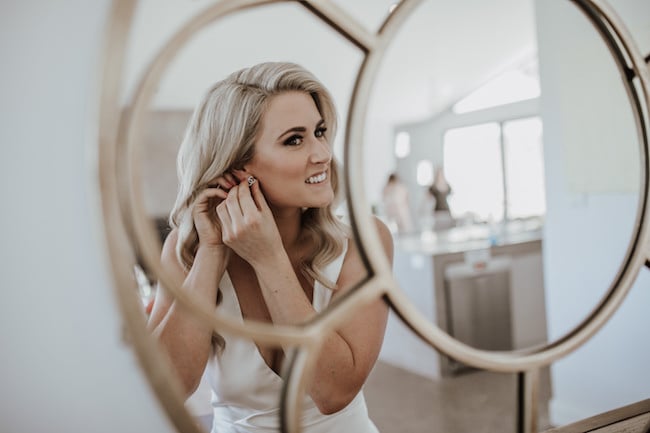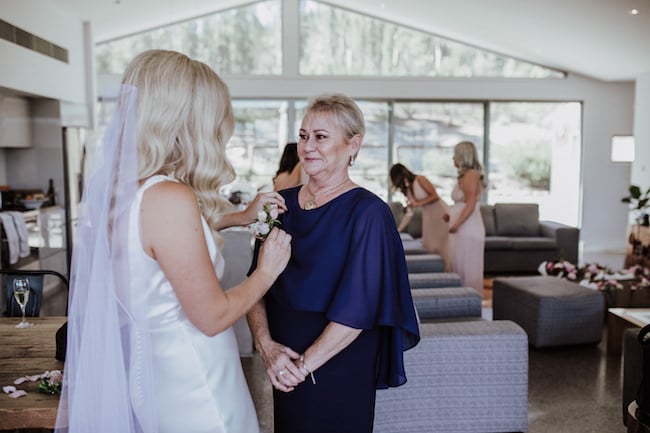 Wedding makeup: Leah Baines.
Wedding hair: Lily and Co Hair.
Western wedding shoes: Nine West.
"My bridal style was sexy and elegant, I kept my look minimal and let my dress speak for itself. I'm quite a confident person, but I really did feel amazing on the day."
"I had my mum, dad and 'brides girls' with me on the morning of, and we had the most beautiful morning. The girls and I started off with some early morning yoga on the deck at the place we were staying at, which overlooked the valley. Then we drank coffee (and champagne), listened to music and slowly eased our way into getting ready.
"My hair was done by the extremely talented Lily (and her sister) at Lily and Co Hair. Lily's amazing - she also did Anna Heinrich's hair for her wedding to Tim Robards. I have dead straight, thick hair and, of course, I wanted waves. I'm very fussy with my hair and Lily did wonders. It stayed in all night.
"Leah Baines did my makeup, she's not just a fantastic make up artist, but such a great person to be around. Leah fit in like she was family and was so just genuinely happy for us on our big day. I found Leah on Instagram, had one trial and then booked her for my hens party and for the wedding."
The bridal party.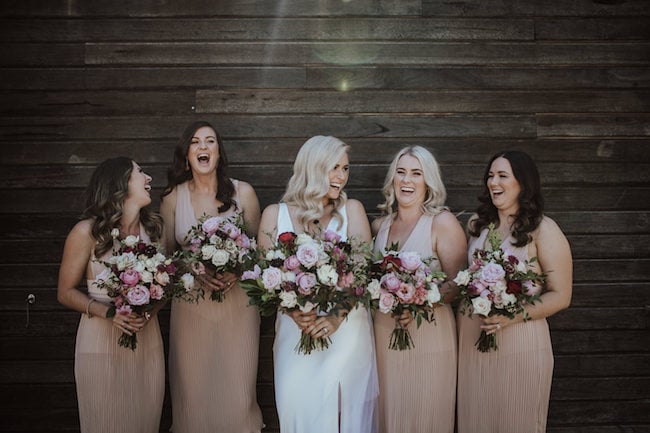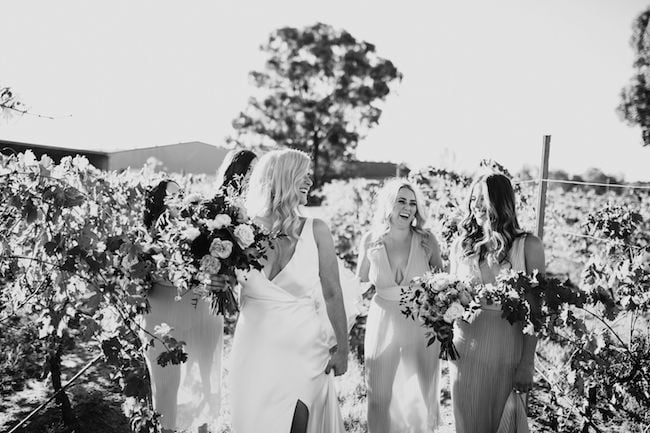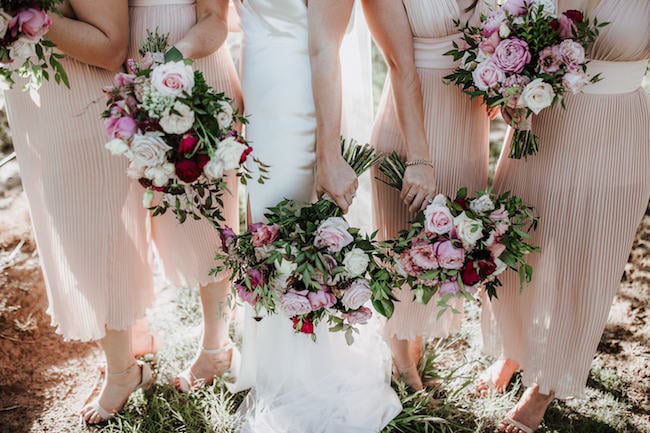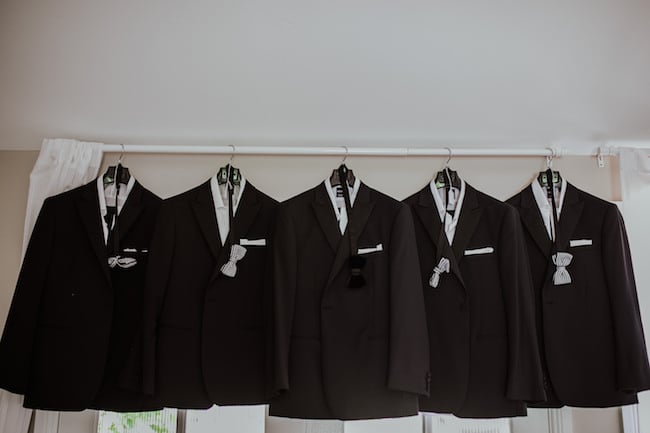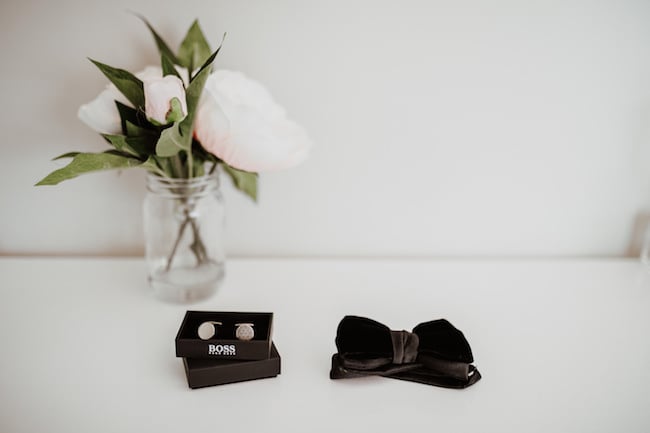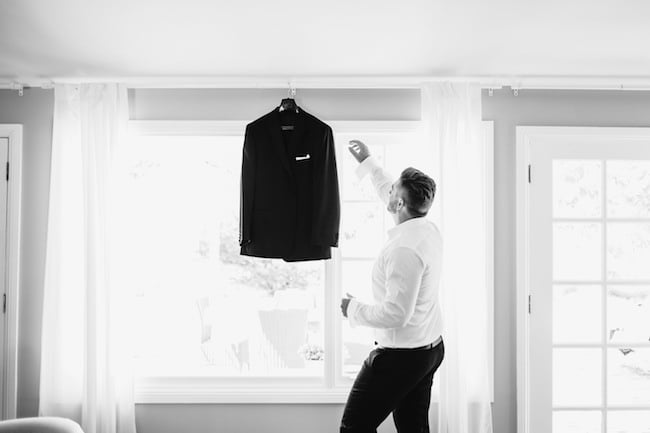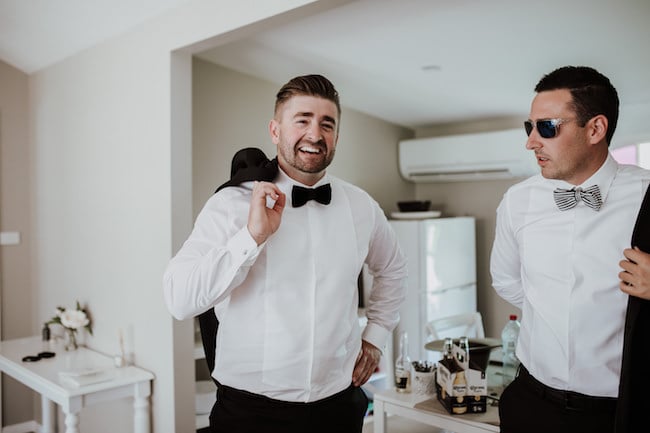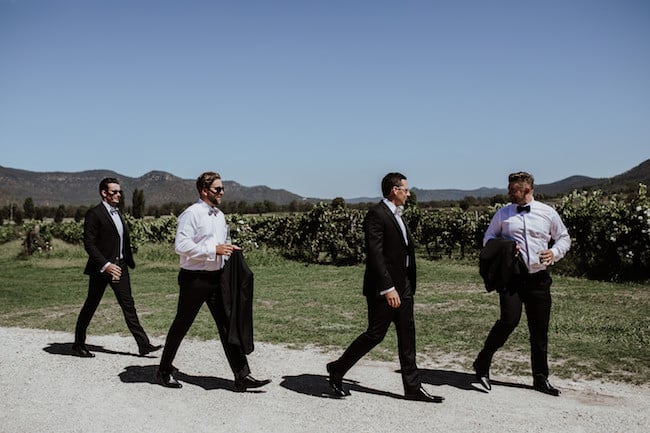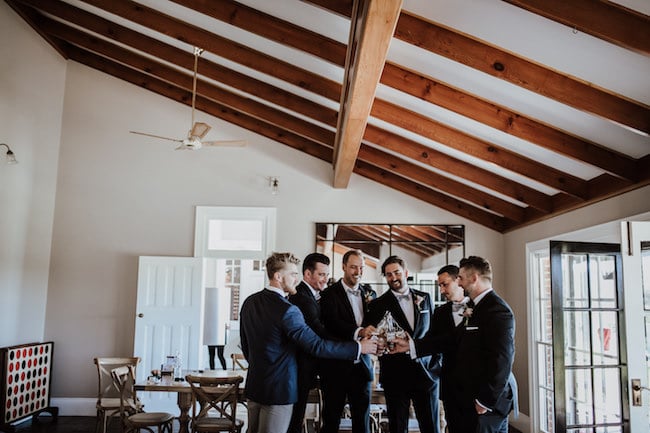 Bridesmaid outfit details: The Marika dress by Misha Collection, bridesmaids' own nude shoes.
Groomsmen outfit details: Suits from Blades Menswear.
Groom's outfit details: Suit from Blades Menswear, with a satin lapel.
"For us, we felt a bridal party of four would work best, though we were open to more or less if that was what ended up being appropriate. I know each one of my bridesmaids will be having cups of tea with me in 50 years' time when we're almost 80, they will always be in my life and that is why they were right beside me on the day."
"I didn't have a specific colour or style in mind for the bridesmaid dresses, but I knew I didn't want anything boring. What we found was perfect and, luckily, all of the girls loved them. My bridesmaids are all amazingly beautiful and confident, so I knew they would pull off the sheer, sexy look. I asked the girls to wear whatever strappy nude heels they already had.
"Our bridal party were wonderful the entire way through. Essentially, they were our sounding board and when I couldn't make decisions, I would seek their advice. On the day, my Aunty Robyn also read a family recipe of love, which has been handed down to me and I hope that I can continue that in generations to come."
The ceremony and reception.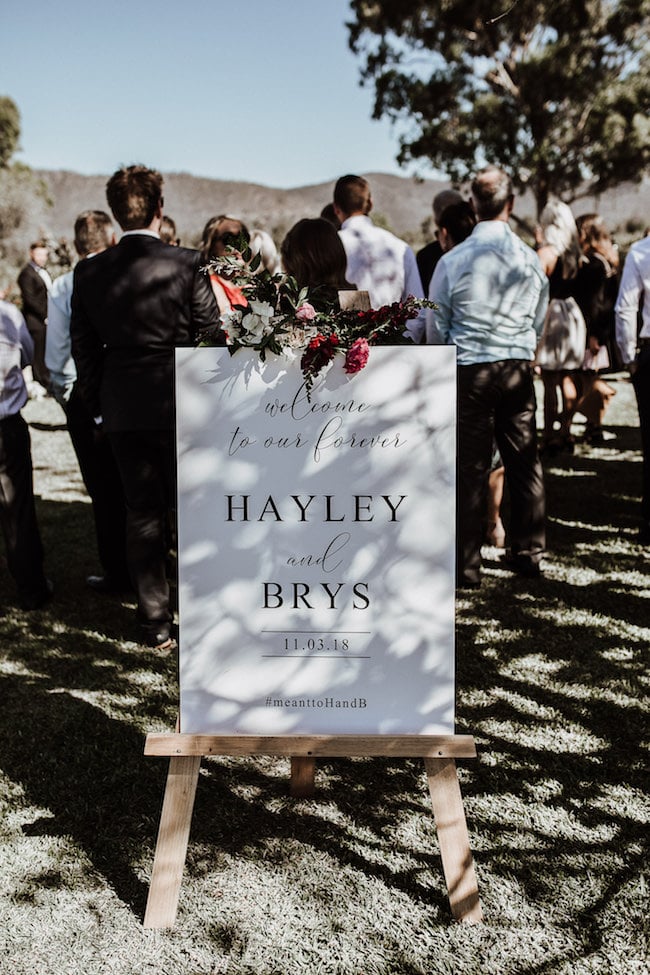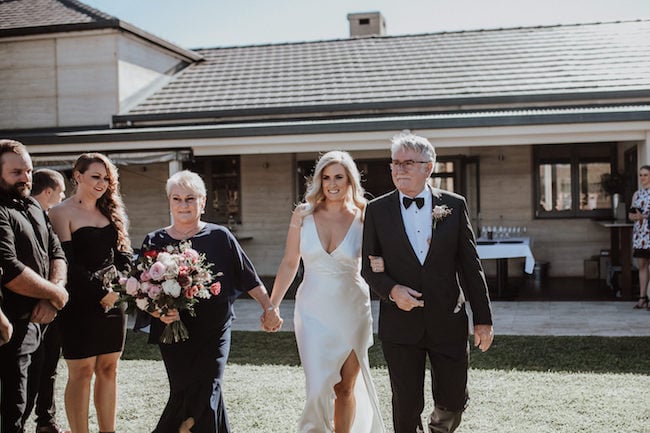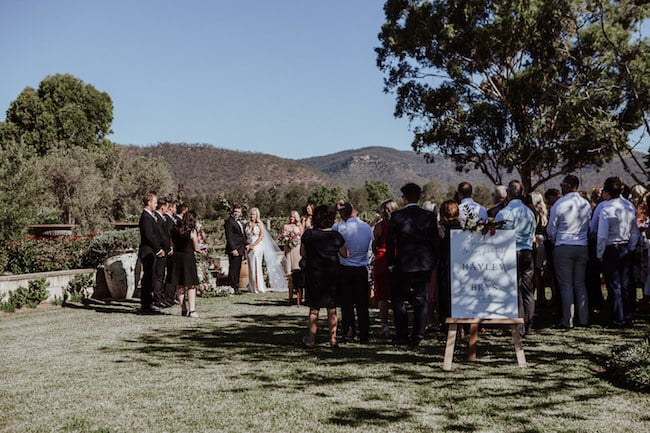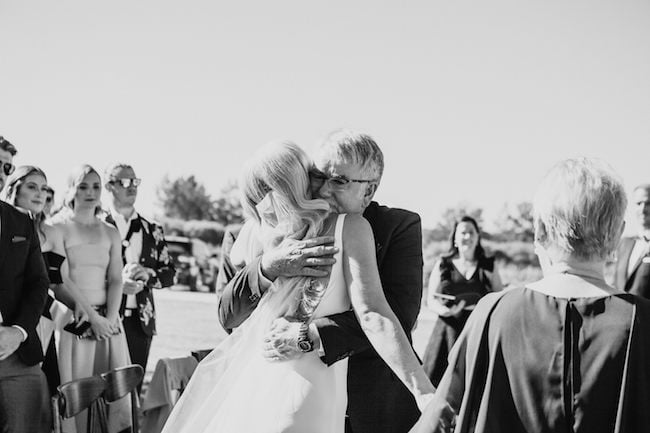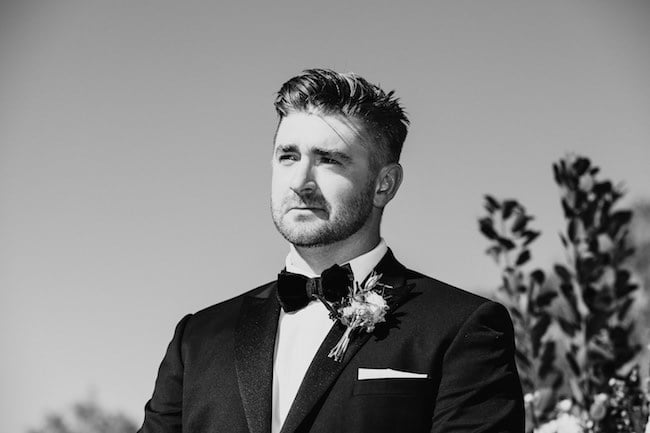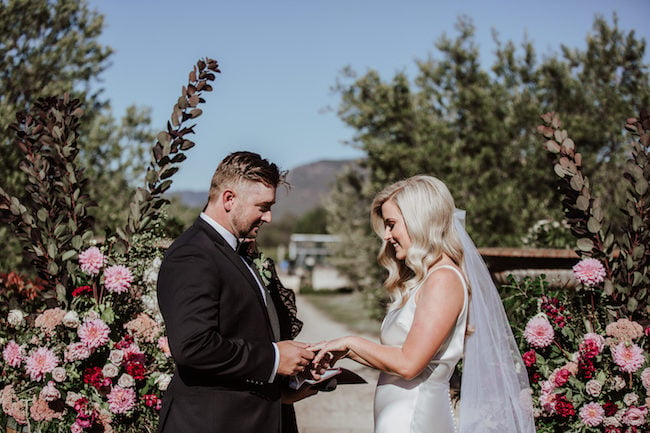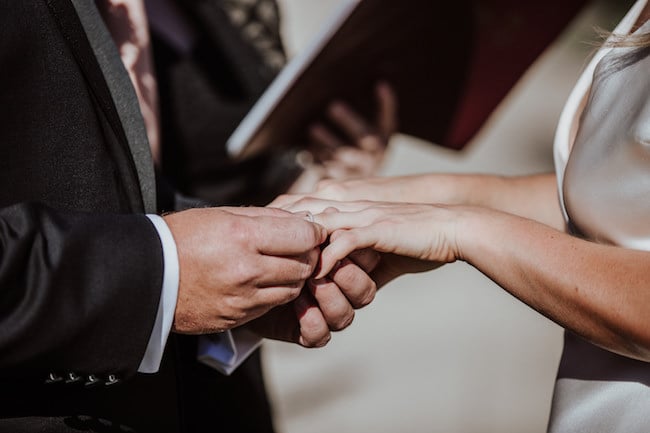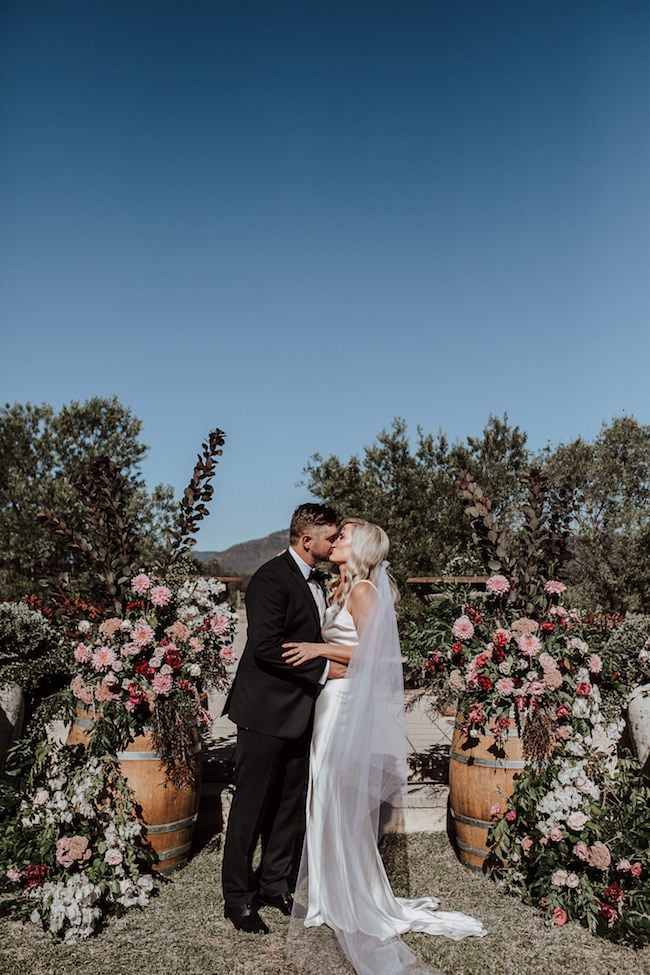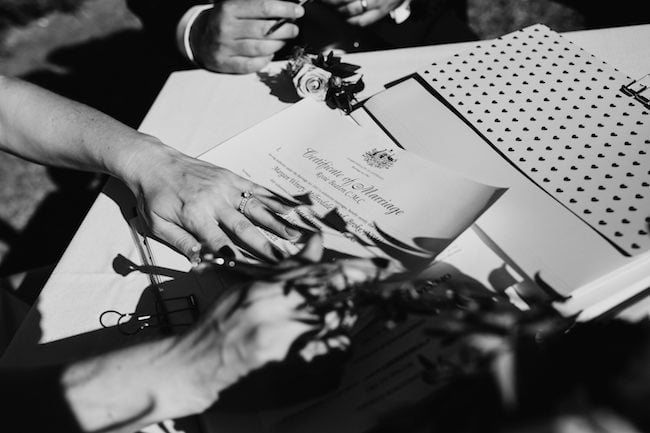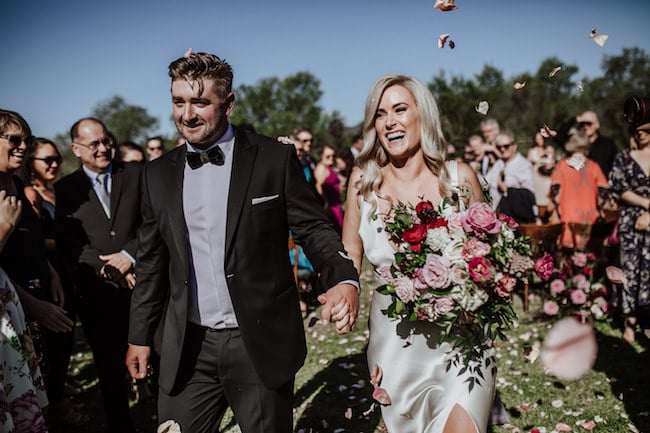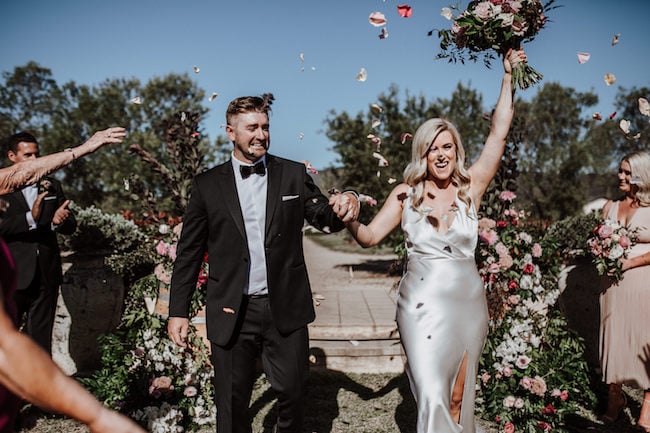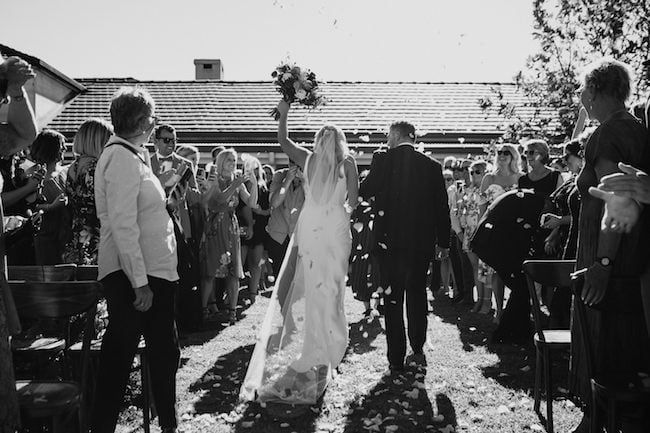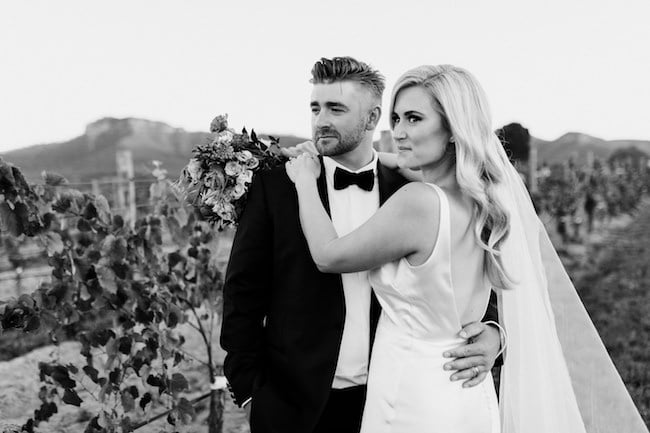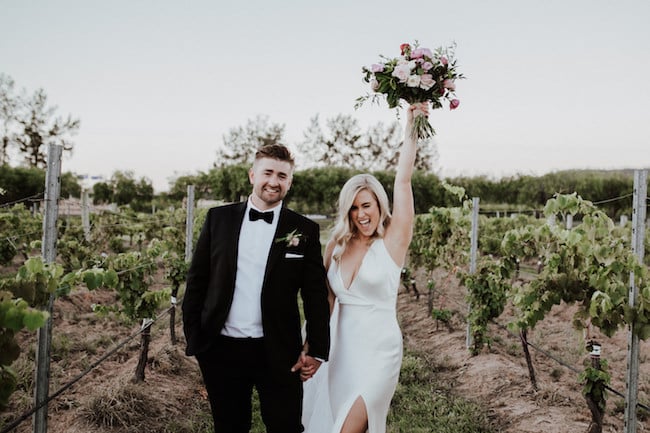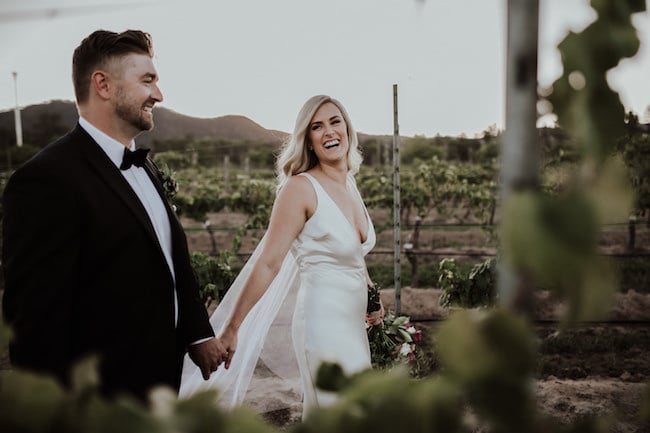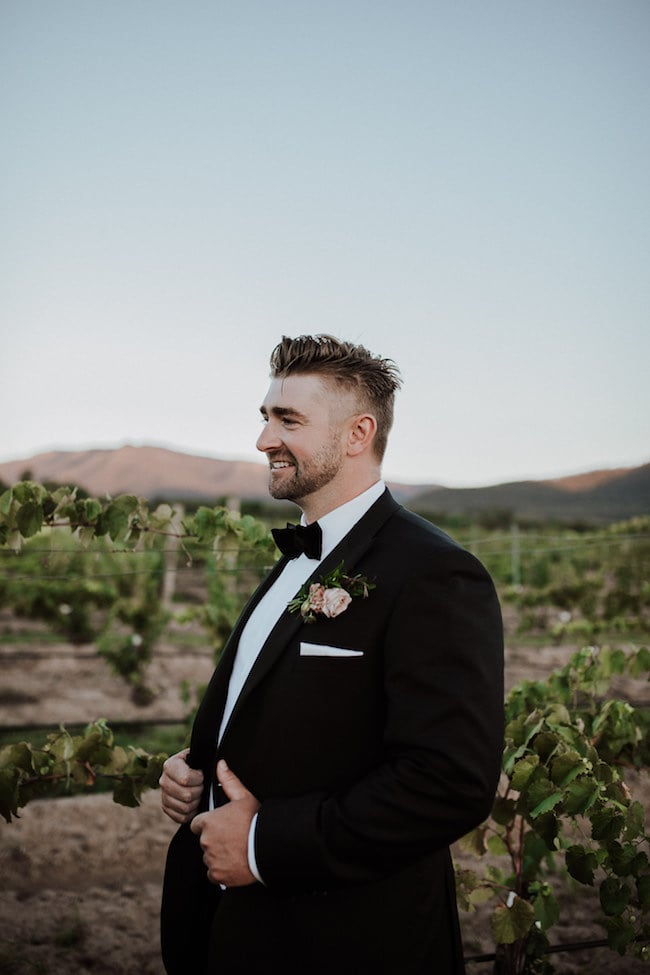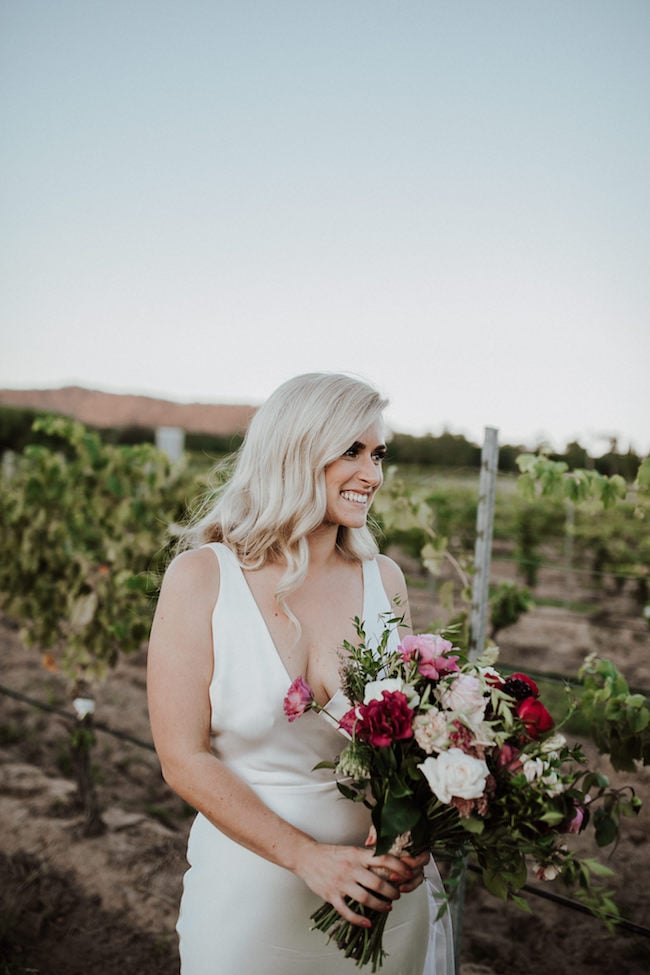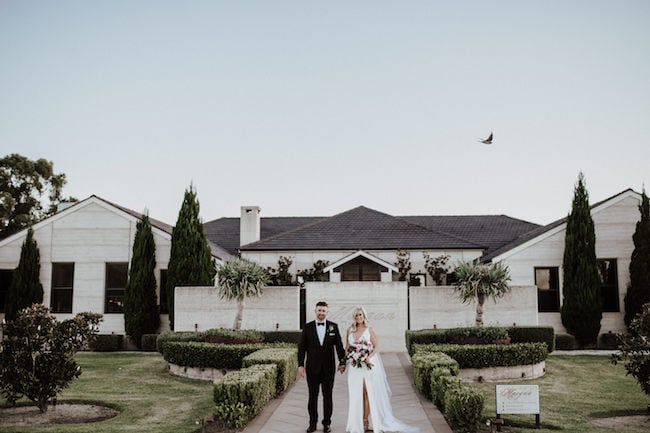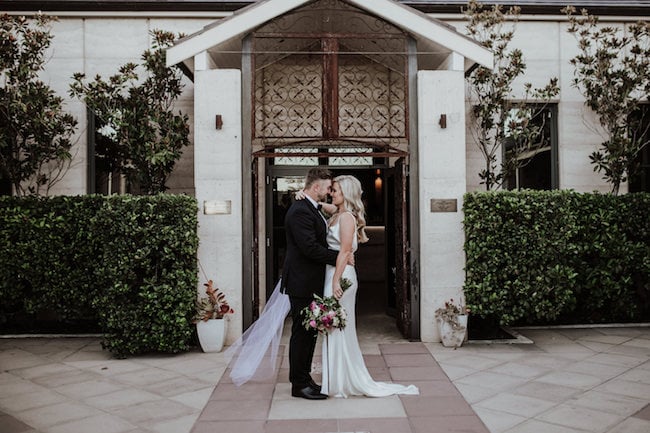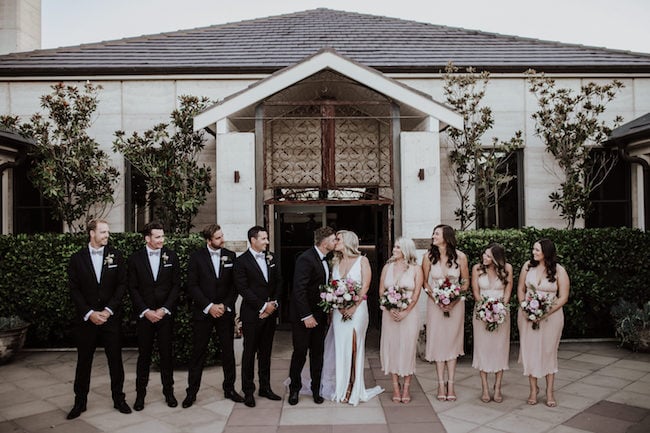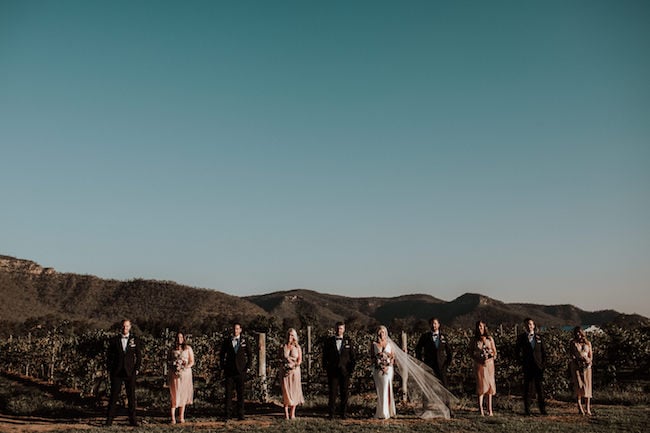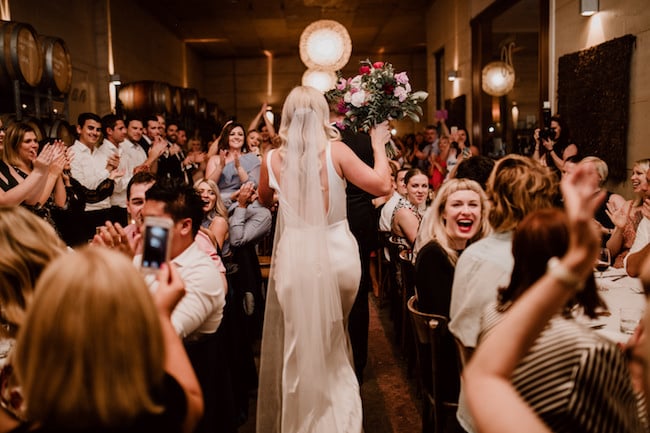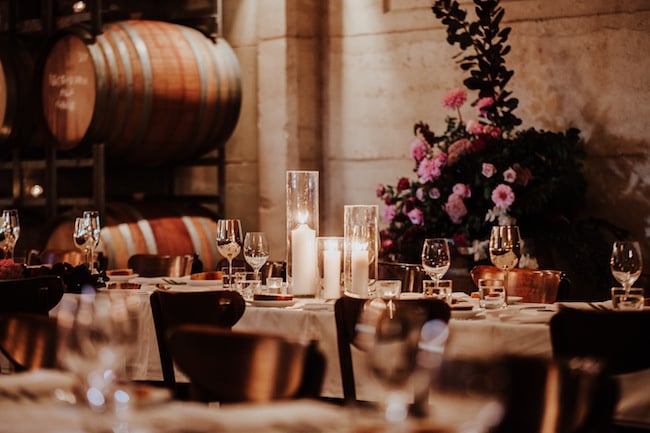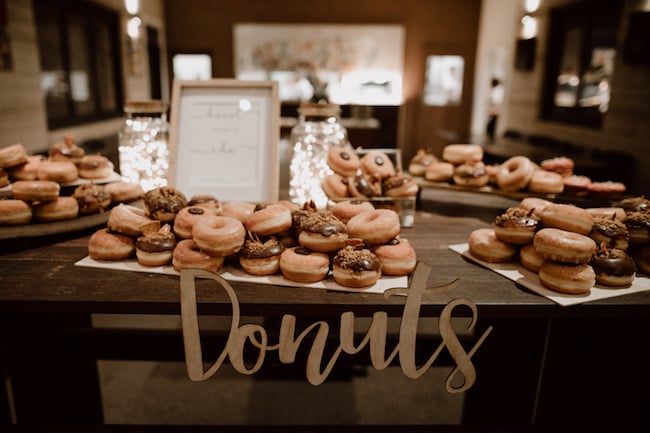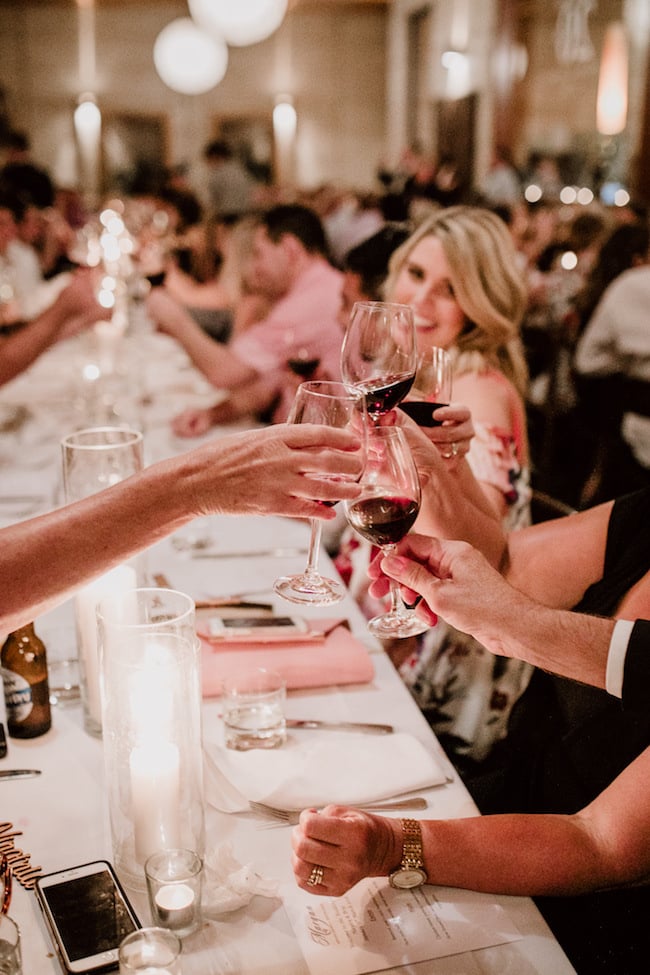 Wedding ceremony venue: Margan Wines and Restaurant, Hunter Valley, NSW.
Wedding reception venue: Margan Wines and Restaurant, Hunter Valley, NSW.
Celebrant: Rosie Beaton.
Flowers: WOW Flowers.
Stationary and decor: Life Is Peachy, Etsy, provided by venue.
Catering: Provided by venue.
Wedding cake: Doughnut table from Doughheads in Newcastle.
Entertainment: Kylie Jane.
"We both wanted to get out of Canberra to get married, it's such a special occasion and as much as we love home, we wanted it to feel like a holiday. We got married in the beautiful garden of Margan in the Hunter Valley. It was always going to be either a garden or winery ceremony, and a requirement for us was to have the ceremony and the reception at the same place so no travel in between was required of our guests (or us!). While we weren't necessarily searching for a winery venue, we aren't religious so getting married in a church was never an option for us."
"Before we even started our search for a venue, I attended a hens party in the Hunter Valley and we visited Margan for brunch on the last day. With a little bit of a push from the mother of the 'hen', I had a sneaky tour of the venue and I fell in love immediately! The high ceiling of the barrel room where we had our reception was the most romantic room I have ever walked into. I pictured us in there without even trying. I also knew that the amazing rammed earth construction of Margan would appeal to Brys with his construction background.
"Our reception was set up with two long tables with the dance floor and the band at the end. It was a romantic and glamorous space that was perfect for us. Our flowers, oh my god. I found WOW Flowers on Instagram and loved Louise's work from the get-go. I gave Louise a fairly good but short brief, particularly on the colours that I was after, which included nudes and some hot pinks with lots of greenery, but I let her do the rest.
"Margan absolutely spoke for itself, so decorating wasn't really required. We didn't want to have to set up ourselves or spend much time on decorations (or clean up the next day!) so this was another consideration when deciding on Margan as our wedding venue. On our two long reception tables, we had candle vases down the middle. We also used the ceremony flower arrangements from outside for the reception in the barrel room, the Margan staff coordinated all of this for us. We had timber laser cut names for each guest which acted as their 'name tag' and a little keep sake to take home, I ordered them through Etsy.
"We chose to send our save the dates electronically and, for consistency, decided to do the same for the wedding invitations. Our save the dates were sent through greenvelope.com and our wedding invitation was a simple email with a photo from our engagement shoot, which linked to our wedding website that I built myself via Squarespace. On the day, we had a welcome sign and seating chart, which were designed and printed by the wonderful Jackie at Life Is Peachy.
"We had a two-course alternating menu that was provided by Margan and it was to die for! Margan's menu is based around what is harvested from their one acre kitchen garden and orchard to maintain a seasonal focus. Margan have their own olive trees, free range chickens, honey and raise their own lambs. A selection of their estate grown produce is incorporated into the menu. As for the wedding cake, it's a tradition that didn't appeal to us. For dessert, we provided a doughnut table! These were supplied from Doughheads in Newcastle and they were delicious. We had three flavours including Gaytime, Nutella filled and plain glazed.
"Rosie Beaton was our celebrant, she is aaaaaamazing! You may know Rosie from her previous Triple J days, she's definitely a people person and really made an effort to get to know us and our story. I was blown away with Rosie's delivery on the day, a celebrant makes or breaks your ceremony and Rosie did above and beyond making ours. We still get comments on how great she was months on.
"We always wanted a live band or artist for the wedding. Kylie Jane played for our ceremony (including her version of 'Latch' by Sam Smith for me to walk down the aisle to) through to the very end of the reception along-side her duo partner. Kylie Jane completed our day, there is nothing better than live music at a wedding!"
The moments that made Hayley and Brys's wedding day special.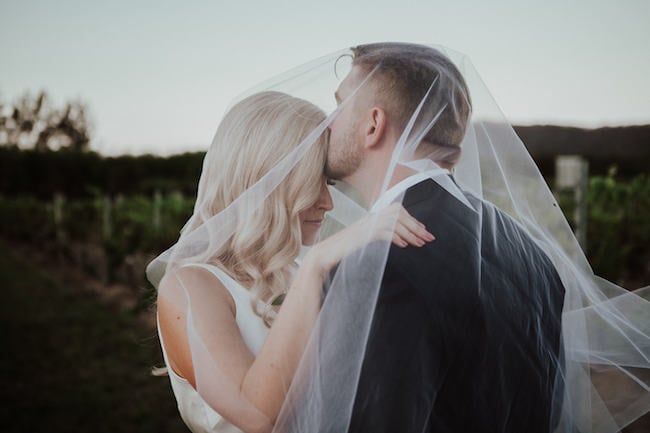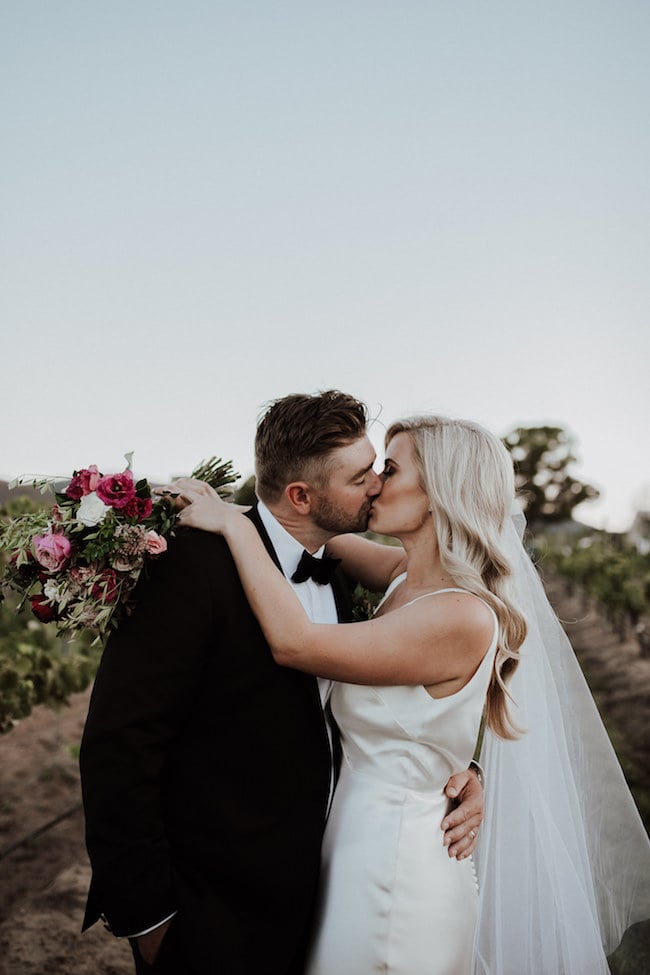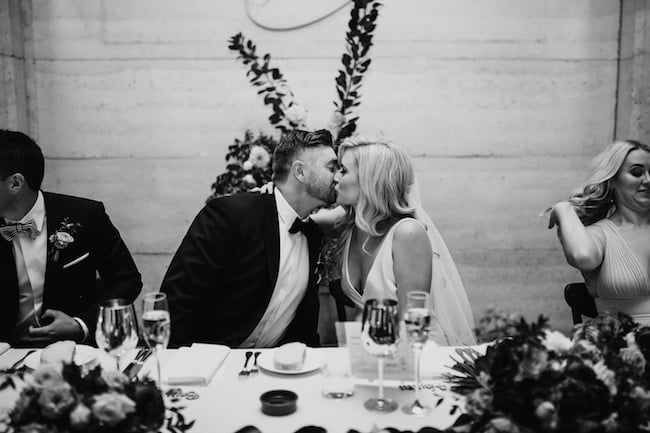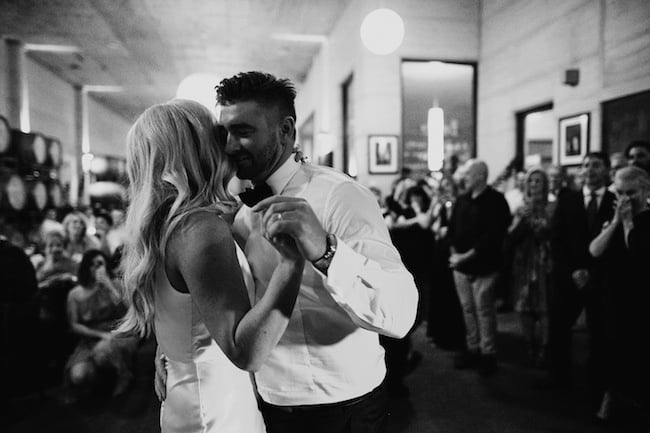 "The most memorable part was probably our ceremony, it's not something you ever truly experience until it's your day. The feels, the emotion and the love, not only from your husband to-be, but from all of your guests is unforgettable. I honestly enjoyed every minute of the entire day, from the early morning yoga, being walked down the aisle by my mum and dad, to my first dance and my father-daughter dance and getting sweaty on the dance floor with all of our guests. I'd do it all again tomorrow!"
"My dad and my mum walked me down the aisle - for me, it was important for both of my parents to give me away. They raised me equally and I am so grateful and blessed they were both there to be able to do so. I remember the moment so clearly: I linked with my dad's arm and I held my mum's hand while she carried my bouquet. I could feel my dad's heart thumping so hard against my arm, that made me quite emotional but it also made me really appreciate, and be present in that very moment.
"For our first dance, we chose 'Sexy Love' by Neyo. We love a bit of RnB and we wanted something upbeat that everyone else could sing along and dance to as well."
Would Hayley and Brys change anything about their wedding?
"I sincerely wouldn't change a thing about our wedding. I mean, if money wasn't an object, then sure. But I loved every single thing about our day and would do it all over again, exactly the same way tomorrow."
"Nothing really went wrong on the day - while I did focus on the finer details in the lead up, I didn't let them consume me and I didn't let the little things worry me. If you are focused on the tiny little things going to plan, happening on the dot or keeping within a schedule, then you're kidding yourself. Just go with the flow and enjoy the occasion.
"The best wedding advice was probably the advice I gave myself, which was to go with the flow. Yes, I agree with being organised particularly in the lead up and having a run sheet for guidance if that helps, but on the day, just let it happen. Just enjoy your day."
Images all supplied by the couple and Bel Combridge Photography.
You can catch up on all the very helpful episodes of Mamamia's wedding planning podcast Hitched below.