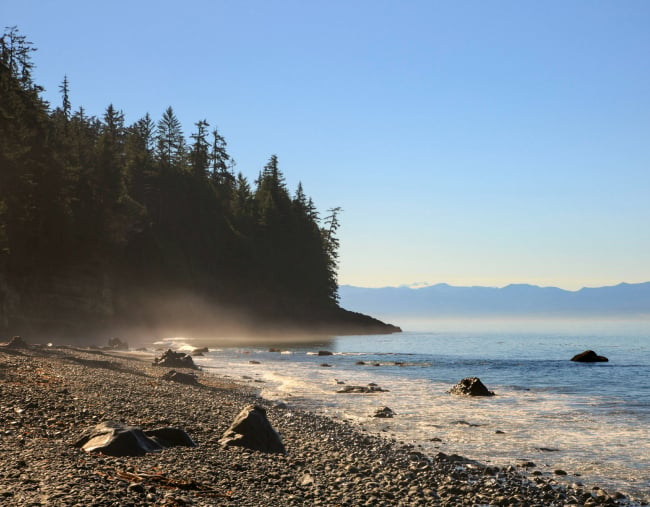 It began in August 2007 with a single right sneaker. Black and white, Adidas, size 12.
It was a 12-year-old American girl who found it strewn on the shoreline of Canada's rocky Jedadiah Island. A sock was still fitted within, held in place by the remains of a human foot.
Then, six days later on nearby Gabriola Island, a second gruesome discovery. Another right foot, another size 12, but this time clad in a Reebok.
"Two being found in such a short period of time is quite suspicious," Corporal Garry Cox of the Oceanside Royal Canadian Mounted Police reportedly told the Vancouver Sun at the time.
"Finding one foot is like a million-to-one odds, but to find two is crazy."
In the decade since, a further 12 detached feet have been discovered on coastline in and around Canada's Salish Sea, the intricate network of waterways in the south-western corner of the country. Each has been found still within a shoe, all but two of which have been sneakers.
The most recent discovery occurred on May 6 and, like the others, has now caught international media attention. This time it was a hiking boot, the foot still inside, found lodged among a pile of logs, again on the shores of Gabriola Island.
Canada's Royal Mounted Police are investigating.
Why is this happening?
Since the beginning, Canadian authorities have been tracking the discoveries closely, cataloguing each in search of a pattern. Though as the years have passed, their investigations have revealed that there simply isn't one.
According to The Guardian, police don't suspect foul play in any of the cases so far, as none of the remains showed signs of trauma. Instead, DNA testing has connected eight of the remains to six different people, each of whom are believed to have died as the result of suicide or misadventure. (Two feet discovered on the banks of Fraser River at Richmond in 2008, for example, were determined by the coroner to belong to a woman who died by suicide upstream four years earlier.)
As a spokesperson for the British Columbia Coroner's Service told CNN in December, "There's no reason to believe that [the cases] were connected in any way."
So why now, and why this location?
Police suspect it's down to the construction of modern-day sports shoes. Thanks to air cushions and improved foam materials, they tend to be lighter and more buoyant than previous designs.
"It really didn't come up until we had running shoes that floated so well," coroner Barb McLintock told The Canadian Press news service in 2016, according to The Washington Post. "Before, they just stayed down there at the bottom of the ocean."
So many have washed ashore in British Columbia, McLintock argues, because of the tide and current patterns in the region's unique network of waterways.
"Presumably there probably are a bunch of running shoes bouncing around out there [around the world]," she said. "But no one's ever going to find them."