Being in the at times gory and tragically fascinating world of medicine is no doubt a tough gig.
And when it comes to medical students, there's one definitive moment throughout their years of study: dissecting a human cadaver.
Yep. Working with dead bodies is an eye-opening experience that all future doctors have to go through, and sometimes it gets a little… messy, you could say.
WARNING: Do not read on if you are currently eating.
Fat. Is. EVERYWHERE.
I was listening to one of Chris Gethard's Beautiful/Anonymous podcast and the episode just so happened to be called 'Cavader Epiphany'. What the medical student said will stick with me for life.
"It doesn't matter if you're a skinny person or a fat person, fat is legit everywhere. It's not like there's a layer of skin, then a layer of fat, and then a layer of muscle and organs," she said.
"There's fat everywhere, like in between the tiniest things. In the eye socket… so much fat.
"There is so much fat in a human body and it's disgusting and it's so wet and has a very distinctive smell, and seeps through your gloves. When you get home your roommates know you're home before you even say hi because they can just smell you when you walk through the door."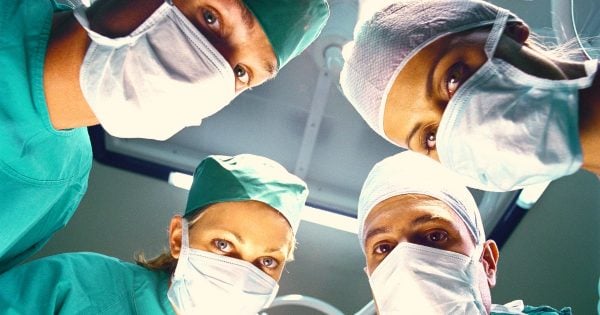 The smell alone is bloody unbearable.
Of course Reddit decided to uncover some of the challenges behind anatomising corpses, with Redditor rhondaaasue posing the question: "Doctors/medical students, what was the worst part about the human cadaver dissection?"
"I used to put Vicks Vaporub under my nose before going into the cadaver lab and the smell of the corpses was still overpowering. And it gets all over you," wrote NeuroGeek.
"I didn't understand how our instructor could be in there day in and day out until I learned he had anosmia. He'd lost his sense of smell in a motorcycle accident a decade or so earlier."