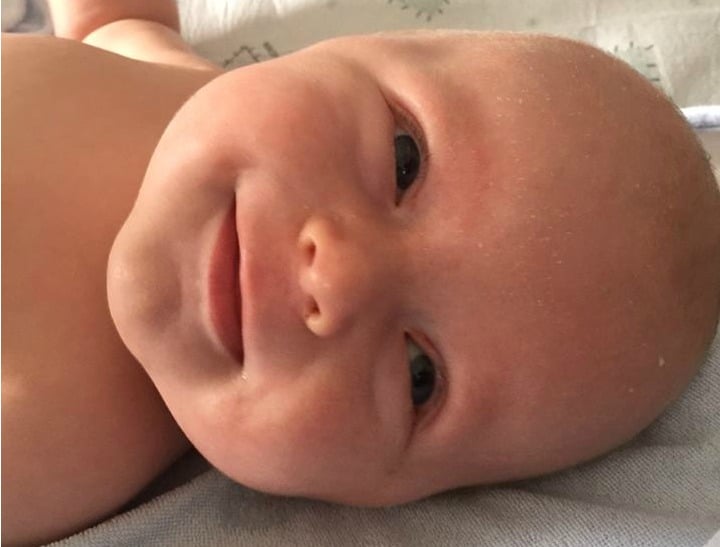 We've rounded up all the latest stories from Australia and around the world – so you don't have to go searching.
1. Taking photos enabled a woman to find her baby's rare eye disease.
It was a typical night for Sarah Bowers and her 12-week-old son Mason — until she started taking photos of her little boy, and noticed a "golden glow" in his eye appearing in the images.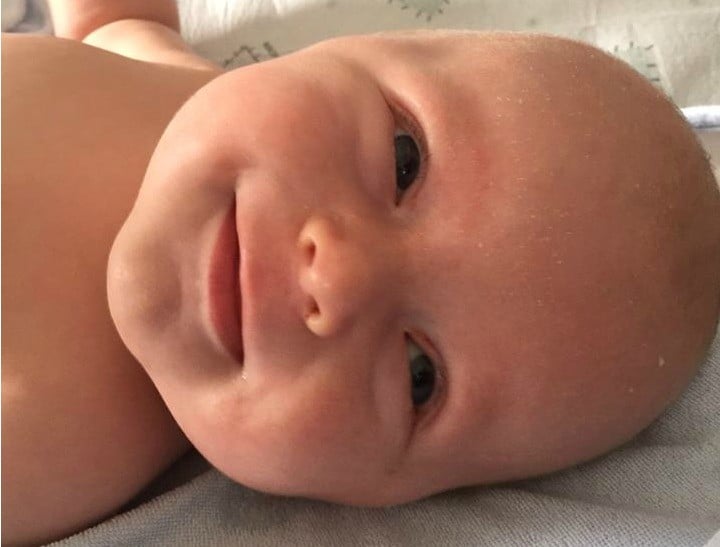 The New Zealand mother, 28, immediately knew something was wrong, as she later revealed online.
"I spent the evening concerned about what I had seen as I remembered reading a story while I was pregnant about a little boy called Benjamin Webber and how his mum had noticed the 'golden glow' in her sons eye and it led to a 1/100,000 rare disease called Coat's Disease," Bowers wrote on Facebook.
Related: A mum posted a photo on Facebook. Then her friends noticed something odd…
After taking her son to the doctor, Bowers was immediately referred to an eye specialist — who confirmed that little Mason did indeed have the eye disease.
He was completely blind in one eye and needed to have the eye removed.
"Making the decision was the hardest thing I have ever had to do, but what it came down to was potentially my baby boy's life, or his eye," Bowers told stuff.co.nz.
The family is  now awaiting a date for Mason's surgery to have his eye removed, and has started a fundraising page to help cover the costs of the boy's medical bills and prosthetic eye.
2. Hugh Jackman sends message to bullied YouTube star.
Hugh Jackman has taken a stand against online bullying by tweeting a touching message to a bullied fan.
Logan Fairbanks — known on the internet for being pranked by his dad — recently read some of the mean comments he'd received in relation to some of his videos.
The 11-year-old said he posted the videos "to encourage people to not bully people online. And my second reason is to encourage people who have been bullied to not let words affect them."
Logan proceeded to read out the mean comments, which mostly pertained to his weight.

After seeing the video, Jackman tweeted to Logan: "Hey Logan (great name!) -you're a superhero and BRAVERY is your super power. Hope to meet you in person. #StopBullyingNOW."
Logan is the first name of Wolverine — the comic character made famous by Jackman.
Fairbanks and his self-proclaimed "geek" father are over the moon about the actor's support, tweeting that Logan nearly "passed out" when he saw the message.
3. Families of Ivan Milat victims angry over new "terror tours".
The families of victims claimed by Australia's most notorious serial killer, Ivan Milat, are offended by new tours of the scene of the crime.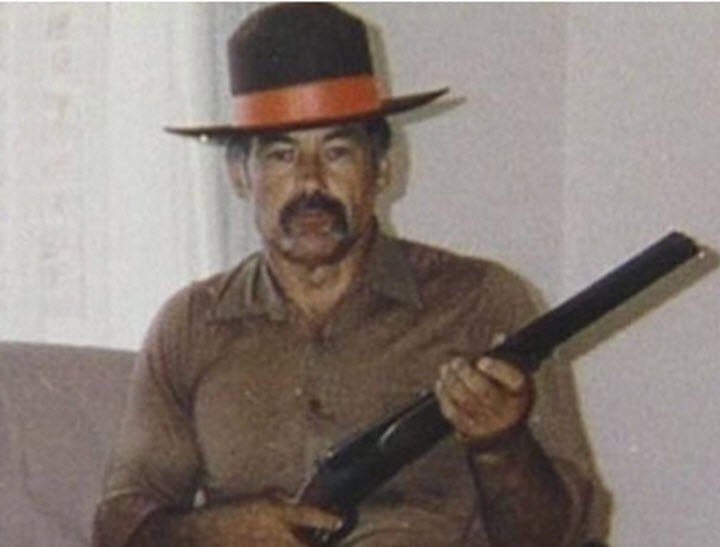 "Extreme terror tours" of Belanglo State Forest, where Milat buried his victims, are being touted as the latest tourist attraction to hit the NSW town of Goulburn.
According to Fairfax, for $150 tourists can take a ghost tour of Goulburn, starting at Balanglo State Forest.
The mother of a 17-year-old tourist who was killed at the site by Milat's nephew in 2010 called the tours "money making at [the victims' families] expense."

4. Australian plastic surgeons call for greater regulation of industry.
The Australian Society of Plastic Surgeons (ASPS) is calling for greater regulations to ensure the safety of patients.
The group is particularly concerned about office-based surgeries, and the use of anaesthetic in these settings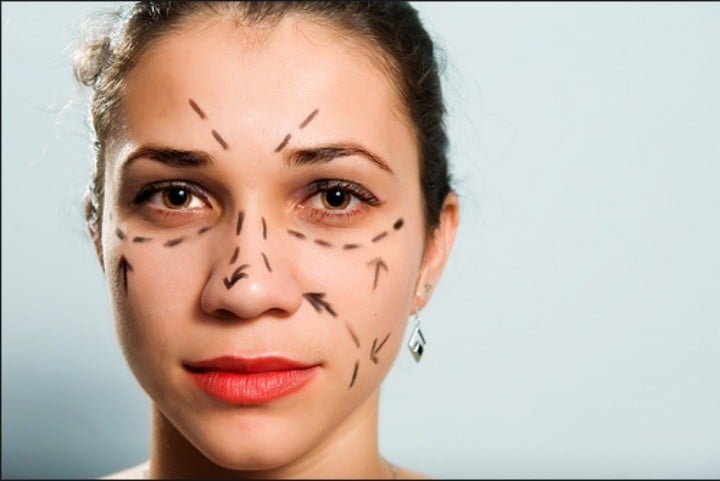 ASPS says there are no regulations regarding the qualifications of office-based plastic surgeons and the procedures they perform — and that these procedures may be putting patients at risk.
"Patient safety is our priority and we are particularly concerned that office-based surgical procedures that use high volume local anaesthesia or 'conscious sedation' fly under the radar in terms of accreditation and audit," ASPS President, Associate Professor Hugh Bartholomeusz, said in a statement.
"Additionally we are conscious that consumers are ill-equipped to discern whether the doctor they choose for their cosmetic surgery is adequately trained to perform their procedure."
Related content: What it's like to be awake on the operating table.
5. Majority of women don't regret their abortions.
A study of 600 women has found no evidence that women regret or are "traumatised" by having an abortion.
According to Jezebel, "post-abortion trauma syndrome" is often used by anti-abortion advocates as fuel for their anti-choice campaigns.
However, the new research conducted over a three year period and published in the science journal PLOS One found no existence of this "syndrome". In fact, it found a whopping 95 per cent of women did not regret having an abortion.
More than half of respondents also recorded that their decision was "difficult" or "very difficult" to make, but when interviewed three years later confirmed it "was the right decision for them".

6. Man fined after scratching disabled woman's car.
A 28-year-old Sydney man has been fined for scratching a woman's car after he occupied the woman's disabled parking spot.
Sydney Morning Herald reports Matthew Tupper — who is not handicapped — parked his rental car in a disabled parking space at a housing complex in Zetland, only to later find himself barricaded in.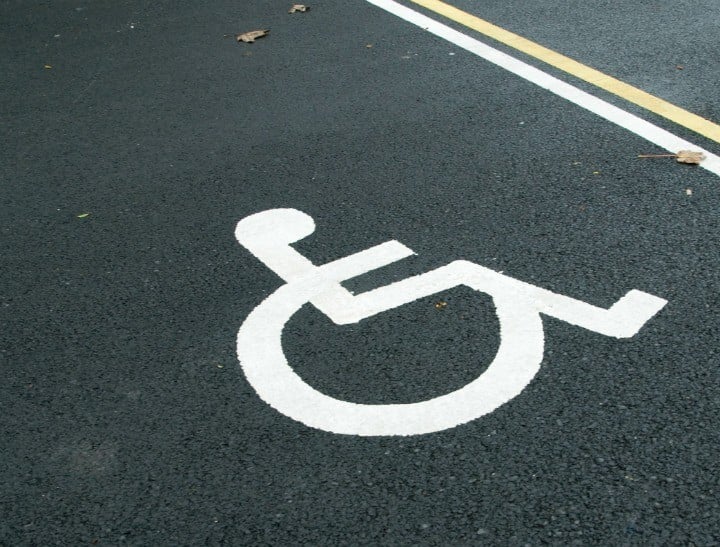 When a resident who normally uses the disabled parking space saw the man did not have a disabled permit, she left him an angry note and parked her car behind his.
"Please call this number and I'll move my car, you inconsiderate p***k." the note read.
The man later returned to his vehicle and, upon reading the note, took an object out of his pocket and scratched the woman's car.
He managed to manoeuvre out of the parking space but was caught defacing the car on CCTV footage.
Today, he was fined $2,000 and ordered to pay $3,000 in damages to the woman.
Do you have a story to share with Mamamia? Email us [email protected]
[post_snippet id=324408]