The joke "I read Playboy for the articles" takes on a whole new meaning when you learn that Roald Dahl wrote some of them.
Yes, you read that right; beloved children's author Roald Freaking Dahl published work in Playboy.
Think about it: Charlie and 'The Chocolate Factory'…? James and the 'Giant Peach'…?
Ha, not quite.
But the fact that the magazine was just as filled with interviews, articles and fiction pieces by writers like Dahl, as it was with exploring the beauty of the female form, is relevant if you want to debate the value of Playboy founder Hugh Hefner's contribution to society.  Something the interwebs have been doing since his death was announced this week.
I'm not saying you should consider Playboy for your Feminist Bitchez Book Club (although the discussion would teach you a lot about your friends). But you can't look at Hugh Hefner's life's work and ignore his magazine's literary legacy.
Sixty years ago, Hefner hired Playboy's first literary editor, Auguste Comte Spectorsky, hoping to source writing of substance to publish alongside of nudie spreads each month. That was his vision of the kind of reader that he wanted to attract; a man interested in prose and pussy.
And he made that happen. Hefner once said to a group of former Playmates at a Playboy reunion, "Without you, I'd [just] be the publisher of a literary magazine."
The publication interviewed some of the most influential people of the time; for example, Reverend Martin Luther King Jnr, John Lennon, Miles Davis and Malcolm X.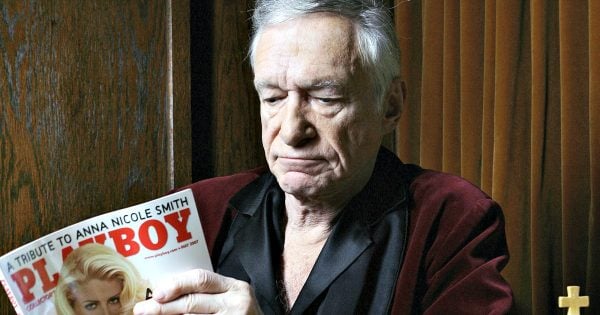 Hefner loved using his platform to promote civil rights issues, but he also wanted his readers to use their imagination. So famous writers such as Vladimir Nabokov, Truman Capote, Alex Hayley, and even Margaret Atwood were invited to contribute to the magazine.
As was a British chap called Roald Dahl.
Dahl wrote some scintillating stories for the magazine in the mid-'60s and '70s, which he later published in his short story collection Switch Bitch. Which is for adults, obviously, and not just because it doesn't have any Quentin Blake drawings in it.
If you loved Gone Girl, you'll love Dahl's adult fiction. All of the characters are generally a-holes to each other. They con, murder, manipulate, swap wives, neglect their children and commit adultery - so many pages, so many taboos.
There's always a twist you'll never see coming. And no, it's not that a room full of nice ladies turn out to be wart-covered witches.
The politics of marriage is the theme of many of his stories. But don't think for a second that makes for a depressing read. Dahl is having way too much fun telling you the sordid details of his characters' lives for you to ever be bored.
If you happen to be reading one of Dahl's stories in a Playboy, well, I think you'll find the soft-core porn way less, ahem, stimulating. And we have a man who was permanently dressed in lounge wear with a massive grin on his face to thank for that.
RIP HH.
LISTEN: The Mamamia Out Loud team talk about that time Playboy decided to stop all its nudes...