After his first divorce in 1959, Hugh Hefner spent several years being "involved with" eleven out of twelve months' worth of Playmates every year.
The media mogul boasted about it in a 2010 profile with The New Yorker.
Soon after, eight of his 'Playmates' filed a palimony suit against him.
"He promised to marry me, he promised to have a child with me, promised to support me," Leigh, who was the covergirl of Playboy in 1983, said in a press conference, People reports. She was attempting to sue Hefner for $5 million – a move Hefner labelled "silly" because he was "the most confirmed bachelor of the 20th century".
In 2017, knowing everything we know about Hugh Hefner, who died this week at 91 years old, you can't argue with that.
But what about his steady relationships? There, we have a different story.
Hefner met his first wife, Mildred Williams, at college at Northwestern University in Illinois.
Williams – like Hefner – was born in 1926 and the pair were married in 1949. They have two children together, Christie (born 1952) and David (1955), and were divorced 10 years after they were married.
What's your number? Post continues below.

The next, more consistent, woman in Hefner's life was actress and model Barbi Benton. She and Hefner were (that word again) "involved" from 1969 through to the mid-70s, according to Associated Press as reported by Fox News.
Their relationship began after Benton appeared on Hefner's television show Playboy After Dark – alongside the man himself. It's rumoured that, when Hefner asked her out, Benton, then 19, said:
"I've never dated anyone over the age of 24", to which he replied: "That's okay. Neither have I".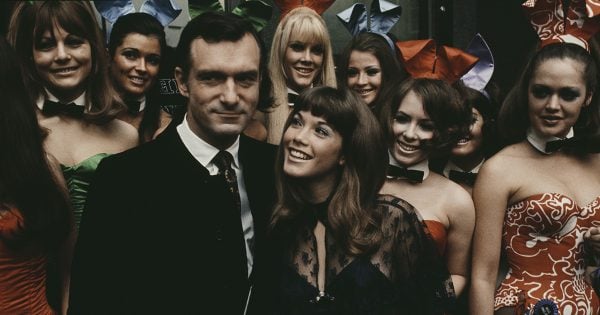 Hefner's second wife was Playmate of the Month for January 1988 - her name is Kimberley Conrad and they were 36 years apart in age. The pair were marred in 1989 - four years after Hefner suffered a minor stroke and vowed to tone-down his partying.
He and Conrad have two sons together, Marston Glenn (born 1990) and Cooper Bradford (born 1991) and, although they separated after nine years, they remained married for 11 more. It's reported Conrad moved into the house next door to the Playboy mansion after they first split in 1998.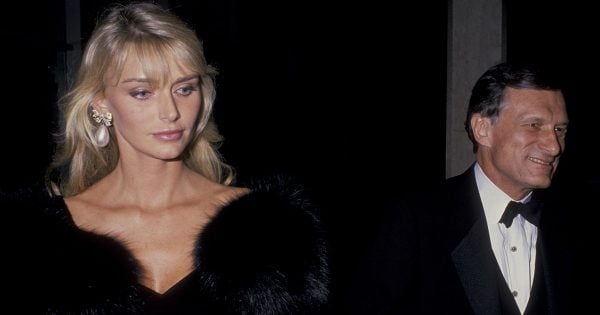 Several reports say Hefner had multiple girlfriends - up to seven at a time, in some instances - between the years of 1998 and 2008. He dated Playboy model Sandy Bentley and her twin sister Mandy simultaneously, Fox News reports.
There was Holly Madison - the "original" Girl of the Playboy Mansion - who remained on the scene from 2003 through to 2008 when she ended it after seven years.
Kendra Wilkinson, star of the 2012 reality TV show Kendra on Top, and Bridget Marquardt, who went onto appear in several reality TV shows and soap operas, were also both stars of The Girls of the Playboy Mansion and were involved with Hefner at the same time.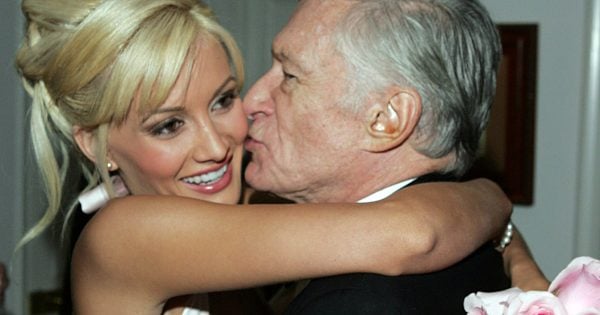 In January 2009, Hefner met the women who would become his third wife, Crystal Harris - 60 years his junior.
After a little over a year dating, in December 2010, Hefner proposed and Harris said 'yes'. Five days before the wedding however, on June 14, Harris panicked and ended the engagement. The pair were eventually married in December 2012.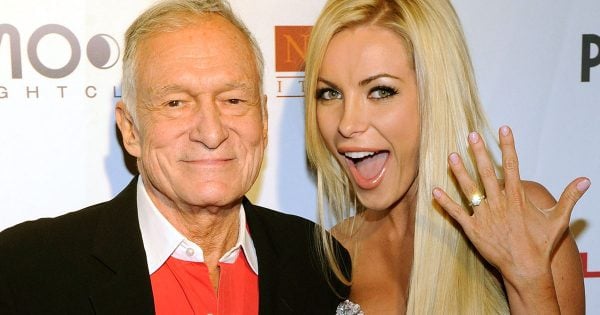 "The dramatic age difference between Crystal and me really doesn't matter," the Playboy king tweeted at the time of his marriage to his third wife, Channel 24 reports. "Whatever time I have left, we want to spend together."
From the man who once told the Los Angeles Time "much of my life has been like an adolescent dream", such a romantic and overt show of affection really is saying something.
As Hefner himself would say: "Life is too short to be living somebody else's dream."
Here is a complete dating history of Hugh Hefner's women:
Mildred Williams - 1944-46 (broke up because she cheated while he was in the army), then got married anyway from 1949-1959
Marilyn Cole - ("only brief relationship", 1973 playmate)
Barbi Benton - 1969 - 1976
Lillian Muller - 1976-1977
Carrie Leigh - for five years in the 80s
Kimberley Conrad - married from 1989 - 1998 (separated in 1998 for for 11 years and were not officially divorced until 2010)
Mandy and Sandy Bentley - 1999-2000
Brande Roderick - 2000-2001
Izabella St. James - 2002-2004
Holly Madison - 2001 - 2008
Kendra Wilkinson - 2005-2010
Bridget Marquardt - 2002-2009
Kristina and Karissa Shannon - 2008 - (not really clear)
Crystal Harris - 2010 -2011 (she ended engagement) then reconciled and got married from 2012-2017