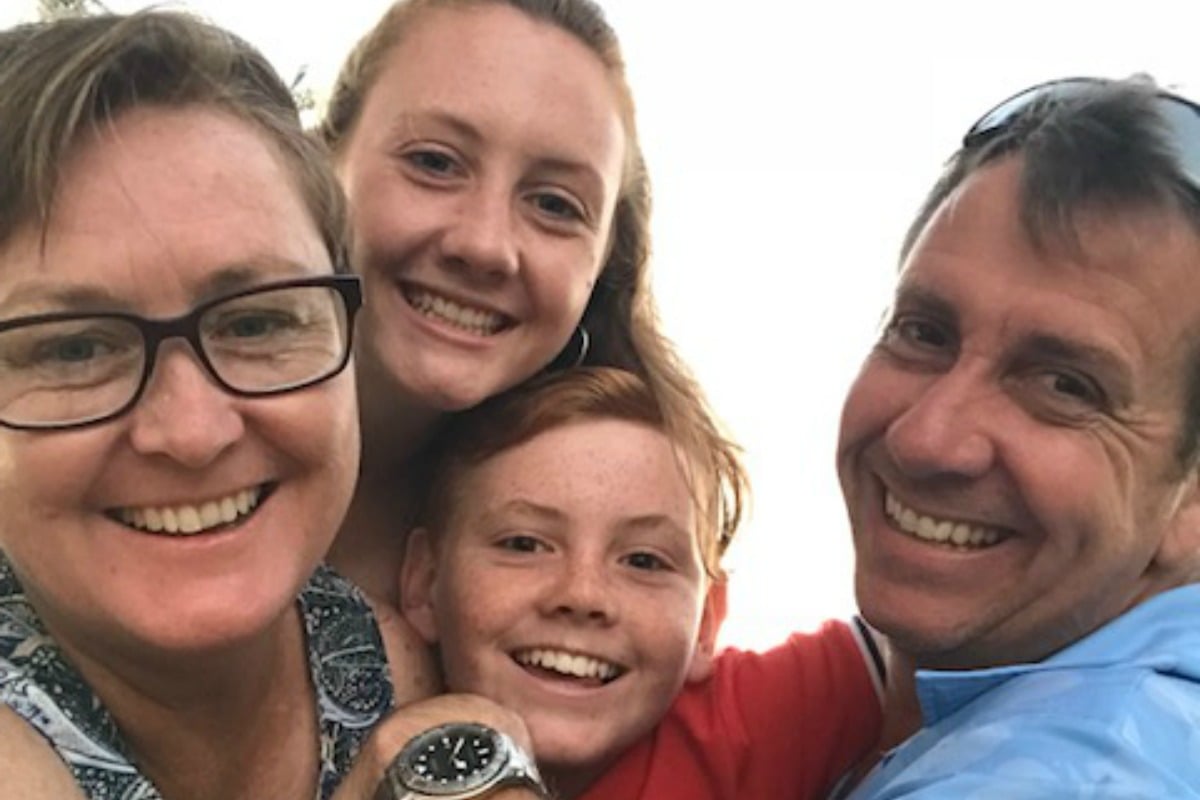 Hours after having her uterus removed, Samantha Brown lay in her hospital bed hysterically crying as she listened to the cries and gurgles of newborn babies in the obstetrics ward she'd been placed in.
She'd always wanted to have three children but as she lay there without her womb surrounded by "loveys" as she called them, it was a stark reminder that her dream of a trio was simply that – a dream.
Sam was 37, already had two gorgeous children – and this was the second time she'd been in a fight for her life. Seven years prior she'd beaten thyroid cancer, and just when she'd started to relax and feel like there were enough years in the rear vision mirror, she got a second diagnosis – aggressive cervical cancer likely caused by the human papillomavirus.
Watch: Sam, now 48, has survived both thyroid and cervical cancer. This is her story. Post continues after video.
"In the back of my head I was thinking, you've already had cancer once, you're probably not going to survive this. What are the odds?" she told Mamamia.
There had already been so many horrific, stressful moments in Sam's journey before she found herself bawling in that Sydney obstetrics unit. Her first diagnosis came when her daughter Gabby was only six months old and she had to be isolated from her because of the radiation her body was being hit with.
There was the shock at being told about her second diagnosis – despite religiously getting regular Pap smears (she'd been returning false negatives). There was the fact that she lived in outback New South Wales and so everything was just so far away and hard to coordinate. The whole time there was a fear – "what if it's spreading while I wait?"
It did get worse. After getting her uterus removed, Sam was told the cancer had spread.
She'd have to make the trek from Cobar to Sydney again to have both her ovaries and her lymph nodes removed. She was warned if it had spread to her nodes, she'd have to start getting her affairs in order.
As much as she tried to stay positive, Sam would often succumb to the "sinking feelings" and "pity parties" that would envelop her.
Her husband had already proven himself to be her biggest support. She'd found herself sobbing on the trip back from the uterus surgery dramatically (in her words) lamenting the fact she'd have no more kids: "If we break up you can go and have more – I can't."
"Babe, I will get a vasectomy," he'd firmly replied. They were a team, he wasn't going anywhere.
But that didn't make it easier when Sam once again boarded a flight to Sydney for her second surgery while her children bawled their eyes out at the airport.
"That was really horrible having to leave them and them not understanding. My son was very non-communicative at the time and very reliant on me… it was one of those moments where it was like, 'I don't know what I am going to do? I can't die. This child needs me.'"