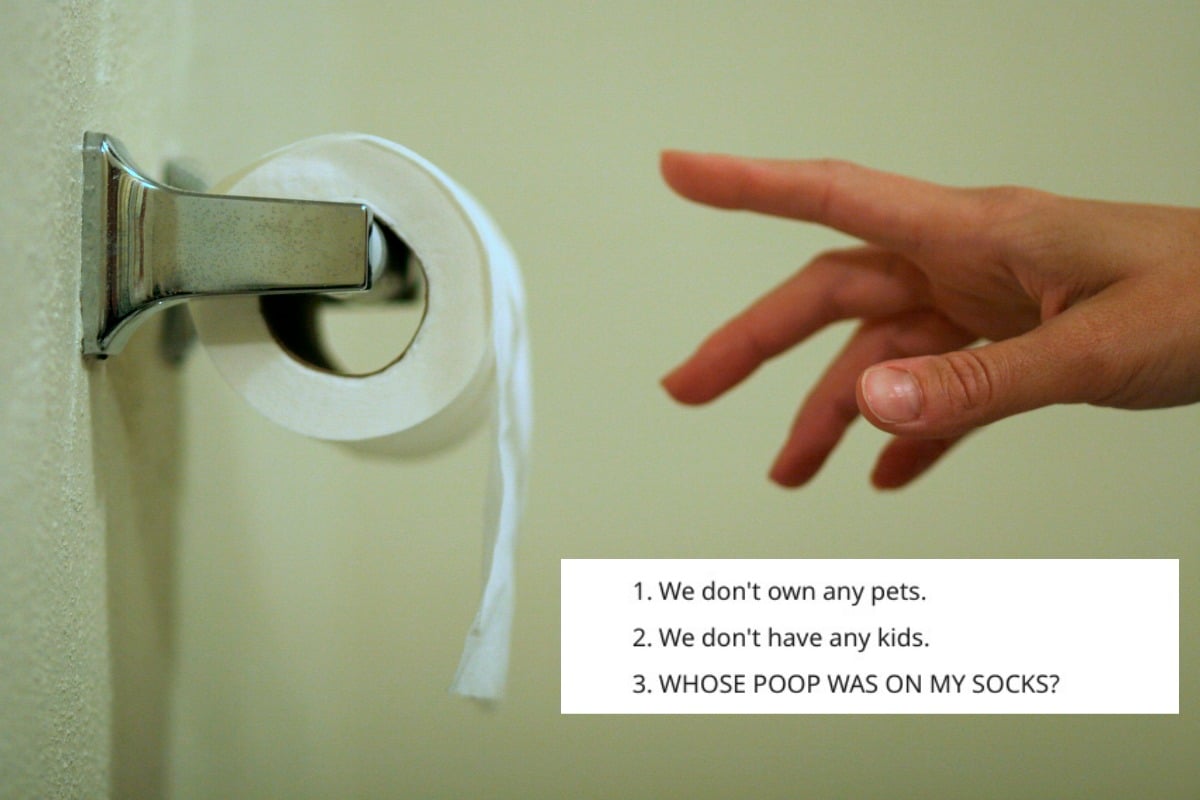 We live in a terrifying world.
A world where, somewhere out there, a woman is using socks to wipe her bum and for the love of God, no.
Not only her own socks, but her boyfriend's socks and we are deeply troubled by this entire revelation. Please make it stop.
The sock-wiping-woman's boyfriend posted to Reddit seeking advice on how to deal with his girlfriend's extremely odd "habit", revealing the alarming moment he found a pair of his gym socks in the bin, covered in poo.
Yeah, that's never a good sign.
"I don't even know where to start with this. I'm dumbfounded," he began, and same.
"She just stormed out the house and I'm sitting on the bed asking myself A LOT of questions," AS ARE WE.
Then, he explained in great detail a confrontation he had had with said girlfriend upon finding the poo-y socks.
It's… well, behold:
"I live a pretty normal life, and I thought so did my girlfriend. We've been together for a few months and after things got serious, we moved in together," he explained.
"We started sharing a lot of the household responsibilities, but the one thing she was adamant on doing was the laundry. She would come home and find me in the bedroom getting the laundry together and would quickly ask me to go do something else. I'd come back to finish the laundry and she would have already started it. I always thought it was sweet and never her job to do it alone, but hey, if it makes her happy to do it all the time, I wouldn't stop her."
But one day, his opinion of his girlfriend (and ours of humanity), changed forever.
"This is where it takes a turn for the weird. I keep all my socks and underwear in the bottom drawer of my dresser. I also go to the gym frequently, so I always keep a good supply of clean gym socks ready to go. I never kept count, but I know by just a visual glance I several pairs. This morning when I went to grab a fresh pair to pack for the gym, I noticed there were several dress socks, but no gym socks.
"Again, not weird, they must have been in the laundry. I went to check the laundry basket and it was empty, so I checked the washing machine and dryer. Both were empty.
"I couldn't figure out where all of my gym socks had gone. So, I did the very natural thing of asking my girlfriend what had happened to them. After all, she is the one who does the laundry all the time.