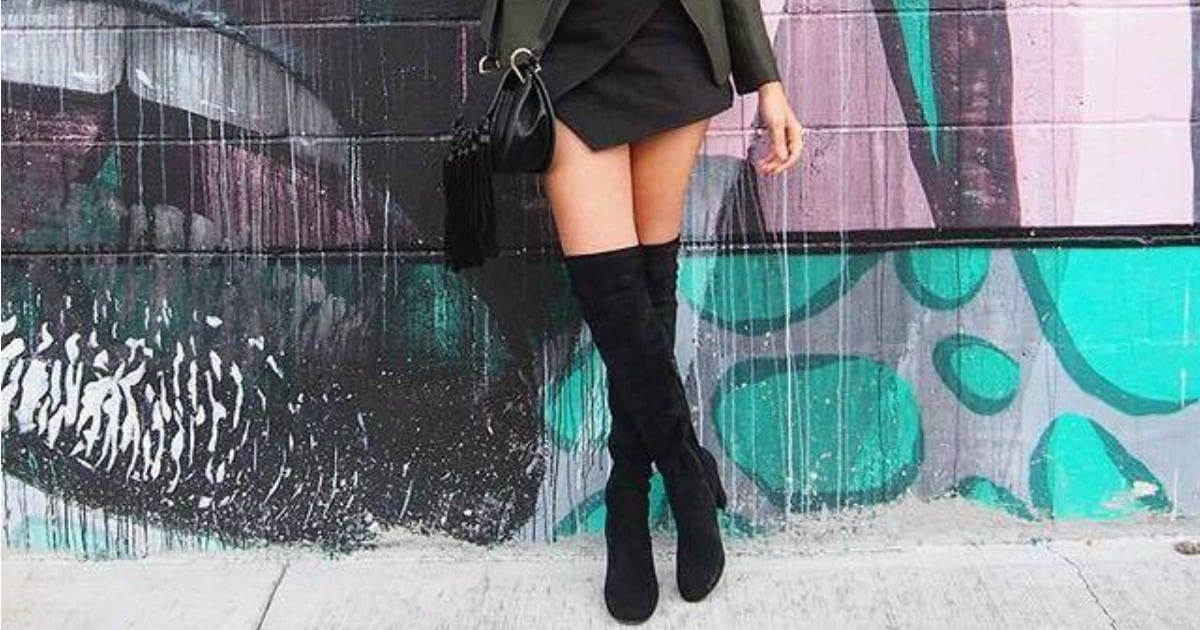 By Alex Paterson.
If you follow me on Instagram, you'll notice that my toes have gone for the Winter. As much as they wish they were on a tropical island, they are just hiding in my boots or anything enclosed.
I very rarely wear open toe shoes at this time of year.
The main reason is that I just don't like cold toes or feet (no pun intended to my upcoming nuptials).
This season, we have seen a return of the over the knee length boot. They do come out every year, but this season seems to have a far greater choice of colours, styles and fabrics.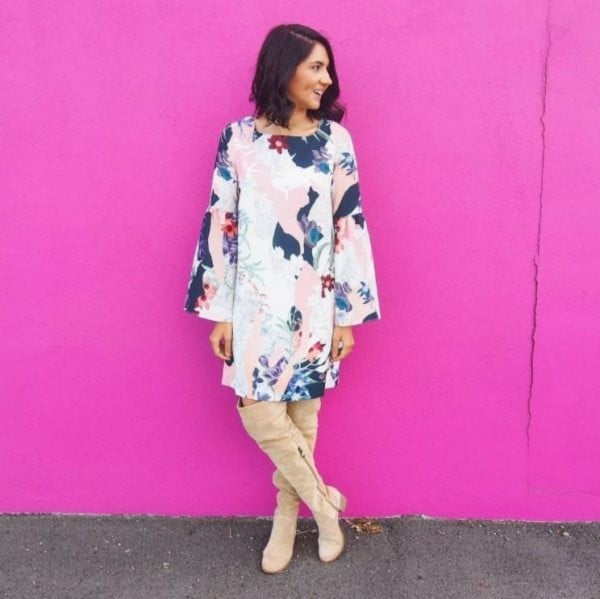 Whattheteacherwears in beige knee high boots. Source: Whattheteacherwears
I am finding that my approach to shoes is changing as I am getting older.
I know I'm not 'technically old' but 21 year old me and 27 year old me have a very different outlook on footwear.
These days, I am going more for comfort over anything else.
I currently have three pairs of over the knee/knee length boots. A pair of flat Target boots I bought a few months ago featured here – perfect for ladies with a wider calf, my favourite boots which are from StyleTread and are a sand colour by the brand Mollini here and my newest pair, which are a black block heeled boot and are by Wanted and are also available from StyleTread here.
Watch Paula Joye show you how to winterise your wardrobe. Post continues after video.
All of my boots are made from suede. I think I have chosen this material over others because I have the freedom to move my legs and not be restricted.
So what should you be looking for in a knee high/over the knee boot?
• Material – if it's going half way up your leg, you want it to be damn comfy!
• Versatility – colour is a major player here. If you are opting to buy only one pair for the season, stick with black, tan or beige. These colours are very versatile and you will be able to make multiple outfit combinations from them.
• Not just a Winter boot – to get more bang for your buck, look for a style that you will be able to carry through into Spring.
1. Sienna Top Azalia Boutique $79  2. Necklace Colette Hayman $7.79  3. Forever New Jeans $89.99  4. Peppa Boots Siren $150  5. SHEIKE Dress $149.95  6. Tony Bianco Boot $379.95  7. Seed Scarf $49.95  8. Birdsnest Top $29.95  9. Birdsnest Pants $89.95  10. Lexa Wanted Boots $249.95
Source: Whattheteacherwears
What can you wear them with?
Jeans.
Your jeans need to be a slim fit/cut (no boot legs allowed). The reason you need a slim cut, is so you can wear your boots over your jeans. Team with a looser fitting top or on trend bell sleeve top and voila!
Dresses.
Yes, you can team your knee high boots with a dress. The trick to pull this look off is to show some leg between the dress and boots. If you aren't comfortable to show your actual leg, then simply add some leggings or tights.
Whattheteacherwears in a long trench with black knee high boots. Source: Whattheteacherwears