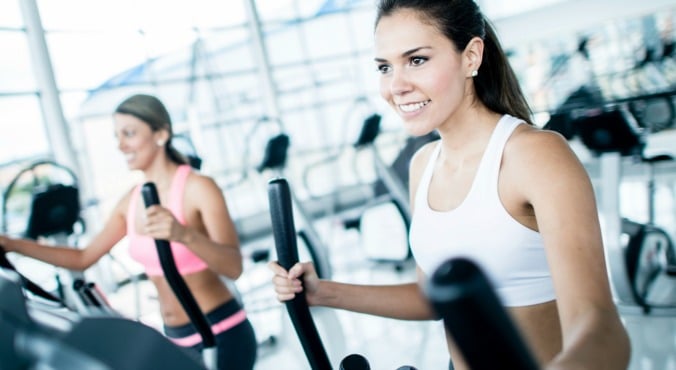 Image via iStock.
Ah, the elliptical machine. It's the go-to for when you want to read a magazine and, well, dawdle a little at the gym, and research shows most people think it's ineffective and boring.
But the humble elliptical is actually one of the best machines for a total body workout, especially if you're time-poor. If you only have 30 minutes to work out, it should actually be your machine of choice.
RELATED: The 15 types of people you'll always meet at the gym.
I spoke with health and fitness expert, and owner of Fit Fantastic, Ali Cavill, about the dos and don'ts of the elliptical, and how to get the best workout from the machine. (Post continues after gallery.)
How the rich and famous stay fit
"Use the resistance on the machine to make your workout more efficient, rather than focusing on speed," Cavill says.
"It isn't like the treadmill in that way, it is all about resistance and movement. The slower and heavier the workout, the better. You won't get any benefits of cardio or weight if you just try to speed on the machine."
RELATED: How to use the weights section at the gym.
Cavill also recommends varying your elliptical workout by using the incline to mix up your workout.
"The more your body becomes used to the same workout, the less calories you burn. The best thing to do on the elliptical is to mix it up. Try a heavy, slow climb, and then also try interval training, where you can go faster (but still have some resistance), and then drop it down and go a little slower," she says.